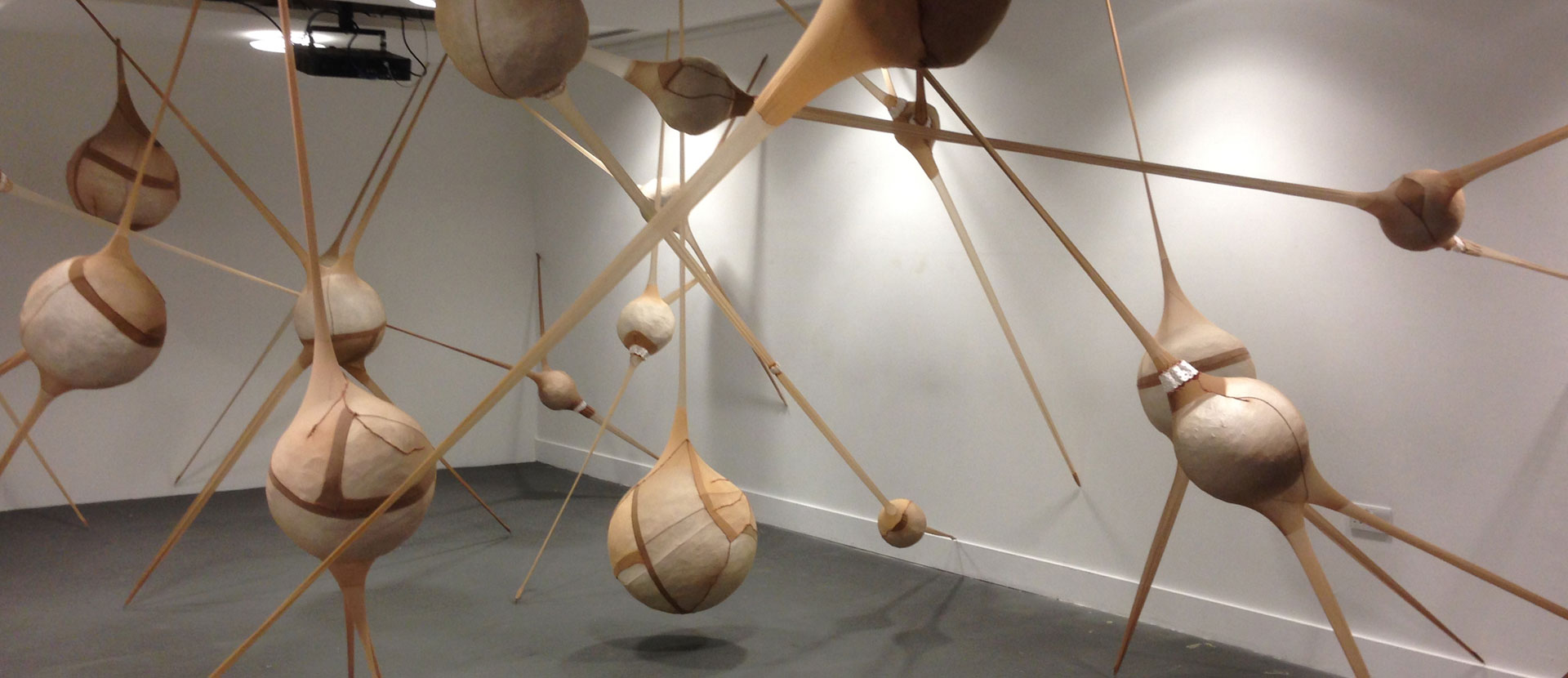 Tanoptic - visions of the future
For her final major project, BA (Hons) Fine Art student, Mandy Smith drew inspiration from family life, her children and her role as a mother.
27th June 2018
Art and design
Applied art
Design
For her final major project, BA (Hons) Fine Art student, Mandy Smith drew inspiration from family life, her children and her role as a mother. This, combined with works by French philosophers and leading female artists resulted in Tanoptic, a stunning installation of eyeballs suspended from the walls and ceiling. We talked to Mandy about her work and its meaning.
Tell us about your final project
Tanoptic is a version of a potential future in which other senses except sight are eliminated and body parts other than the eye have been discarded and lost. The eyes have been isolated from the useless and forgotten body. They increase their volume and float in an undefinable time and space.
Domestic materials have been used in the construction of the artwork, such as making recycled newspaper into papier mache for the balls, an activity reminiscent of many craft activities undertaken with my children. Tights cover the imperfections of the eye balls as the only remains of the body. The maternal is hinted by stitching, the skill needed for repairing. Scars and veins are suggested by the red stitching and seams of the original tights. The tights are being pulled and stretched in different directions relating to the maternal struggle to balance daily home and work life. Snippets of audio taken from my everyday highlight the absence of my children's voices as they are lost within the digital screen.
What was your inspiration?
My work focuses largely on familial interactions, emerging from moments and feelings experienced with the maternal: examining details of the past between myself, my children, and also that of wider societal concerns.
My final major project started with a concern for my adolescent children's use of social media, posting selfies that may be shared, copied and potentially downloaded by a stranger.
Writings by French philosopher Michel Foucault and artist and writer Hito Steyerl have also inspired my installation. Female artists Louise Bourgeois and Annette Messager have been a continual influence on my work.
What have you enjoyed most about your time at Solent?
After nearly 20 years out of education, what I have enjoyed most is researching and using the research I've found into making. I've enjoyed learning how to use new materials and processes.
What's next for you?
I'm going to have a year out before potentially starting an MA, volunteering in art organisations and improving my printing skills with a print foundation course.
What advice would you give to other students or potential students?
Volunteer and participate in all work-related opportunities that arise to make the most of your time at university and build your CV ready for entering the work place.