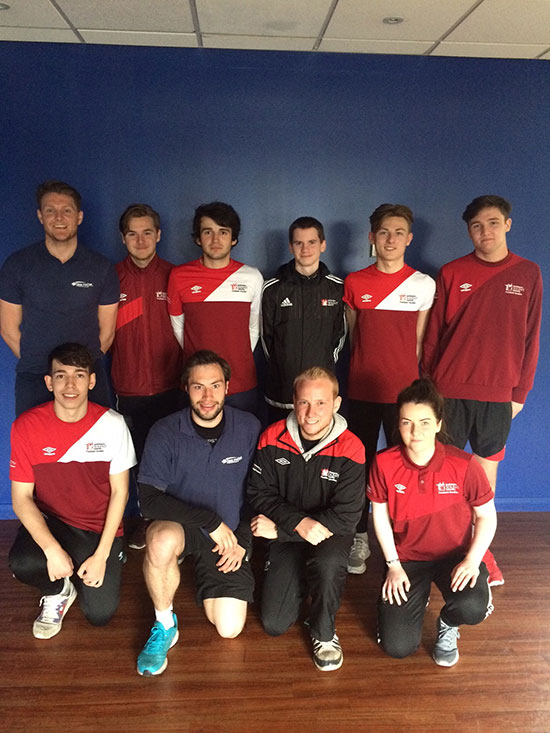 University nominated for UEFA Grassroots football award
Solent nominated for UEFA award
2nd July 2016
Solent University has been nominated for a prestigious award for its Grassroots Football Leadership Project, run in partnership with Hampshire FA.
Shortlisted for the UEFA Grassroots Football Development Project of the Year, a win would see Solent's project voted as the best in Europe. The winners are set to be announced in September.
The UEFA Grassroots Awards have recognised some of the best achievements in the European grassroots game since 2010, highlighting those individuals, clubs and projects that have made a real difference to people's lives through football and who have shown excellence in their practice.
Grassroots football is made up of local, non-professional footballers who play for the love of the game regardless of ability, age or gender.
"We are so proud that the work our students are doing has been recognised in this way by UEFA," says Tracey Bourne, Course Leader for Football Foundation at Solent and the unit leader for the football development units that the project work runs in.
"The project was set up in partnership with Hampshire FA in 2014 to incorporate County FA development projects into the academic studies of the football studies degree here at Solent.
"Our students are allocated a project in their first year, and it continues on through their second year. In the last academic year, over 40 projects were been worked on by our students, and they are making a real difference to the community."
Students have helped develop the University's first futsal (five-a-side) delivery, which includes a community league, and they have also increased the number of schools running after school clubs, created new turn up and play sessions and supported community clubs in their journey to become FA Charter Standard.
All projects are identified in partnership with Hampshire FA in line with their county plan to support the development of grassroots football across Hampshire.
"As our leadership programme has grown we have been able to increase our partnership work to include secondary schools, community clubs, small sided football centres, national charities and many more," adds Tracey.
"This has been integral to the development of the leadership programme and has ensured that the representation of Southampton Solent University in the community remains very strong."
One student who has benefited from the project is Toby Butterworth. "This has had a very positive impact on my personal development for several reasons, the main one being it gave me invaluable experience in working with a new demographic that I previously have no experience with," the second-year football studies student says.
"It helped me become a more rounded coach as the general vibe was less competitive and a huge emphasis is placed on the enjoyment."
Southampton Solent's partnership with Hampshire FA has been so successful, it has been written into the FA University Hub strategy as a national initiative. County Football Associations across the country will be required to replicate the partnership with their local universities.
Another project Solent students have volunteered on is Chapter 1's doorstep sport programme, in partnership with Streetgames. "The programme involved increased participation with disadvantaged communities at the heart of Southampton," says Dean Ashton, National Development Manager at Chapter 1.
"The students began to work with previously homeless clients who were engaged in a support system to prepare them for greater independence. The students set up a football tournament in April to promote the football programme further, to engage with new services and promote a new football league. The event was a fantastic success with teams from all over Southampton attending."
Neil Cassar, Chief Executive Officer of Hampshire FA, adds: "Hampshire FA has always been keen to tap into the student workforce to support the local football community and we have enjoyed success with Solent on one-off projects in the past, but the current programme has taken this to a new level.
"Having Rhea, the children and young people football development officer, (and previously Kim) on site at Solent has enabled the scope of delivery to increase significantly over the past two years and yielded some great successes in a variety of areas. The work Chapter 1, the Southampton Midweek Floodlit League, Futsal participation and schools delivery have been particular highlights."