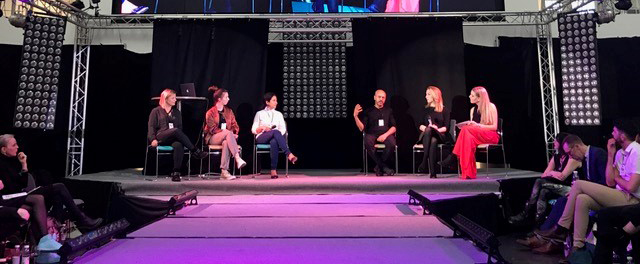 VISION – Back to the Future
Sustainability of fashion
10th April 2017
Fashion
Fashion management
Fashion styling and image making
The Spark recently played host to VISION – Back to the Future, a dazzling fashion show and insightful conference.
The event was organised by BA (Hons) Fashion Management with Marketing students Roxanne Pinfold, Kamila Duangova, Sophie Money and Rosie Walsh, and hosted by DJ Stephanie Nieuwenhuys.
Technology, sustainability, gender and trends were the topics of the day, discussed with an impressive list of inspirational specialists speaking, including:
Saher Sidhom - CEO of Hackmasters
Rachel Arthur - award winning business journalist
Dan Vo - V&A
Nida Gonul - footwear designer
Geraldine Wharry - fashion trend forecaster
Natasha Parker - Global Action Plan
Scott McGlynn - author and presenter
Samantha Kingston - Virtual Umbrella
Andi Maratos - trustee of The Queer Alternatives
David Wright – Solent University
Other designers featured include Kraken Studio, Allen TLN, Lonslut, Gender Free World, Rhea Barry, Sarah Moore and Steven Passaro. The event was supported by NUVU water, Eat Real, Lavera, Bluebird tea, Snact, Disorder and Loorganic.
"This was the best fashion management with marketing event to date," says Israr Jan–Parker, course leader.
"The students came across many challenges and managed the situation with great maturity and professionalism. I am very proud of the way the students organised such a big event. They remained within the budget, secured excellent sponsorship and produced marketing platforms that communicated the event effectively - resulting in a sell-out!
"I am also delighted the project enabled other course students to get involved - including make-up and hair design, fashion styling, buying and merchandising, and The Live Events Society. We are thankful for their contribution; they all did a fantastic job."
Mark Jones, Head of Fashion Management, says: "There was a great buzz and energy about the event and a level of professionalism."