Starting in: 2024
3 years

4 years with foundation year

4 years with year in industry

5 years with foundation and industry years
Register your interest
UCAS code: CGV1
Institution code: S30
Why study a CGI and visual effects degree at Solent University
Ranked top 5 in the UK with the Rookies, this course can prepare you for the thriving and ever-expanding industries of visual effects and gaming.
0

th

in the UK with the Rookies (2021)

Top

0

schools in the world with the Rookies (2021)

0

th

UK uni for sustained employment (Longitudinal Educational Outcomes, 2022)
Access to industry-standard software and facilities, including a green screen room with virtual production tracking facilities, in-house cinema, motion-capture suite and Oculus Rift, HTC Vive, Microsoft Hololens, Occulus Go x 5.

A creative, multi-disciplinary environment for world-leading research in media, culture and the arts – you will learn from experts in their field.

This course has no official exams and is primarily focused on practical work, with great opportunities to develop your learning.

Annual guest speaker event for CGI, VFX, Games and Animation attended by some of the industry's top experts in the field.

Showcase your work through our annual graduate show.
Course overview
Solent's CGI and Visual Effects degree helps to develop artists for a competitive, high-tech industry that offers challenging and creative careers. The degree brings the latest cutting-edge techniques and industry standard software into the curriculum as well as offering you the flexibility to apply your learning in almost any field.
Building upon industry-relevant digital skills, classical art training, creative problem solving and ideas generation, this course offers an industry-oriented exploration of all the core 2D and 3D disciplines embodied across a range of exciting careers. You may come to us with no 3D or compositing experience, or you may have been producing your own models or animations before, either way we will work with you individually to develop your CGI and visual effects skills to meet industry expectations in your chosen direction.
Being aware of industry practices and in contact with industry artists is vital for developing your future career. We support you to build an industry network during your degree to help you find that first entry-level position through good social media practice, guest speakers at our weekly forums, annual events such as CGFX, Viz. Arch Viz, and our Graduate Show, as well as a range of trips. Alongside this you will have access to Solent's many incredible facilities and will attend regular weekly feedback sessions using our industry Rushes pipeline in a recognised course ranked as one of the top schools in the world by The Rookies.
Our annual guest speaker event, CGFX, draws in some of the industry's top experts, allowing students to network and ask questions during the Q&A. Previous companies that have attended the event include Rockstar, Aardman, Glowmade, Outpost VFX, Funko Animation, and Framestore.
Our course is designed to help you evolve from being a learner to a practitioner with strong creative and technical awareness. You will explore many different areas of CGI and visual effects to help you build a wide skill base before focusing on a more specialist area with exactly the skills your chosen industry requires.
Academic Partner of Unreal Engine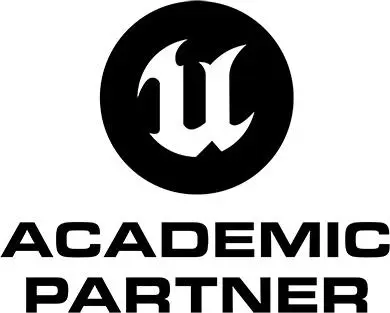 Student work
Our creative degrees allow our students to develop a critical eye for design with a knowledge of different design approaches and problem solving techniques. Take a look at some of the great work they produce.
Course features
Foundation year available

If you're not quite ready for a full undergraduate degree, there's alternative entry through one of our foundation years

Placement year

If you apply for this course with a placement year, you have the opportunity to undertake a year in industry between your second and third years

Specialist facilities

This course has access to specialist facilities

Further studies

After successfully completing your studies, there's an opportunity to continue your studies at Solent

Study abroad

You have the opportunity to study abroad in one of our partner universities for a semester on this course
Who is this course for?
Solent's CGI and Visual Effects course is ideally suited to students who want to learn and develop a range of skills for entry into a range of exciting careers. Applicants should have a portfolio of art, design or technical work to show at interview.
Although students are not expected to have examples of code, this is a perfectly valid portfolio choice for students choosing to pursue a more technical career path in the visual industries, particularly video games or visual effects.
What does this course lead to?
This course can lead to many exciting careers in the film, TV, advertising, video games and visualisation sectors. Students build a solid portfolio perfect for a generalist or entry-level specialist position.
With emerging markets, we are increasingly seeing exciting opportunities in simulation, virtual/ augmented reality, visualisation, military and many other industries that we are excited to present to our students.
Solent stories
Hear from Solent alumni about where their careers have taken them and how studying at Solent prepared them for their future.
Read more stories
"The course is just tailor-made to learn about the foundations of multiple disciplines within these industries"
---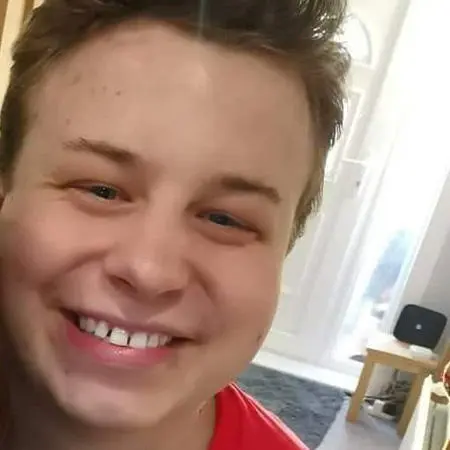 Harrison Evans
Quality Assurance Tester
Meet the team
The University cannot guarantee any particular members of staff will teach specific aspects of the course in the future, but will endeavour to ensure the teaching team maintains their balance of experience and qualifications.
Facilities
Throughout your studies you will have access to a wide range of up-to-date industry-standard software and facilities.
Virtual Production Studio with green screen and Mo-Sys tracking facilities; in-house Dolby Atmos cinema; specialist media production store with access to thousands of cameras and other items; computer suites with dedicated high-spec PCs and industry-standard software; motion capture suite; Oculus Rift, Oculus Go, HTC Vive and Microsoft HoloLens VR/AR equipment; Shotgun for asset management; Portable green screen; HDRI chrome/grey balls; portable Faro LIDAR scanner, Insta 360 Cameras; and 3D printing.
International opportunities
Broaden your horizons by adding an international dimension to your CV – essential to achieving success in today's fast-changing, global environment.
Studying, working or volunteering in another country could be the experience of a lifetime. Enhance your degree by developing important global skills such as knowledge of other countries, language skills, intercultural awareness, adaptability and confidence.
For more information, please email international.mobility@solent.ac.uk.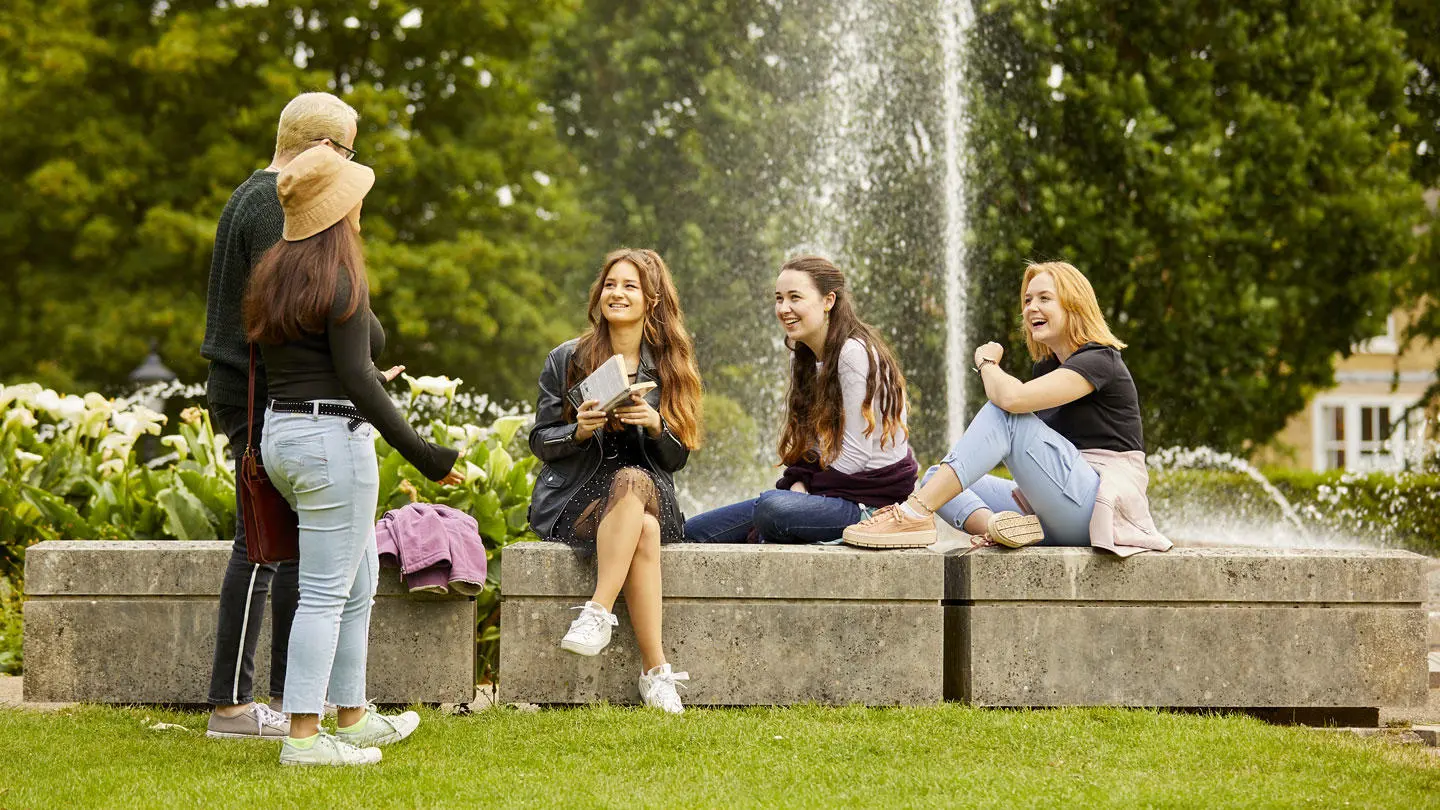 What you'll study
Core modules
Introduction to 3D
On this module you will learn the fundamental tools of 3D content creation, using industry standard software. You will develop your skills in 3D modelling, texturing, lighting and rendering in the context of current industry practices.
Introduction to VFX
This module introduces students to a variety of foundation techniques, concepts, tools and work practices specific to the VFX pipeline using industry standard software.
Digital Visuals
This module sets the groundwork for your journey as a digital artist. It provides a global overview of the production pipelines used in different sectors of the digital art industries. This module also aims to help you start to develop your visual intelligence and understand the various ways in which visual intelligence is embedded in digital art in specific sectors.
Real-Time CGI
The Real Time CGI module is a fantastic chance to experiment with some very up-and-coming technology. With the level of detail that game engines can produce rivalling and, in some cases, now exceeding the level that can be accomplished via traditional rendering methods – game engines are a rapidly growing technology that you need to be playing with. This module gives you a chance to play with this and adapt this to a specific project that you choose.
Introduction to Animation
CGI and VFX are nothing without animation. Animation is the addition of life to your CG models that turns them from static models into living, believable creations. This module will starts with animation of basic objects and then introduces you to the many varied CGI tools for animating more advanced elements such as motion capture.
Architectural Visualisation
This module will introduce you to 3D and 2D photorealism skills that are common throughout CGI as well as being specific to the Architectural Visualisation industry. As well as precise modelling, physically based lighting and materials and up-to-date rendering practices, you will be encouraged to develop still images artistically using 2D post-production techniques.
How you will learn and be assessed
You will learn by:
You may be assessed by a combination of:
Portfolios

Video submissions

Assignments

Sketchbooks

Individual presentations
Solent's curriculum framework builds on our unique, creative and applied approach to teaching. The transformation of students' lives is at the heart of our mission as a university, and our curriculum – informed by the latest theory – reflects this shared educational vision.
Find out more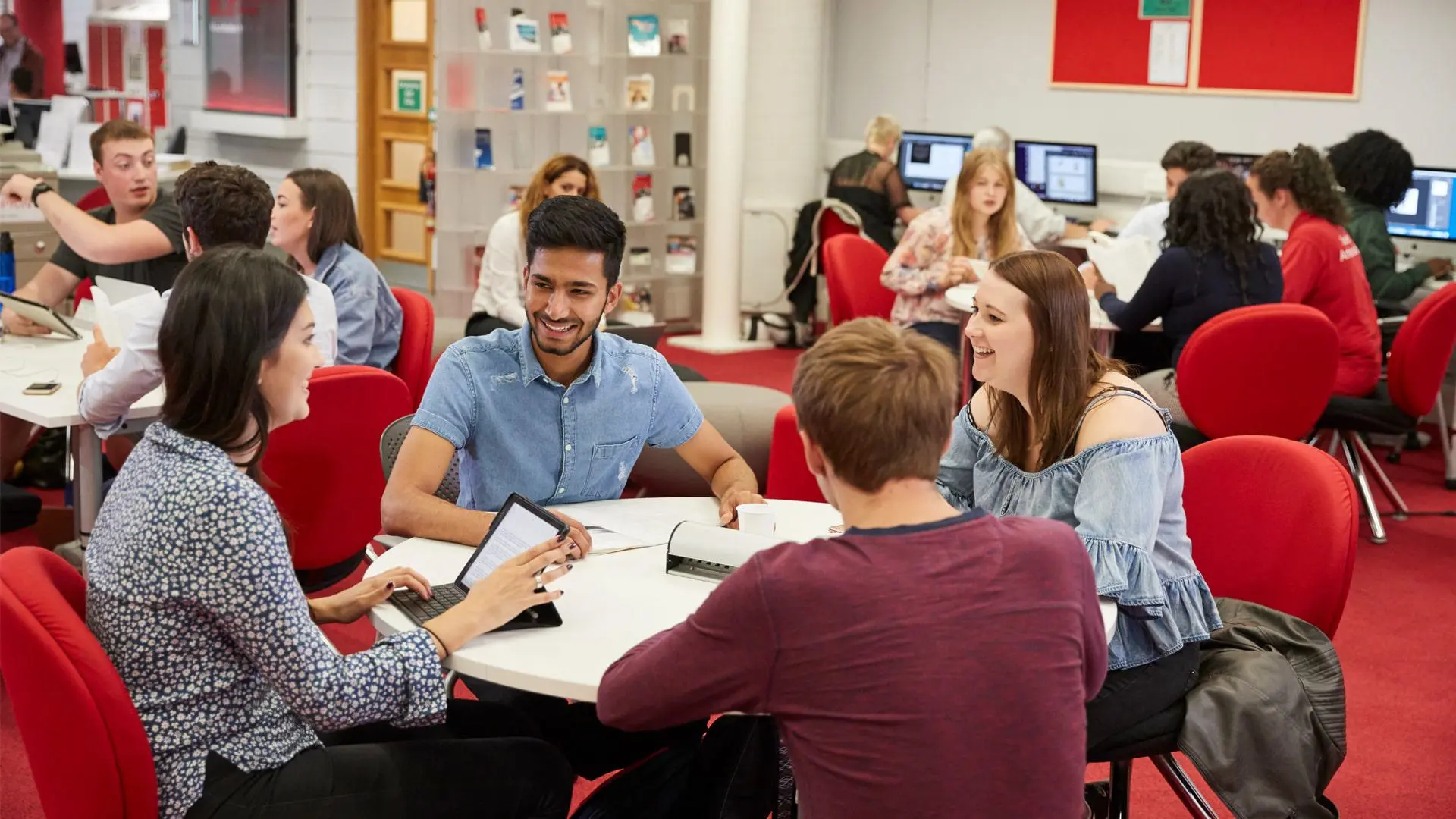 Study support
The student achievement team are on hand to help you succeed during your studies at Solent. They aim to contact you at key times during your time here with personalised information, advice and guidance, by email or phone.
Access Solent provides information, advice and guidance for disabled students.
All students can access Succeed@Solent, Solent's online guide to getting better grades. It offers extensive, practical information and advice on topics such as academic writing, research and presentations.
Why choose the industry?
The CGI and Visual Effects course is structured and delivered as a direct response to the growing international markets that require specialist skills in 3D computer graphics. CGI is a direct entry route in Film, Television and Games but also less commonly known markets such as simulation, architecture/ military and traditional visualisation, Virtual and Augmented Reality and many other areas.
Since the commission of the NextGen report in 2013, the UK has aggressively tried to recruit students into creative subjects that are still today considered shortage areas – creating the term STEM (Science, Technology, Engineering and Maths). The term STEM is used frequently in education to refer to areas of high employability or high salary. Many of the areas that the UK cannot fill from the existing talent pool we still rely on Europe and overseas. This is a growing concern with a pending and uncertain Brexit as to how the market will cope with such a skills shortage. Despite this – the UK is still considered the world leader in this sector.
As a result of the growth of this market, the UK Shortage Occupational List (SOC) lists seven areas directly covered on the course; a further 8 career options that are provided a good entry into this field via the subject and three subjects that are very loosely tied but still relevant and worth stating for the purpose of this category. This list was reviewed in 2019 with a hope that several of these areas had been addressed, instead the update found that a further three areas should be added.
In 2014, the UK was also considered to be the world's largest international exporter of TV content, and although it has since been replaced by the US, it still ranks high. With continuing tax relief for filming and compositing work, poor performance of the British pound and the incredible geographical base of all major studios in London, the industry continues to thrive through times of economic uncertainty.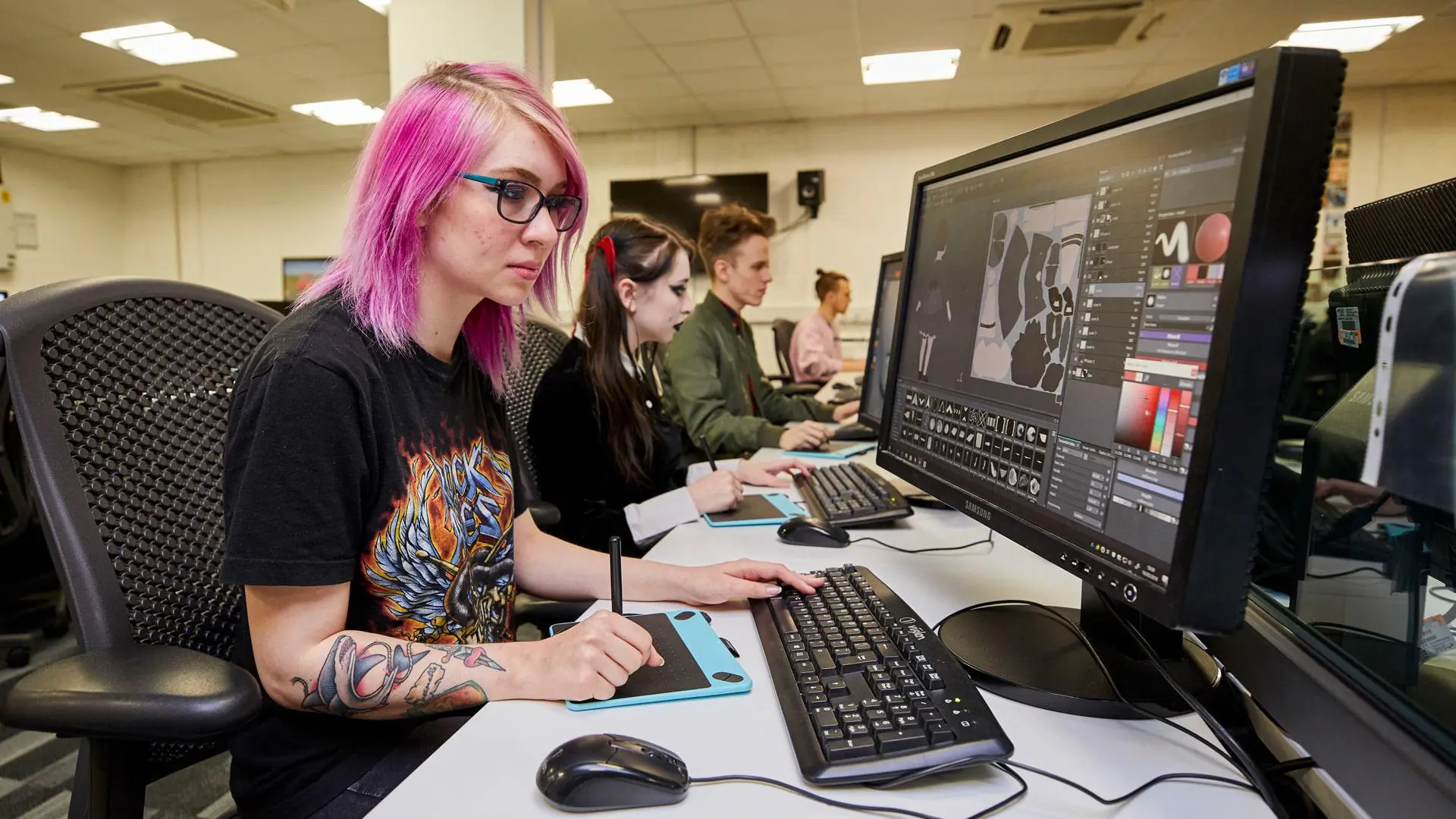 Tuition fees
The tuition fees for the 2024/25 academic year are:
UK, EU (settled status) and Channel Island full-time fees: £9,250 per year

International full-time fees: £16,125 per year
For further information, please visit our tuition fees page.
Extra course costs
While most course costs are covered by your tuition fees, some essential resources and optional extras may need to be paid for separately. For advice on budgeting and managing your money, please contact student.funding@solent.ac.uk.
Bursaries, scholarships and financial support
Solent University offers a range of bursaries and scholarships that provide financial assistance or waive fees for tuition or accommodation. Each bursary or scholarship has specific eligibility criteria. Check out our bursaries and scholarships pages to find out more.
Graduation costs
There is no charge to attend graduation, but you will be required to pay for the rental of your academic gown (approximately £45 per graduate, depending on your award). You may also wish to purchase official photography packages, which range in price from £15 to £200+. Graduation is not compulsory, so if you prefer to have your award sent to you, there is no cost. Extra guest tickets will go on sale after results publication and will be sold on a first-come-first-served basis. The cost per ticket is currently £15. Please note, we do not guarantee there will be any extra tickets available to purchase.
Entry requirements
Please select an option below:
Key entry requirements
112-128 UCAS tariff points
A minimum of two completed A-levels, a BTEC Extended Diploma at DMM or BTEC Diploma at D*D, T-level Merit or equivalent qualification, or a combination of qualifications which comply with the minimum entry requirement of 112 UCAS points.
It will be necessary for all students to submit an electronic portfolio for review for consideration.
For further information about UK qualifications, please contact admissions.
Key entry requirements
As a general guide, we look for qualifications that are equivalent to the British high school A-levels.
If you are applying from outside the UK, find information about entry requirements, visas and agents for your country here.
For further information about EU qualifications, please contact admissions.
Key entry requirements
As a general guide, we look for qualifications that are equivalent to the British high school A-levels.
If you are applying from outside the UK, find information about entry requirements, visas and agents for your country here.
For further information about international qualifications, please contact admissions.
Note to all international students requiring a visa
All international applicants need to be aware that the English language requirements to attend Solent University, and the English language requirements to obtain a visa from the Home Office, may be different. This means that if you meet the Solent University language requirement to gain a place on the course, you may still have to meet additional requirements to be granted with a visa by the Home Office.
We strongly advise all applicants to visit the Home Office website which outlines all the requirements for a successful visa application and to take a look at our 2023 course entry statement document.
How to apply
Full-time
Any student applying for the first year of a full-time/sandwich undergraduate course must apply through UCAS (University and Colleges Admissions Service). This includes mature, overseas and EU students.
Nearly all schools and colleges offer their students the facility of applying electronically through the UCAS website using 'Apply'; it may also be used by those applying independently in the UK and overseas. This facility and all course information can be found on the UCAS website: www.ucas.com.
Your application should reach UCAS by 31 January if you hope to enter a course the following autumn. Early application is advised for the most popular subject areas. Late applications may be made until the end of June. The UCAS Code for the University is S30, code name SOLNT.
Find out what happens after you apply
Contextual offers
Solent endeavours to offer learning opportunities to students from all backgrounds. When we receive and review an application, we take into consideration the context and personal circumstances of applicants when making a decision, which means our advertised entry tariff could be reduced.
Language requirements
Applicants who do not have English as their first language will be required to demonstrate an approved level of proficiency in the use of the English language. The agreed minimum requirements for this course are:
IELTS minimum 6.0 overall with a minimum of 5.5 in each individual component
TOEFL IBT minimum 80 with a minimum of 20 in each individual component
Duolingo English Language Test - 115 overall with minimum of 95 in each component or equivalent.
Qualifications are checked before enrolment, and international students must bring their original certificates or certified copies when coming to study at the University.
Pre-Sessional English programme
The University also offers a pre-sessional English programme for international students who wish to improve their level of English before starting a degree course.
We will prepare you for your future
Computer Generated Imagery is an exciting and growing field which covers many of this country's shortage areas such as
3D modeller
Texture artist
Environment/layout artist
Rigger
Matchmover
Roto and prep artist
Compositor
Assistant technical director
On-set data capture technician
Digital matte painter
FX artist
Architectural visualiser
Games artist
Motion capture technician
We will help you start your career
The Solent Futures team is committed to getting students into great careers.
While you are studying, the team can help you with finding work experience or placements, link you with a mentor, check your CV, or offer one-to-one guidance.
If you're in your final year, we also have graduate job opportunities just for Solent graduates.
Find out more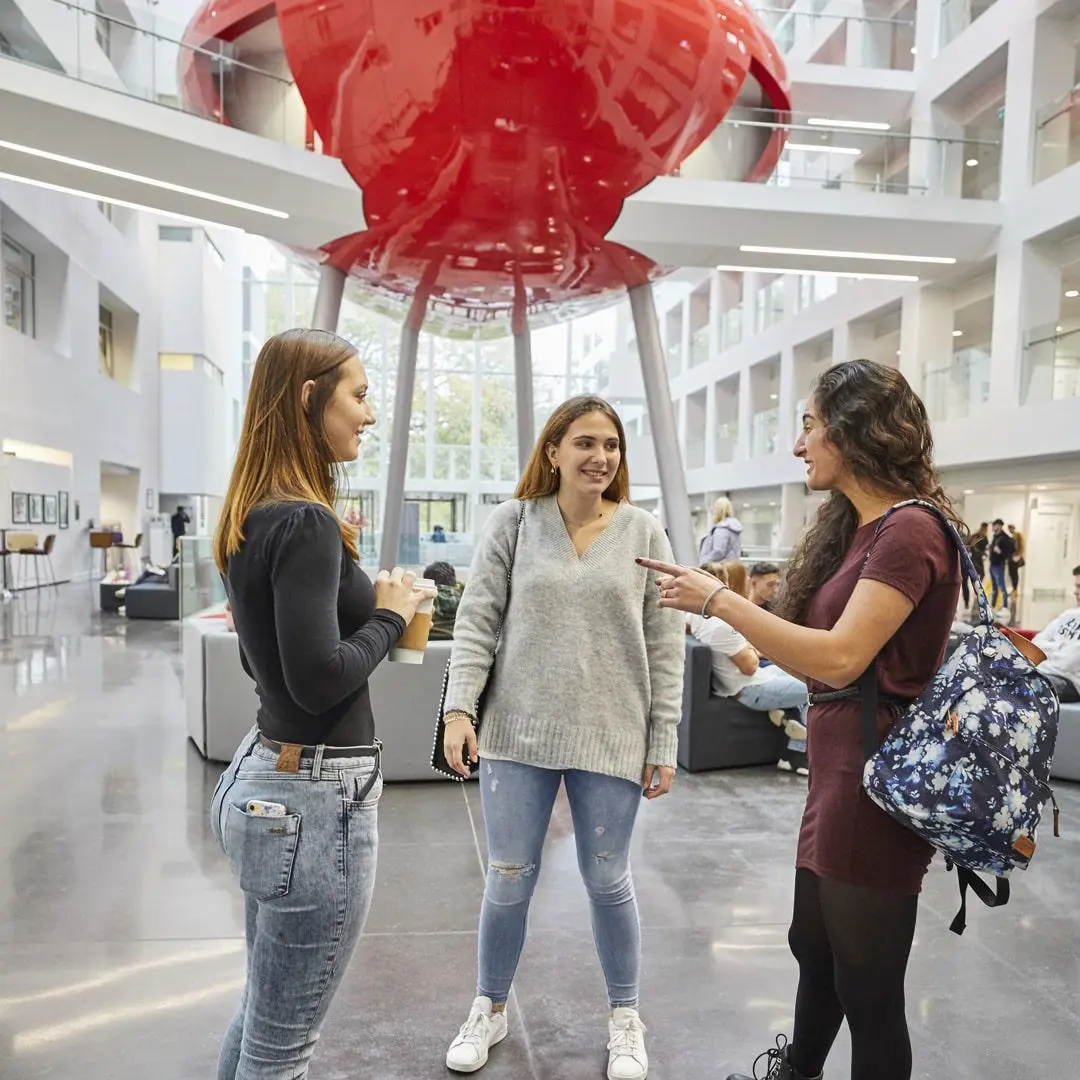 Support at Solent
All students at Solent University have access to a range of specialist support services. Whether you are having financial difficulty, need additional help with academic skills or want advice on setting up your own business you'll find that help is always on hand.
Most of our specialist support services are based around the Student Hub, a central space where you can access all the information and support you may need during your time at University. The Student Hub is the first point of contact if you have any queries relating to your course, including questions about your timetable, options, and assessments and extenuating circumstances.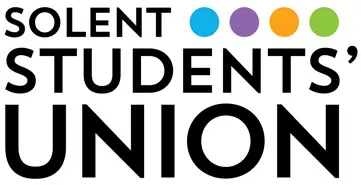 We work in partnership with the University to build a sense of pride and confidence in your Union, University and student experience.
Find out more

Further study
Thinking about studying further than an undergraduate degree? Alumni can get 20% off their postgraduate study.


Make your application
3 years

4 years with foundation year

4 years with year in industry

5 years with foundation and industry years


Not ready to apply?
Come to an open day