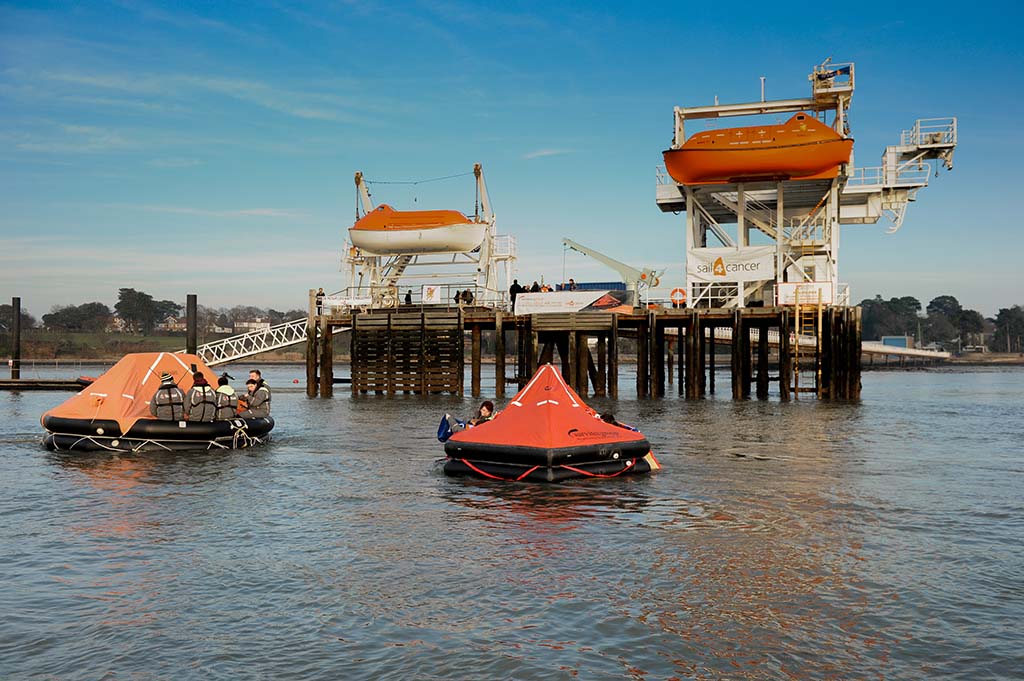 24-hour liferaft charity fundraiser challenge returns
Students and officer cadets prepare for annual Sail 4 Cancer event
7th March 2017
Potentially battling waves, blistering winds and the biting cold, students and officer cadets from Southampton Solent University and Warsash Maritime Academy will be leaving home comforts to spend 24 hours in a life raft.
On Friday 10 March 2017 at 3pm, 24 brave officer cadets and students will set aboard liferafts which will be secured to two buoys in the River Hamble – where they will remain for the following 24 hours. Only the tether to buoys at the head of Warsash Maritime Academy's pier will keep them from experiencing being cast adrift for real!
The day-long challenge comes in aid of Sail 4 Cancer, a specialist respite charity, and will test cadets' courage, self-confidence, teamwork and endurance.
Senior Lecturer Ian Arnold, who is co-ordinating the event, said: "This will be the fourth year running that our Warsash Officer Cadets have supported the 24 hour life raft challenge. This year, with help from Solent Students' Union, we have also recruited university students from the main campus and even one member of staff!
"All equipment is provided, those participating just need to turn up, keep focused on the challenge and raise lots of money for this great cause. We wish them all the best of luck!"
The cadets will experience first-hand just what it would be like if they were cast adrift with their boat sinking.
Companies supporting this year's challenge include Survitec Group, who are providing the life-rafts; Sunsail Events, who are providing life jackets and foul weather gear; Sodexo, who are providing hot food to help sustain the cadets through the challenge; and The Warsash Association, who are supporting the team and will be providing each of the participants with a souvenir to help them remember what they have achieved.
Officer cadet, Elizabeth Stanley from Warsash Maritime Academy, is preparing to brave the elements and experience what every sailor hopes they never have to do for real: "No matter who you turn to recently, you see someone how has been affected by Cancer. Even if I can do some little to help, a little is better than nothing at all."
Taking part for the second-year in a row is Zachary St-John Carleton-Green from the Warsash Maritime Academy: "As a veteran of the 2016 Liferaft Challenge I know exactly what I'm getting myself in for, however I think that Sail 4 Cancer is such a worthwhile cause that I'm willing to go through the challenge for a second time. Whilst I have been fortunate enough not to lose any close family to cancer, I have seen friends whose family have struggled, so anything we can do to help ease that burden and remind them that as a society we care, isn't too much to ask!"
Last year officer cadets who took part in the Liferaft challenge raised over £12,000 for sail4cancer. All students, officer cadets and staff participating for 2017 are doing all they can to raise as much as possible.  
To find out more about the liferaft challenge, who is taking part and to donate, go to the Sail 4 Cancer fundraising page.
Spread the word:
Twitter: @warsashacademy retweet #LRC2017
Facebook: Warsash Maritime Academy