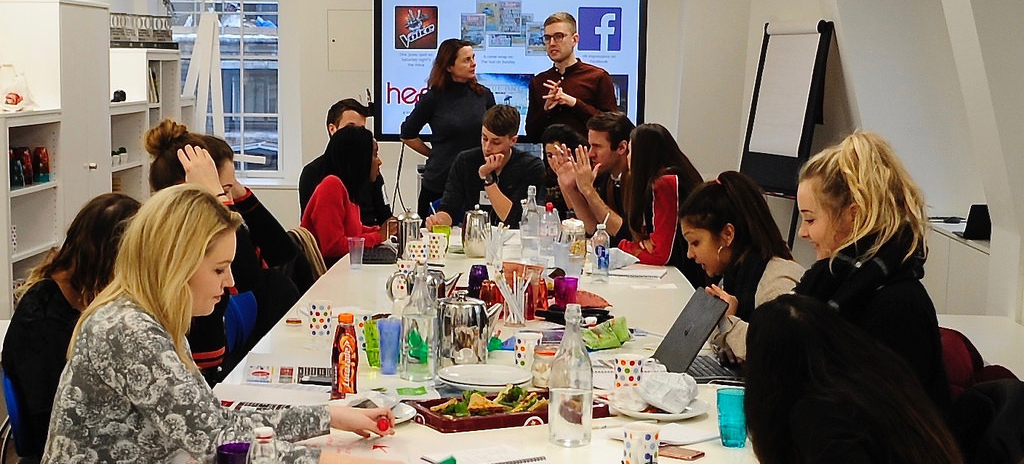 A day in the life of 7stars advertising agency
Students gain valuable insight from agency visit
30th January 2017
Marketing, communications and public relations
The BA (Hons) Advertising course at Solent has developed a range of partnerships with advertising agencies that provide visits, guest lectures and some staff even go on to be part-time lecturers on the course, providing students with a direct insight into what it is like to work in an agency and contemporary practice in this exciting and fast-moving field.
An example of one of these partnerships can be seen in a recent student visit to the advertising agency 7stars. 7stars is the UK's most successful independent media agency - it was awarded 'Media Agency of the Year 2015' by Campaign magazine (the advertising industry bible) and has been towards the top of 'The Sunday Times 100 Top Small Companies to Work For' four years running. It occupies the top three floors of a building in Aldwych with spectacular views over St Paul's Cathedral, housing a fast-growing team of over 150 where everybody answers the phone, enjoys unlimited holidays with "no irrelevant job titles that put people in boxes and limit their potential".
The students' day started with a range of briefings from each of the 7stars media teams (TV, radio, press, outdoor, digital) followed by a competition to rank the cost of various media: wraparound of The Sun newspaper; wrapping the IMAX cinema; a week on Heart and a spot in the final of The Voice. Over lunch in the boardroom, groups worked to a live client brief, finishing up with presentations. The valuable feedback from this session helped students to re-think their assumptions about the traditional roles in advertising, with 7stars explaining how media planning and buying are very specialist roles that requires a broad set of skills where "you can be creative, but it is also a numbers game" and adding that you shouldn't "limit yourself to demographic profiling, lifestyle insights can help targeting and creative messaging".