Alumni of the Year Awards 2021
Submit your nominations for our Alumni of the Year Awards 2021
29th April 2021
Our Alumni of the Year Awards celebrate the achievements of Solent alumni and the difference they make. The awards are designed to recognise accomplishments in the arts, sciences, sports, and business, public, personal, or academic life.
Alumni can have graduated last year or 50 years ago, all that matters is they deserve recognition for their achievements. In 2021, we also want to celebrate the role of our alumni in response to the Covid-19 pandemic.
Winners will be announced in July and presented their award at our class of 2021 graduation ceremonies (dates TBC).
If you know a member of our alumni community, who should be recognised and celebrated for their achievements, nominate them for the Alumni of the Year Awards 2021 before 31 May 2021. Self-nominations can be made, but they must be accompanied by a letter of support.
We welcome and encourage nominees from all backgrounds.
For 2021, following the launch of the Warsash Maritime School alumni community for cadets and maritime professionals, we are also celebrating our maritime alumni. To find out more and make a nomination for the Warsash Maritime School Alumni of the Year Awards, click here.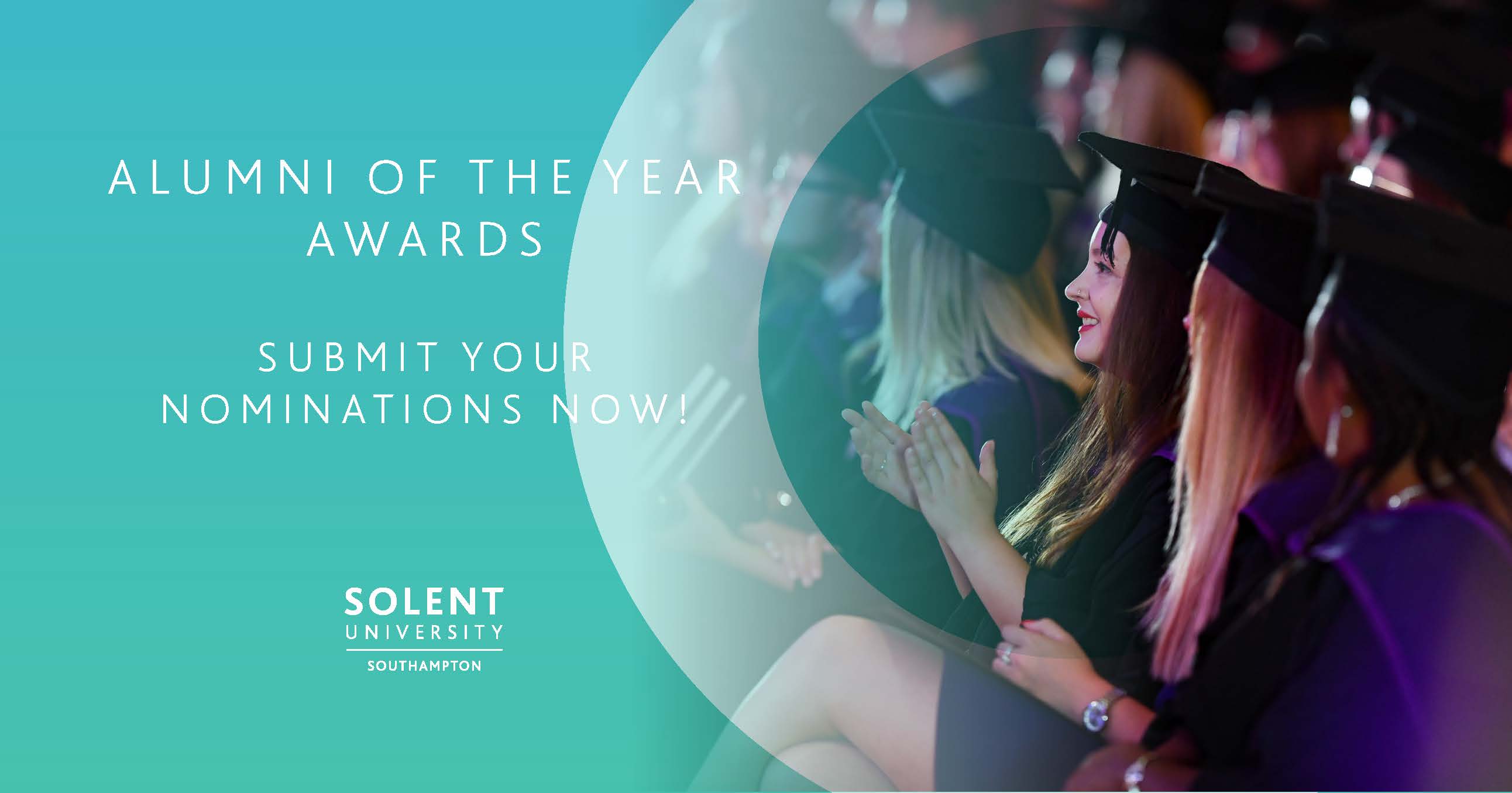 More information and rules
Awarding criteria and eligibility
Details of the nominations will be private and confidential.
Nominations open on 30 April 2021 and close on 31 May 2021.
Nominations can be made by anyone, including current students and staff, former staff of the University and alumni.
Self-nominations can be made, but they must be accompanied by a letter of support from an independent referee with their completed nomination form. Support letters cannot be written by relatives of the nominee.
Nominees must be a graduate of Solent University or of one of its predecessor or associated institutions.
The award would not usually be made where the nominee has already been awarded an honorary award from the University.
Selection Panel members cannot make nominations or be nominated.
No posthumous awards will be made.
Alumni ineligible for nomination include active politicians and nominees who have previously requested no contact from the University.
A maximum of two awards will be made each year.
Announcement and awarding
Up to two awards will be made by a selection panel appointed by the University. The decision of the panel is final, and we will not enter into correspondence with regards to the decision of the panel.
Successful nominees will be informed in June 2021.
The award winners will be announced virtually in July 2021 and invited to the class of 2021 graduation (date tbc).
Each alumnus, alumna or alum of the year will receive a certificate detailing the important contribution they have made.
Each alumnus, alumna or alum of the year will be awarded their certificate at one of the University's graduation ceremonies, date to be confirmed.
If an alumnus, alumna or alum of the year wishes to accept their award but cannot attend any graduation ceremony in the year, the University will endeavour to make alternative arrangements.