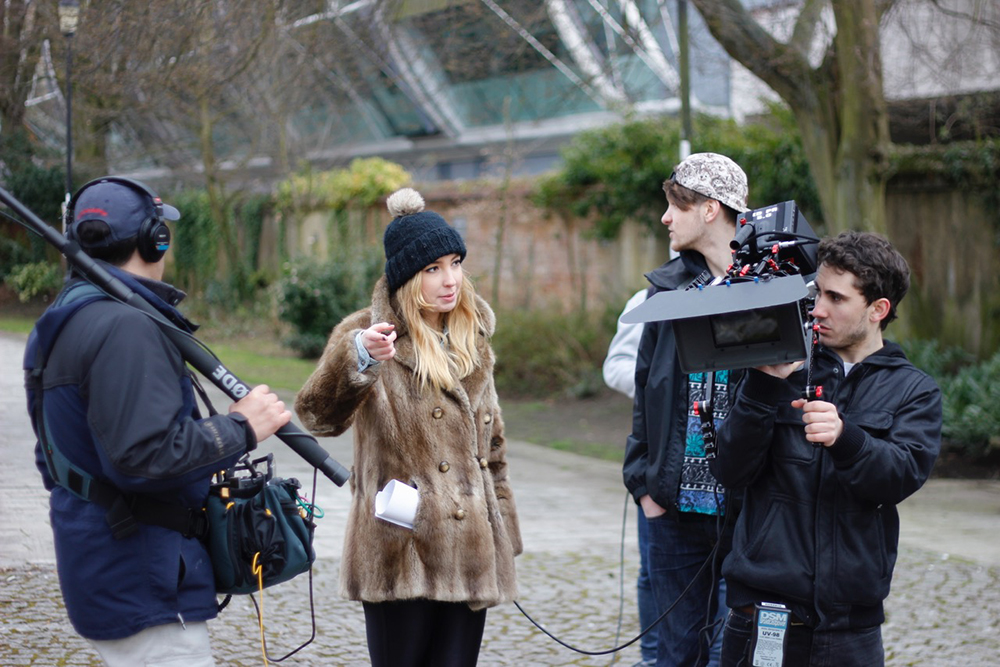 Since graduating from our BA (Hons) Film course in 2013, Samin Saadat and Oliver Girling have seen success with their business venture, GripUp.
24th October 2017
TV, film, media production and technology
Since graduating from our BA (Hons) Film course in 2013, Samin Saadat and Oliver Girling have seen success with their business venture, GripUp.
As well as selling filmmaking equipment, the pair provides support, advice, how-tos and hints to help their customers create better content.
We spoke with Samin to find out more about what he and Oliver have been up to since they graduated.
When did you first realise you were interested in the film industry?
Growing up, I always wanted to be an actor, although entering my teenage years I realised my love wasn't for acting but in the creating part of films.
Why did you choose to study at Solent?
Prior to applying to Solent I'd worked at several production companies in London, on shows such as Peep Show, Top Gear and The Cube. While I enjoyed working in the TV industry, at the age of 20 I felt I still needed to get a degree and make my way into film. After doing some research, Solent was the best option to immerse myself into this sector.
When did you first start thinking about becoming an entrepreneur?
During my years at university I started my first venture in a student removals business, which I then expanded into student home cleaning services. I'd seen a problem in both those areas and wanted to fix it while earning some pocket money.
Although Oli and I were on the same course we hadn't spoken to each other until our third year, where we worked together on our final major projects. During his first couple of years at Solent, Oli had started his own filmmaking blog, which in less than two years had gained more than 5,000 monthly subscribers. It was through this blog where our co-business venture began.
Neither of us started our projects to become entrepreneurs but it's something that developed over time.
How did you develop GripUp into what it is today?
Before graduating, Oli and I had placed a partnership deal with an Israeli-based camera equipment company called CameraKings. Once we graduated, we opened CameraKings' first office in London and managed some of the operations.
Since then, both of us have come a long way in understanding business and have now fully acquired CameraKings in both countries. We have since rebranded as GripUp, with a focus on developing a business driven on community trust and support. Since our re-launch we've helped thousands of filmmakers from around the globe.
While managing GripUp we continued to pursue our real passion for filmmaking and maintained to work on sets for our second company, Optimum Pixels. This structure allowed us to keep up to date with the rapidly changing equipment industry and expand our knowledge base while growing our contacts.
How do you think your time at Solent helped prepare you for life as a filmmaker and entrepreneur?
Both Solent University and Solent Creatives were a huge part of our success. So many opportunities were available through the university, each giving us more knowledge and experience.
Although we are still learning while running GripUp, it was nice to have had a head start.
What would you say to the current students who are looking to get into the film industry?
First and foremost, remember the film and TV industry is huge! There are so many organisations that serve the production of films, from software development aiding pre-production, to specialist distributors who get your films in cinemas, on-demand platforms and DVDs.
Although working on one of these types of firms may only be an indirect involvement, it will give you a chance to understand the industry in further detail. Then when you're ready to create your own feature or TV series, you can benefit from the knowledge and contacts you build. Our industry is more often about who, rather than what, you know, so use all the available resources at university to get your foot through the door at big organisations.