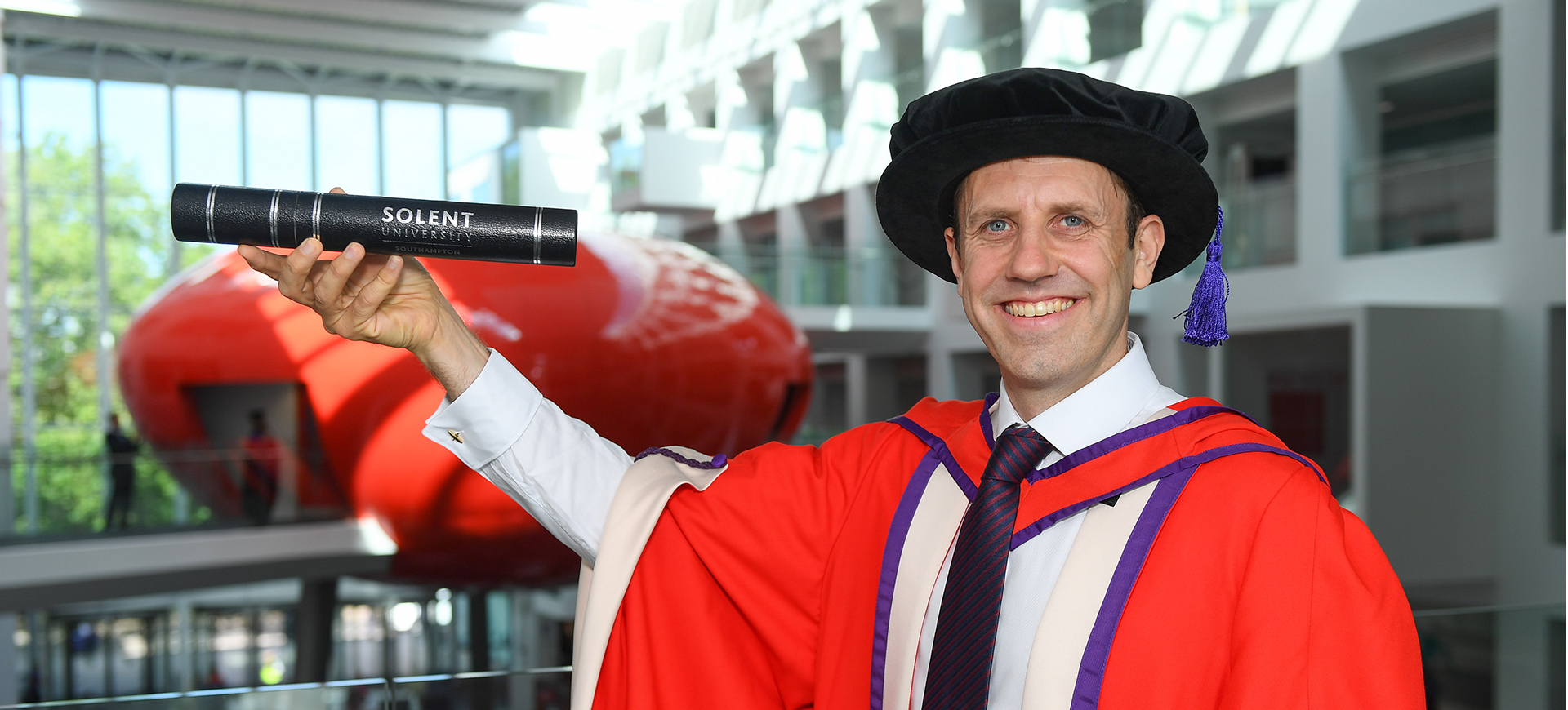 Alumnus and British diplomat awarded honorary degree
Oliver Ballhatchet MBE awarded honorary degree
12th July 2019
British Foreign & Commonwealth Office representative, Oliver Ballhatchet MBE, has been awarded the honorary degree of Doctor of Laws by Solent University today (Friday 12 July). 
Oliver graduated from Solent University with a Bachelor of Law in 1997. Soon after graduating, he set his sights on travelling the world to seek and seize the wonderful opportunities that life had to offer. 
Oliver has never looked back from his travels, and through blending leisure with work, he has been able to travel to six of the earth's seven continents. From teaching primary school children in India, to starting up an English Language newspaper in Peru, Oliver's work experience on his travels set him up for a future diplomatic career. 
During his time travelling and working around the world, Oliver decided he wanted to join the Foreign & Commonwealth Office. At the third time of asking, the Foreign Office accepted Oliver's application to the Diplomatic Service, and since 2004, and has worked on Counter Terrorism, the Western Balkans, Global Climate Change, Energy and UN Peacekeeping. One of his most memorable projects was in 2012 at the London Olympic and Paralympic Games, where he established the first ever Government to Government Observer Programme between two Olympic and Paralympic host nations, the UK and Brazil. A ground-breaking achievement that saw 300 Brazilian Government officials attend London 2012 and a follow-up conference in Rio de Janeiro. 
While at the Foreign & Commonwealth Office, Oliver spent nine years in Brazil where he was the Olympic and Paralympic Attaché for the British teams at the 2016 Olympic and Paralympic games. It was at this time when Oliver was first recognised for his outstanding work. He was appointed as a Member of the Most Excellent Order of the British Empire (MBE), by Her Majesty, Queen Elizabeth, in the 2017 New Year's Honours list, for services to British Olympic and Paralympic Sport and promotion of the UK overseas.  
Outside of work, Oliver enjoys the outdoors and sport, notably having represented both the Brazil and Peruvian international cricket teams.  
Commenting on his honorary doctorate, Oliver said: "My award is not only in recognition of my work, it's a testament to Solent University, which provides its students with a great platform for life. I want to encourage people who are currently in their studies to work hard and pursue their passions, as no matter how hard it seems, the rewards are worth it."