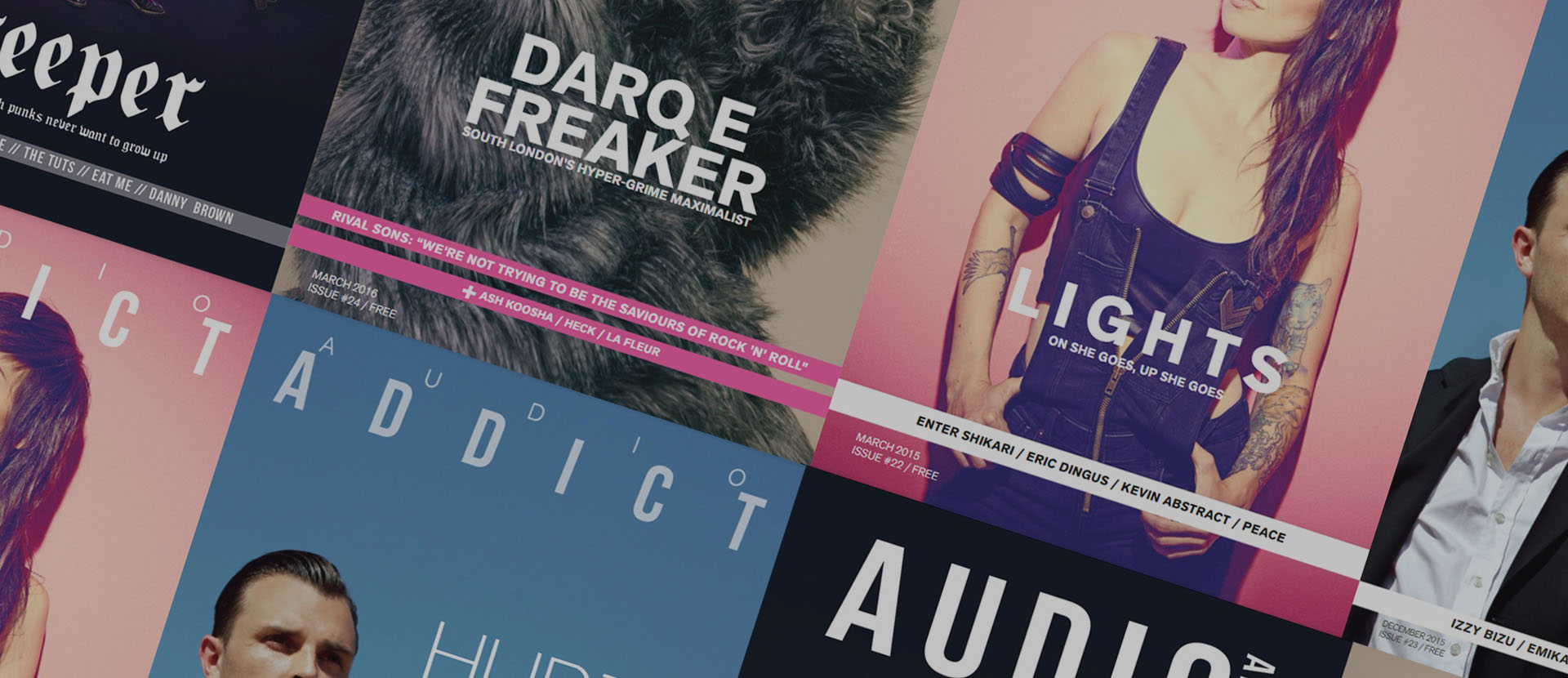 Audio Addict: Eight years of launching careers
Audio Addict has been kick-starting careers since its first publication.
2nd February 2017
January saw students publish the latest edition of Audio Addict, Southampton Solent University's music magazine. This multi-platform publication has been kick-starting graduate careers ever since its first publication in 2009.
Produced through the BA (Hons) Popular Music Journalism programme, the Audio Addict print and digital magazine, website and sister radio platform Radio Addict have become synonymous with the very best of music - from the mainstream to the margins - since the title's launch eight years ago.
Audio Addict's multi-platform presence features student-produced editorials, photography, podcasts and short films that cover genres as disparate as heavy metal, punk, hip hop, house, grime and much more besides.
Magazine cover stars have included big names like Ellie Goulding, Bastille, Everything Everything and You Me at Six, as well as underground artists such as Darq E Freaker and Little Dragon.
The latest edition is a worthy addition to the Audio Addict catalogue with features on local horror punk legends Creeper, the Grime scene outside of London and outspoken punk band The Tuts. Readers can also expect great playlists, reviews and think pieces.
The revamped and re-branded print and digital editions were launched to coincide with a guest talk from Creeper at Solent University. This was was also live-streamed by Radio Addict.
Current Audio Addict editors - music journalism third years Isha Shah, Tom Staniszewski, Charys Newton and Daisy Hearn - oversaw and organised the production of the magazine. This included running teams of second year editors, commissioning students from all levels to contribute copy and photography, liaising with record industry personnel and managing every stage of both print and digital production.
 "To be given the opportunity to produce print magazines is amazing. You not only get to experience first hand how hectic and busy the industry is when trying to meet crucial deadlines, but it also teaches you time management skills while securing important relationships with current industry creatives. Print is not dead, and having a physical copy of Audio Addict just proves how all that hard work and stress is unbelievably worth it in the end."
Right from the first edition, Audio Addict has made a huge impact with readers throughout the world. This is thanks, in part, to the worldwide exclusive feature on The Prodigy prior to the release of their album Invaders Must Die. Over one million Prodigy fans worldwide attempted to access the magazine over one weekend - the editors (and the server hosting their website!) were overwhelmed by the positive response.
Audio Addict may not have again reached such dizzying heights, but it has achieved many great things. The initial success of issue #1 created the space and momentum to launch the SMILEfest event. Audio Addict and SMILEfest have since grown beyond the wildest dreams of those first students.
The Audio Addict website has boasted statistics that well-known music sites would be proud of. At its peak the website received 92,000 unique hits per month, while an average readership since inception to January 2017 would put the readership at 25,000 unique hits per month.
The digital edition is read regularly in 15 countries around the world (including USA, Australia, Russia and China) and in the last month alone has received 8,724 reads.
In 2012 Audio Addict launched a print edition. This has been just as successful, with up to four magazines per year enjoying a 10,000 strong readership each. The free magazine is distributed in shops around Southampton and along the south coast in cities including Bournemouth, Portsmouth and Brighton.
The quality of the magazine hasn't gone unnoticed by the industry, allowing the Audio Addict team press access to artists, live shows, festivals and upfront music releases.
High street music magazines have also been supportive, with many students securing work placements and freelance commissions within the music press as a result of Audio Addict.
James McMahon, editor of Kerrang! magazine said:
"Audio Addict is a fantastic magazine. I couldn't believe students produced it because it's so professionally put together. I've taken a number of music journalism students on for work experience as a result of the great work they've done on Audio Addict. An excellent advert for their talents, and a project that really prepares students for life on the frontline of magazine journalism."
With such a great reputation it is probably little surprise that a large number of students from the Audio Addict editorial teams have quickly found graduate employment in areas such as music journalism, music PR and promotion, social media management and record label management.
Our most recent Audio Addict graduates are no different, with two of the team already finding dream journalism jobs. Last year's editor Ben Hindle, was offered a job as staff writer at internationally published dance music magazine DJ before he had even graduated. He has already been promoted and is now their clubs editor:
"As the clubs editor at DJ Mag, I commission live reviews of gigs and festivals, organise other content relating to events and write various articles within the print magazine and for the website. Working on Audio Addict set me up for this. It gave me the experience I needed to do the job well.
"I first made contact with DJ Mag through the Audio Addict "Magazine In A Day" project - part of SMILEfest. I then spent my three years at university writing freelance for DJ, along with several others.
"To come straight out of university and into my dream job as a staff writer, and then be promoted into an editorial role so quickly, is definitely down to the invaluable experience I gained studying at Solent and the encouragement and support of my tutors. The focus on creating real, working journalists within the course, and allowing each student to find their own path or discipline is key to progressing within the industry."
Minnie Wright, last year's features editor, is now TV and Showbiz reporter at The Daily Telegraph. She also worked on Glastonbury Press and the festival's Twitter feed while studying: 
"Taking on Audio Addict at Southampton Solent was a huge task and a great opportunity to put journalism training into action in a real-world setting. Because you run a print magazine and a website it's a demanding project that demonstrates to potential employers that you have initiative and that you spent your time at university doing more than just what's required.
"Leaving with Audio Addict on your CV means you have a year of editorial work under your belt before you even graduate, effectively putting you ahead of all the other applicants who may only have a degree or work experience.
"Audio Addict helped me learn on-the-job skills that I put into practice on a daily basis in my current job - research skills and general working knowledge of how the media industry fits together and functions. It also forces you to jump straight in to the deep end and figure it out as you go along, which definitely has shown me that, even when I'm out of my comfort zone or having to tackle something I've never done before, I have the knowledge and skills to deal with challenges."

Promo trailer for Audio Addict issue #24
Popular Music Journalism course leader Professor Martin James said:
"I am immensely proud of our students and what they have achieved through Audio Addict. They've had to deal with the music industries on a professional level and compete with the marketplace for access to some huge names while also retaining a great ear for the best of the underground. The high quality of the magazine, website and radio station show just how professional and work-ready our students are. No wonder they find such great jobs when they graduate."
With new spin-off magazine Press Play about to launch, an array of fanzines also in production and the ninth annual SMILEfest just round the corner, popular music journalism students are again showing just why their skills are so in demand by the music press, the wider media and the music industries.
Keep up to date with the latest from Audio Addict on Issuu, Twitter, Instagram or their website.
Feeling inspired? Find out more about studying for a degree in popular music journalism here at Solent.