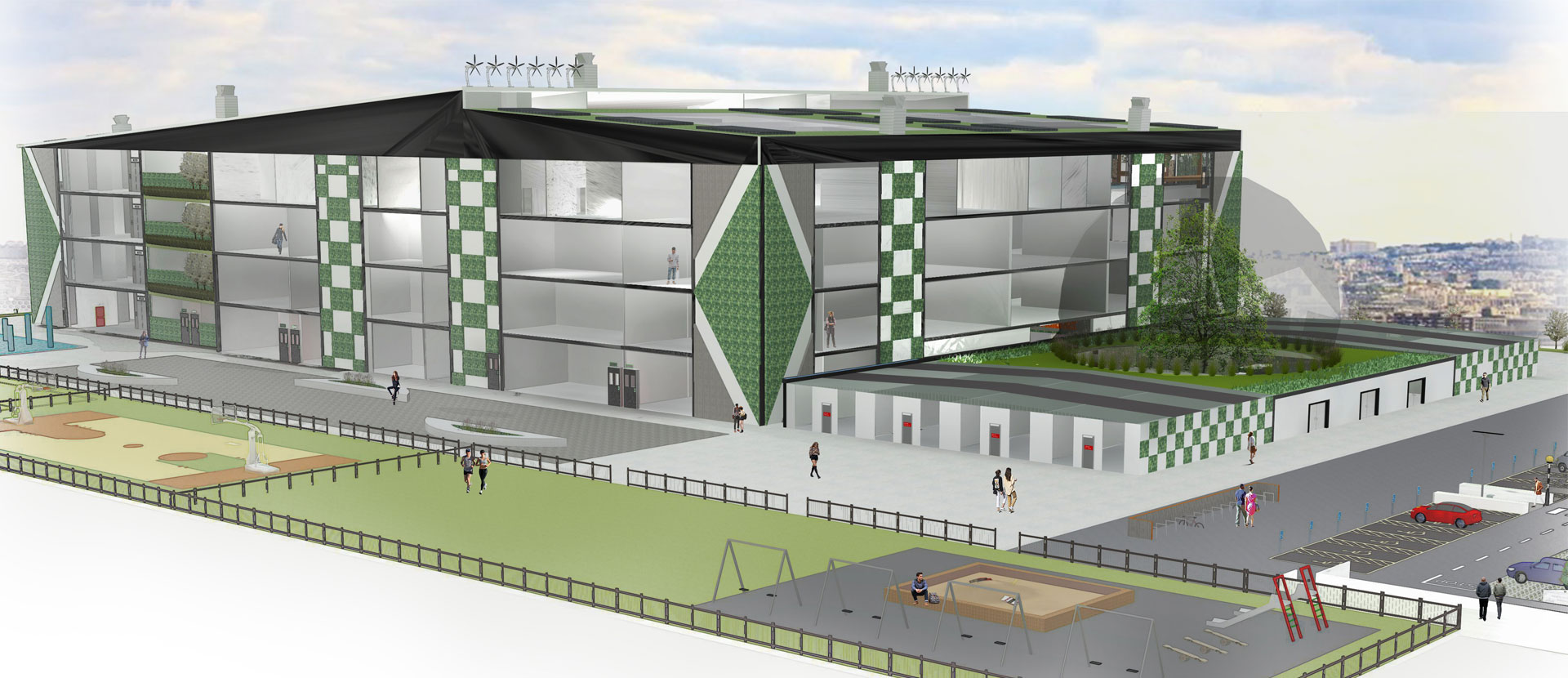 Biophilic design gains interior design student employment
Final-year BA (Hons) Interior Design student, Nadia Ponte tells us about her sustainable building design for a leisure park, which she produced for her final project.
24th May 2019
Architecture and construction
Architecture and design
Students on the BA (Hons) Interior Design degree were set the task of designing a commercial building that had to incorporate sustainability into its design for their final project. We caught up with one of the students, Nadia Ponte, to find out more about her design and her considerations for making the building as sustainable and environmentally friendly as possible.
Tell us about your final project
Our final year project was to form a commercial building under the concept of it being a sustainable design. For my project, I designed a leisure park which includes: a car large car park, playing fields, shopping mall, food court and a spa. For this project, I considered not only the interior, but the exterior as well, ensuring all aspects of the site were designed appropriately and conforming to all building regulations. 
What was the inspiration behind your project?
My project was influenced by biophilic design. This supported the sustainable theme while ensuring the design of the overall site was appealing to the eye and environmentally friendly. My main objective was to ensure sustainable facilities such as solar panels, wind turbines, and water harvesting tanks were all incorporated into the site without making the building look cluttered or lose its overall modern look. 
What have you enjoyed most about your time at Solent?
During my time at Solent, I have specifically enjoyed how all units have been varied over the three years of my course. Because of this, I have been able to learn new software and information which will help me in the design industry. I have also enjoyed meeting new friends within and outside my course. 
What's next for you?
While I was at university I got a job as an architectural research assistant for the Solent's new sports building. And now, I have been selected to work as a junior interior designer for 10 months, starting June 2019. 
What advice would you give to other students?
My advice for other students would be to begin completing all units when they are introduced and not leave it to the last minute.