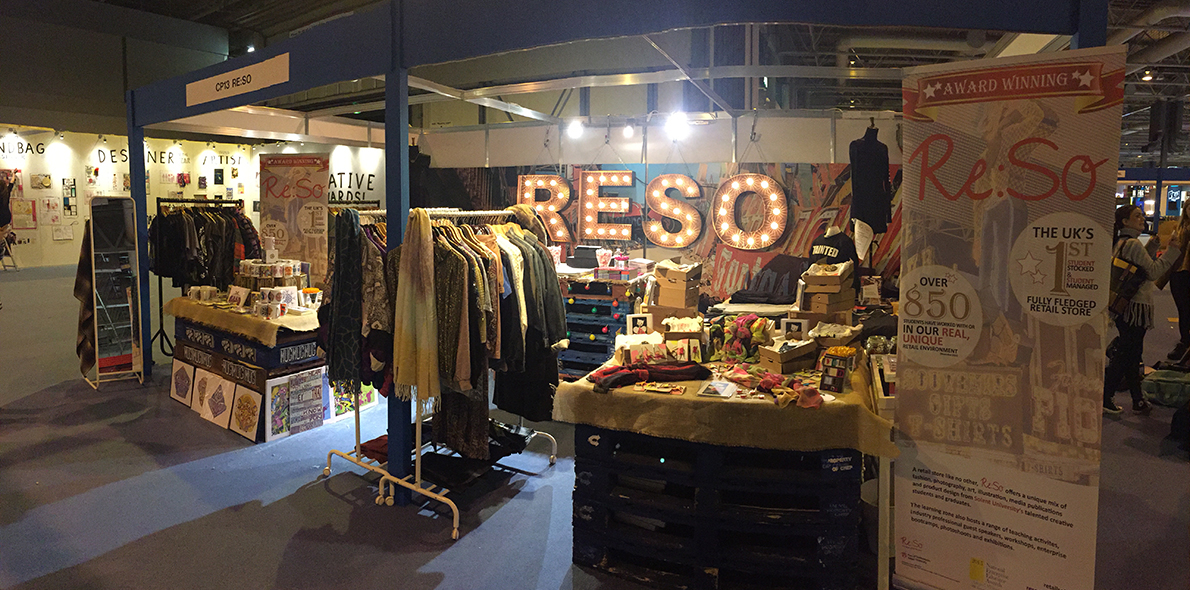 Campus pop-up stall props up student experience
Re:So's Romantic Retail Experience
3rd February 2016
Fashion
Fashion management
Re:So, Southampton Solent University's shop in the nearby Marlands Centre, was the first student-led retail initiative to open in a UK shopping centre.
With students acting as managers, retail associates and merchandisers, the store is a fantastic opportunity to become fully immersed in retail processes.
However, the benefits to students don't end there. As well as winning awards and taking their products to national events like the Clothes Show Live (pictured above), Re:So also organises occasional pop-up stalls on the University campus.
Each pop-up stall is run by a third-year student on one of Solent's fashion degrees as part of their work-based learning unit.
While Academic Leader (Re:So) Lisa Mann is on hand to offer advice, the majority of decisions – and full responsibility for the stall – belong to the student, giving them first-hand experience in buying and events.
Lisa said: "Students have the opportunity to work in a temporary buying role for the pop-ups. They choose the stock that will feature on the stall, and are given a budget to buy extra stock they think will sell well. They do everything, from booking the space the stall will be in, to risk assessment forms, to wholesale buying and pricing from the suppliers."
The next pop-up stall is taking place between Monday 8 and Friday 12 February, and is being run with a Valentine's Day theme by Victoria Poulson from BA (Hons) Fashion Management.
Victoria said: "I'm really enjoying the planning so far, although it does come with challenges, since I'm having to juggle it with other uni work. It's been really interesting though; I've experienced a number of different job roles I might otherwise not have tried."
The previous pop-up took place in October, and was run by BA (Hons) Fashion Promotion students Amrita Daggar and Deborah Green.
Deborah said: "From running the stall I got real industry experience, by using my newly-learnt skills to create a live event. Everything sold well and we made good sales for Re:So because we researched our market and worked closely with the Re:So brand."
Come along to Re:So's pop-up store on the main concourse in the Andrews building, East Park Terrace, between Monday 8 and Friday 12 February.