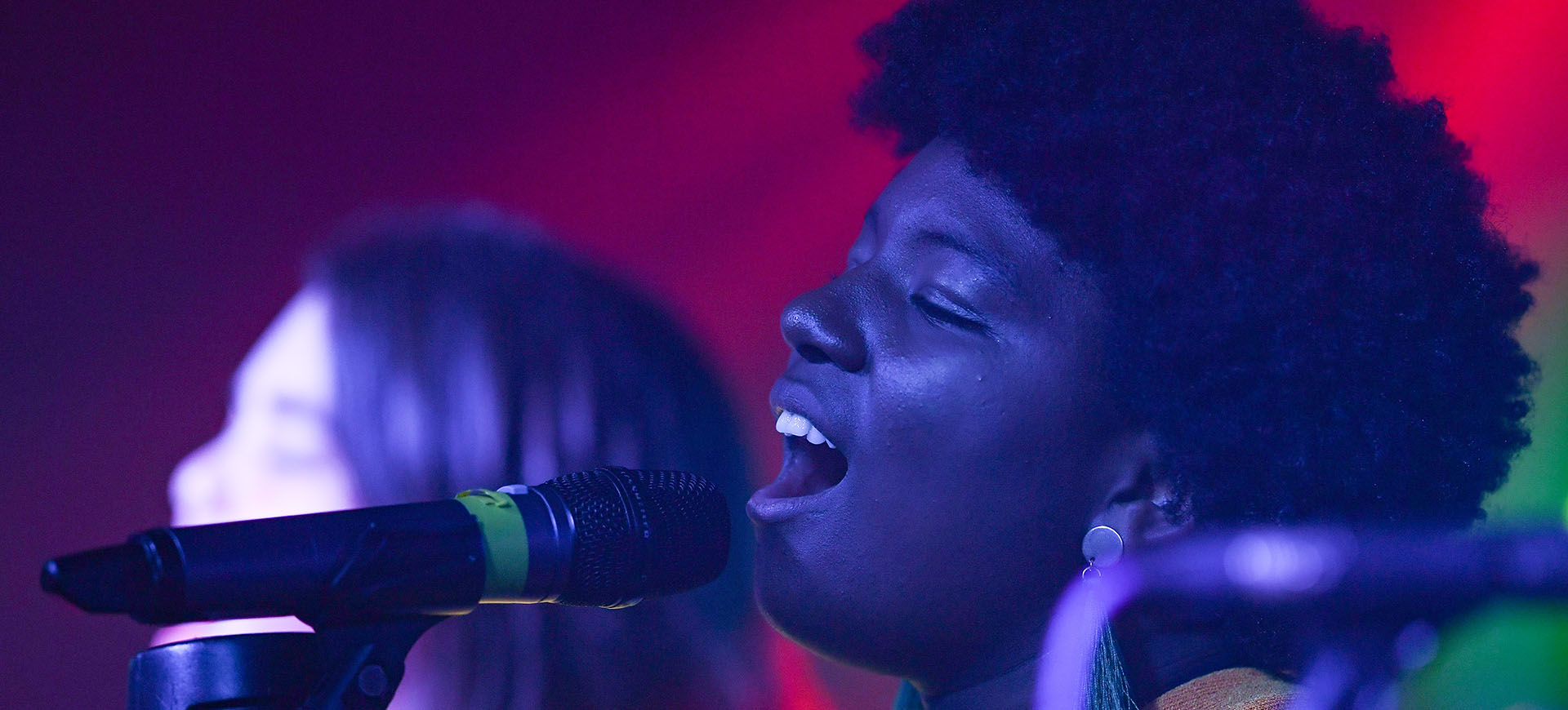 Satellite of sound
20th March 2019
Solent's annual 'Anthems' night keeps on growing, and this year over 100 students and staff took to the stage to celebrate some of the greatest popular music songs – from  'Material Girl' to 'Mamma Mia' and 'Teenage Kicks' to 'Transmission. We asked the event organiser, Senior Lecturer in Popular Music Esther Frake, to tell us more about the event, why it's so important and what makes a good anthem.
Who gets involved?
The event itself involved over 100 students and staff, featuring performances from 24 bands and artists from across the Popular Music Performance, Popular Music Performance and Production and Popular Music Production degree courses.
The event also involved students and staff from BA (Hons) live sound technology and the Live Events Society running sound, staging and lights and was supported by the BA (Hons) Make-up and Hair design and the media and film courses.
What's the brief?
The Anthems gig is an annual event that aims to bring students and staff together to perform some of the greatest songs in popular  music. The sell-out event celebrates the wealth of student talent throughout our music courses.
Why are events like this important for students?
The gig is a highlight of the year and gives students the opportunity to showcase themselves to a large public audience, including industry guests from BBC Introducing and label A+R, in a professional television studio set-up.
Students are encouraged to collaborate across courses and with staff from the music scheme, many of whom who have worked professionally with bands and artists including Ladyhawke, Girls Aloud, Rumer, Mel C, Paul McCartney, Nerina Pallot, B-Movie, Dido and many more.
What makes a good anthem?
'What is an anthem?' is a lecture in itself! Perhaps in its simplest form, an 'anthem' is a song that stands the test of time and features a memorable hook, whether that be the claps and stomps in 'We Will Rock You' or the guitar riff in 'Sweet Home Alabama' – anthems are essentially the song placeholders in popular musical history.
What's your favourite anthem?
There's so many incredible songs to choose from! The anthems gig featured some fantastic rock and indie anthems from bands including Deep Purple, Joan Jett and Joy Division, which would all feature on my anthems playlist, but for me an 'anthemic' song would have to come from a band or artist that I would consider to have pioneered/changed the map of music somehow - so perhaps Pink Floyd, The Wall' or anything from David Bowie or Queen would get my vote!