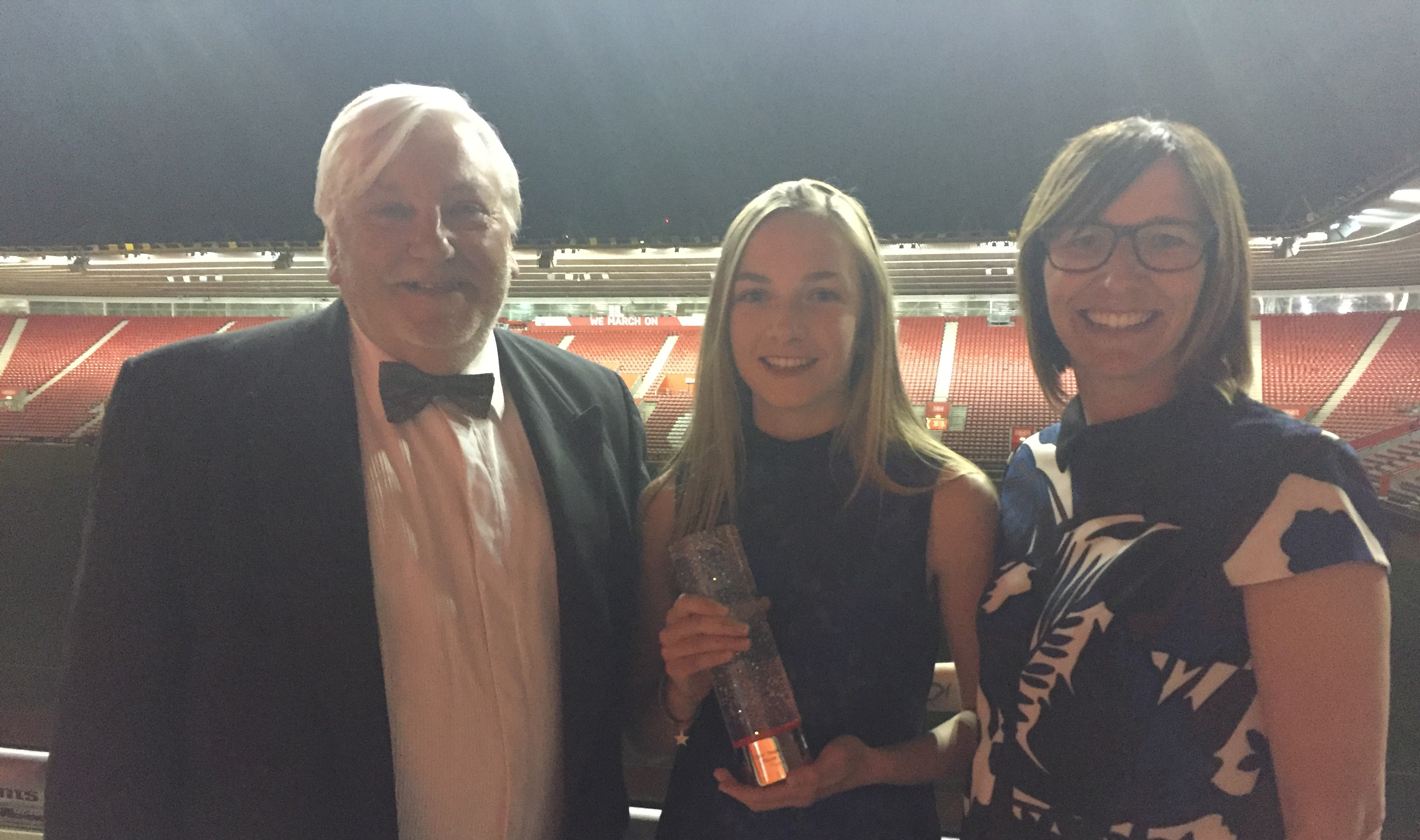 Celebrating the future of women's football
Solent presents inaugural girls' football award at Southampton Football Club's Player Awards
16th May 2017
As the official university partner of Southampton Football Club, Solent University was proud to help celebrate another strong season for the Saints at last week's Player Awards at St Mary's stadium. This year's ceremony celebrated six exceptional athletes from every level of the club,  and introduced the Regional Talent Club Award, presented by the University's own Phil Green, Director of Solent Sport.
This has been a particularly exciting year for the Saints both on and off the pitch, reaching the EFL Cup Final in February and launching the Regional Talent Club in October.
The club, a national tier-one FA-licenced programme, is currently operating teams ranging from under-10s to under-16s, with Solent University offering support on a number of levels.
As first-team stars and award-winners such as Oriol Romeu and Maya Yoshida looked on, the inaugural Player of the Season for the Girls' Regional Talent Club award went to 16-year old Phoebe Williams.
As well as being the Saints Under-16s captain, Williams has represented England Under-16s this season and made a huge impact off the field during Southampton Regional Talent Club's first year, acting as a role model to future players within the community.
Solent University's Phil Green, who had the honour of presenting the award, said: "It's great to see the impact of the partnership in the girls and women's' game. There are more young women playing football than ever before, and we're delighted to be involved with a Premier League club well known for its investment in young talent – giving young people an opportunity to achieve success beyond what may have been possible only a few years ago."
Martina Heath, Head of Women and Girls Football at Southampton Football Club, added: "The partnership with Solent has had a considerable impact in the provision of girls and women's football here in Southampton. We can now offer opportunities to up and coming players and Phoebe shows what can be achieved with hard work and great support. I am excited to see how the partnership will grow in the future and look forward to strengthening our relationship with Solent."
In addition to supporting the girls programme, Solent provides pre-season training for the first team in our advanced sport science and athletic testing facilities; media support for the under-21s; and more – helping develop the next generation of Premier League stars in both the men's and women's games.