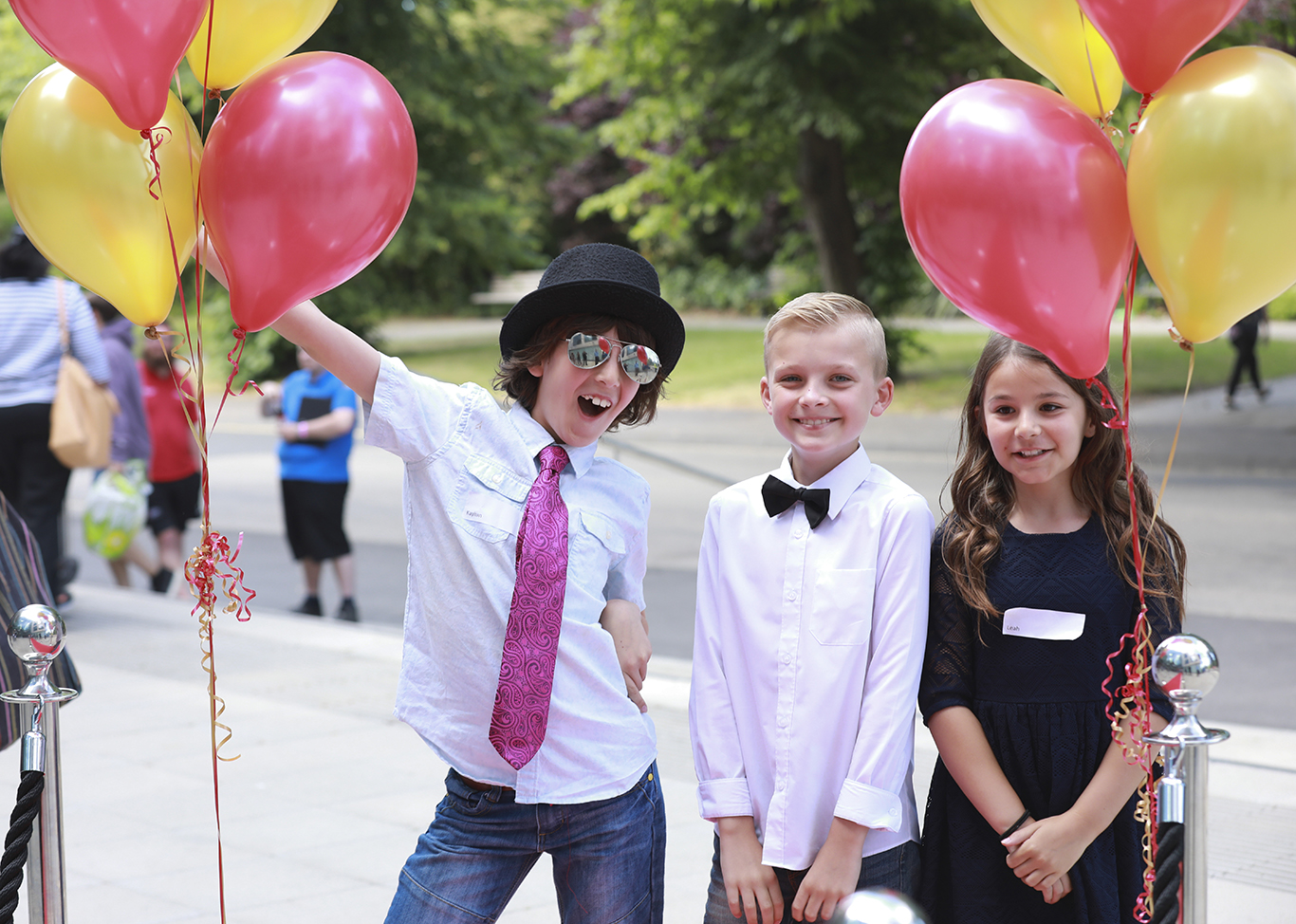 Children attend red carpet film premiere at Solent University
The Shirley Show airs in The Spark
27th June 2017
This week, a selection of pupils from Shirley Junior School joined Southampton Solent University for a red carpet event, the premiere of 'The Shirley Show'.
Part of Solent's Step into Success programme, the University has been working closely with year five children from the school to create a short film, as part of a long-term outreach project.
To tie in with the school's science curriculum, which has been teaching 'forces', The Shirley Show focuses on rollercoasters and was created in the style of The One Show programme.
With the help of Solent Creatives and third-year Solent performance students, a range of filming sessions and performance workshops were arranged to help the children create the final product, including a visit to family theme park, Paultons Park. In true style, the children were suited and booted and arrived to a host of guests waiting to cheer them down the red carpet, prior to watching the exclusive film screening in the University's Spark building.
Ria Fearn, year five leader at Shirley Junior School, said: "We feel so lucky to have been a part of such a wonderful and rewarding experience for all the children. It was fantastic as all children got to shine in their own creative way and those who did not feel as confident in front of the camera were able to get involved with the backstage side of things instead.
"As for the day at the university, it was great to see the children experiencing awe and wonder and have their eyes opened to what their futures could be - expressing a new found excitement to come to university. From all of us at Shirley Junior School, we would like to say a massive thank you again to all of the staff involved for giving us the opportunity to be part of such an amazing experience - we would love to work with you again next year!"
Along with premiering 'The Shirley Show' and getting a taste of life on the red carpet, the pupils also got to enjoy a day full of other activities during their visit to the University, including a campus treasure hunt and 'create your own university' - which left the children with high aspirations about their future choices. 
Solent University Vice-Chancellor, Professor Graham Baldwin said: "Our staff and students have really enjoyed working with Shirley pupils on this project and they should all be very proud of the result. We're always pleased to be able to give young people an introduction to the world of higher education and the types of subjects they may one day study."
Solent's Step into Success programme gives learners in years 5-11 the chance to access a great variety of activities, events and competitions, designed to instil a passion for learning and raise their aspirations for the future.
Solent University's film project with the Shirley Junior School follows the success of the Beechwood Primary School's 'Glorious Greeks' project earlier this year.