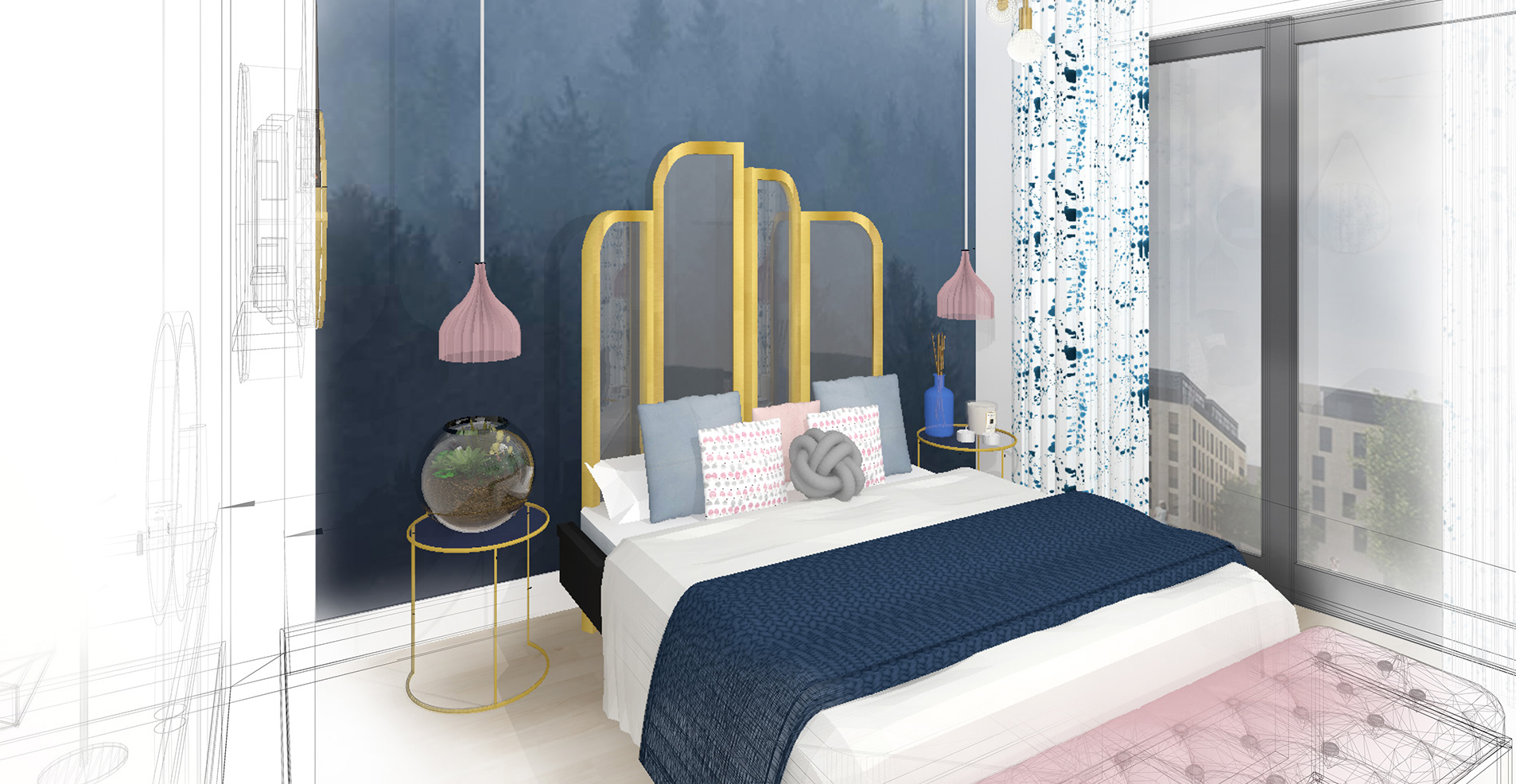 Designing for the luxe life
Bold in Bath
24th August 2017
Recent BA (Hons) Interior Design Decoration graduate, Eve Morgan, designed a lush interior space for her final major project.
We caught up with her to ask about her design inspirations and future plans:
Tell us a bit about your final project.
For my final major project, I designed the interior of a luxury show apartment in Bath. The project involved spatial planning, sourcing furniture and creating 3D visuals of the rooms.
What was the inspiration behind your project?
The building itself helped to inspire the interior. 'Royal View' is a new apartment building in my hometown, Bath. It is a very modern building with curved walls and tiered levels. Curved forms feature heavily within my design, as I wanted the interior to link strongly to the exterior. The Art Deco design period also inspired my design, as it is bold and luxurious. I used lots of velvet, marble and brass finishes to create a 1920s/30s feel within the space.
What have you enjoyed most about your time at Solent?
I've really enjoyed my course as it is really versatile and has allowed me to explore different avenues within interior design. We did a module on theatre set design, which I hadn't even considered before starting my degree.
What's next for you?
I am currently working with Grand Designs Live to create a room set for their exhibition in Birmingham this October. I am currently sourcing furniture and will be designing and styling the space once I get to the NEC. This is a very exciting opportunity and will hopefully help me to find a job in the interior design industry.
I also run my own interior design blog, which has been nominated for an Amara Interior Blog Award 2017! I write about companies, interior products and interior design trends. If you like my blog, you can vote for me here.
I am also looking for a graduate/junior interior design job or internship to start my career.
Any advice you have for other students?
My advice would definitely be to plan ahead! Believe me, you don't want to have to work all night before a project deadline!