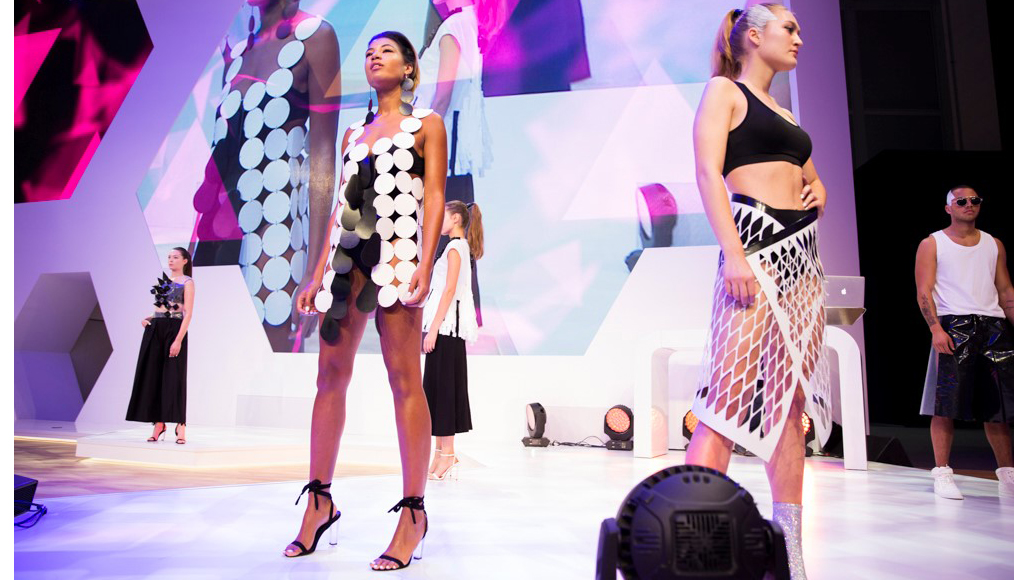 Solent students showcase sustainable fashion on the international catwalk in Dusseldorf
21st February 2017
This summer, nine students from Solent's fashion and arts programmes were tasked with a very unusual brief. Dow Chemical, a leader in the global plastic market, asked Solent's young innovators to design and create wearable garments out of plastic waste.
Designed to change the perception of plastic, the Solent students' creations highlighted the importance of sustainability with the world of fashion. The work subsequently took centre stage at the K 2016 trade event in Dusseldorf, a five-day fair for professionals in the plastics and rubber industry.
Charlotte, one of the students involved in the project, said: "Seeing everyone's work go out on the runway, after how much hard work had been put into it, was rather emotional – but filled me with so much pride.
"It was such a rewarding experience, and opened up so many opportunities for us as students."
The garments made for the project received an overwhelming response on the runway, with one creation, a scaled piece of body armour, making the front page of Plastics News magazine.
Lily, another student involved in the project, said: "We have a passion for nature and wanted this to inspire our chosen design. In our first workshop, we started looking at natural forms and animals, playing around and making scales. The initial challenge was working out which plastics would be best suited to our creative design."
Virginie Wengler, Communications Manager at Dow Chemical, said: "The passion and creativity of the Solent team made it real. I was impressed how students embraced Dow's Face of Innovation theme and developed their skills throughout the project.
"The garments were truly inspiring and proof that plastics can be reused even in a high-fashion way. I am thrilled to pursue the collaboration with Solent beyond the K-Show as we need to continue to look at the way we value waste plastics."