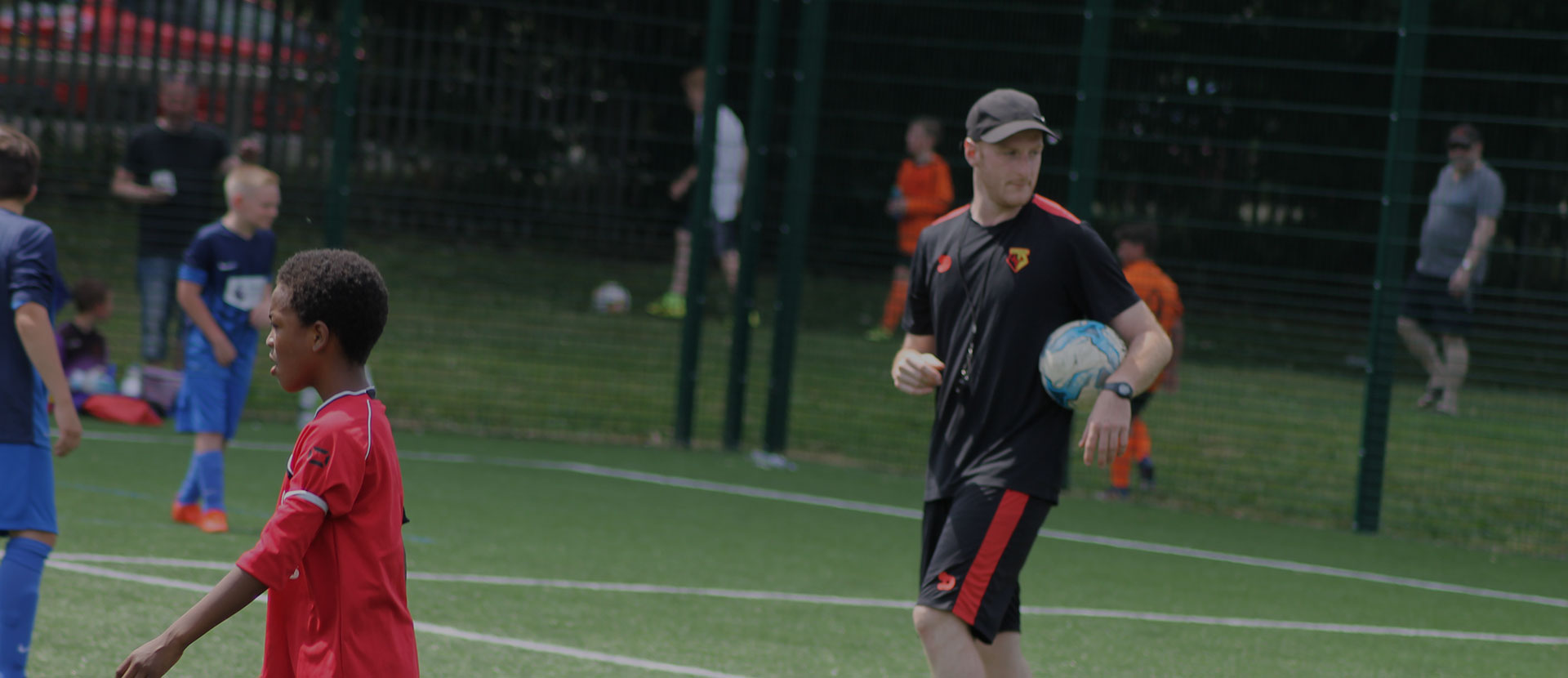 Football studies graduate inspires next generation at Watford FC
Our football degrees have seen many graduates go on to build successful careers at clubs in the Premier League and Football League. Richard Bulling graduated from BA (Hons) Football Studies and Business in 2015, and is currently working at Watford FC as a programme lead in their Community Sports and Education Trust. We caught up with Richard to find out how his career has led him to Watford, and what his plans are for the future.
Tell us about your career so far 
After I graduated in 2015, I went straight out to America for five months with a company called UK International Soccer Camps – I would highly recommend to any football coaches.
When I returned to the UK I started working as a part-time coach for Watford FC Community Sports and Education Trust. Three months later a position in one of our new community hubs became available - I worked at the community hub as a football and sport development officer for just over two years. My main role was to get as many people as possible interacting within football and sport at the centre. I had to report back to certain funders, such as Hertfordshire FA and the Football Foundation, to demonstrate the work we were doing.
I'm now in a new role with Watford FC CSE Trust, based in our offices at the Vicarage Road stadium - I'm programme lead for all five player development centres, holiday course provision, and our matchday packages. 
What's a typical day like?
A typical day for me is usually spent out coaching. Lots of planning takes place on Sunday evenings and Monday mornings for the week ahead. When I'm in the office I will often be liaising with parents and coaches, and looking for new ways to improve our projects. 
What are your plans for the future?
I would like to become a FA tutor to help the next generation of coaches coming through. I plan to be involved with a semi-professional club for the 2019/2020 season to try to work my way up the ladder in the professional game as a coach. 
How did your degree at Solent help you in the football industry and in your job?
Solent provided me with the resources and guidance to help me work within football, which was the dream for me. In my first interview I was referencing things I had done at Solent that definitely put me in front of other candidates. The degree has provided me with more of an analytical mind-set to consider all options before diving into something. 
What's your favourite Solent memory?
Gaining a first in my dissertation. 
What advice would you give to prospective and current students wanting to work in the football industry?
Don't expect to land your dream job straight away. You may need to go in part-time to start with, get to know people and go above and beyond. Once you've built a good reputation for yourself, more doors will start to open.