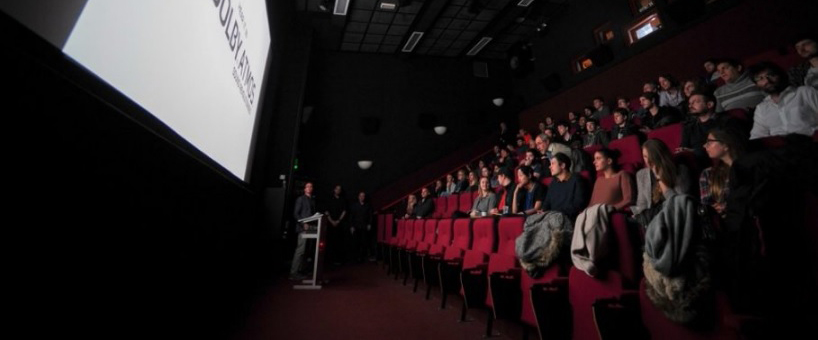 Free film masterclass with BAFTA-winning expert
The sound of silence
4th November 2016
TV, film, media production and technology
Three free film masterclasses are being held by Southampton Solent University next week (8/9 November) as part of Southampton Film Week 2016. 
The sessions, which are open to the public, can be booked through the film week website.
Starting on Tuesday 8 November, at 3pm, Solent will be hosting twice BAFTA-winning sound editor Eddy Joseph. Eddy's extensive experience ranges from Batman to Bond, and has also included key work on the sounds of 'quidditch' in Harry Potter and the Philosopher's Stone.
"I think there's too much music in films," says Eddy. "There's a fear that directors and producers generally have, that you can't afford to leave one frame without something on it. I love silence. I'm a great advocate for light and shade in sound and if there's anything I've done in my career it's to try to advocate that."
Eddy will talk about his work on a number of his films, giving an insight into the key creative decisions made in creating award-winning sound design. The class will take place at 3pm on Tuesday 8 November in LTI Dolby Theatre (above Costa Coffee) in Southampton Solent University.
On Wednesday 9 November there are two classes. At 11am in JM315 Studio Solent, an editor's panel will offer insights into the process of editing, screening some of their favourite film clips and taking questions from the audience. The panel will include:
Solent Fellow Mick Audsley, who will chair the session (Everest, Harry Potter and the Goblet of Fire);
John Wilson (The Book Thief , Downton Abbey); and,
Eddy Joseph (Casino Royale, Enemy at the Gates).
At 2.30pm on Wednesday 9 November, again in JM315 Studio Solent, there will be a masterclass with Richard Morrison, who will give an insight into his creative and production processes with clips and anecdotes from his decades in the film industry.
Richard's career has spanned huge changes in the mechanics of production, but at the core of his work is his interest in where fresh ideas come from – he says it is the ability to listen that has been the key to his success.
Richard Morrison has been creating opening sequences for iconic films, such as Sweeney Todd: The Demon Barber of Fleet Street and Quadrophenia, while more recent work includes Scott Pilgrim vs. the World and Nocturnal Animals.
For more information, and to book your place, visit the Southampton Film Week website.