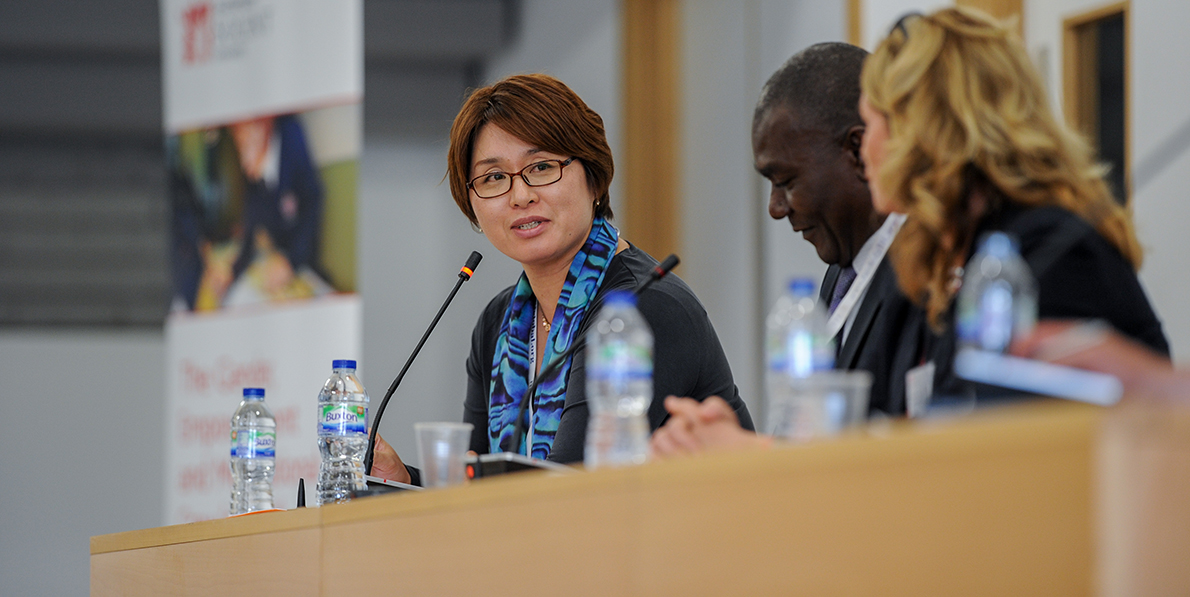 Gender at sea discussed at GEM conference
Gender debated at maritime conference
20th June 2016
Isolation and harassment; training and mentoring; and multi-crew environments were some of the topics debated at the Gender, Empowerment and Multicultural Crews Project (GEM) Conference, held at ITF Seafarers' Trust in London on Thursday 16 June.

Researchers from Southampton Solent University welcomed delegates from international maritime organisations – including the Nigerian Maritime Administration and Sea Agency, The International Maritime Organisation, MF Shipping Group, Maersk, Human Rights at Sea, North American Maritime Ministry, International Chamber of Chipping, Carnival and the International Maritime health Association – to discuss and develop key findings from the GEM project.
Funded by the ITF Seafarers' Trust, the GEM project is an in-depth piece of research – being carried out by Southampton Solent University -investigating the welfare needs of seafarers, particularly women, and how they are treated on board in today's multicultural working environment.
Conference speakers gave an overview of the key findings from research undertaken in China, Nigeria and the UK. Project methods included: key literature research; cadet surveys, before and after sea time; focus groups; stakeholder interview; and historical data.
The research found that owners and ships' Captains have a duty of care to create a safe and inclusive on-board culture for all their crew, particularly for minority groups such as women. The Project recommends that ship's captains and senior officers are provided with training to be able to deal with potential gender issues on-board, particularly where they may not often be sailing with women.
"Our findings also question whether the industry is doing enough to prepare people adequately for a life at sea", says GEM Project lead, Dr Kate Pike, "Mentor's for cadets and new recruits have been highlighted as extremely valuable in terms of passing on experience and being there to help during the first phases of sea-time. This is something that the industry should be encouraged to facilitate and adopt as part of the on-board culture," she continued.
Researchers found that there was an onus on shipping companies to make sure that appropriate recruitment is taking place, particularly concerning the placement of cadets and the mix of nationalities on-board. The Project recommends that ethical recruitment and investment in employees is an essential part of enabling the best working environment to be achieved at sea.
Speaking after the event, Dr Kate Pike said: "The conference has generated a great amount of interest from all over the world and discussions yesterday demonstrated a real appetite for a cultural change within the industry to empower, to attract and to retain more women in maritime careers."
Closing the conference, Kimerly Karlshoej, Head of the ITF Seafarers Trust, called for countries, companies and unions to be part of the culture change at sea.
A full report on the GEM Project, which will also include some of the recommendations and solutions discussed at the conference, will be published later this summer.
FOR FURTHER INFORMATION CONTACT THE MEDIA OFFICE ON 023 8201 3040 OR EMAIL news@solent.ac.uk
Anyone wishing a copy of the full report when it is published later this summer should email their request to news@solent.ac.uk
Teams responsible for the GEM Project research include:
China – Dr Minghua Zhao (Southampton Solent University); Pengfei Zhang (Southampton Solent University); Lijuan Zhao (Shanghai Maritime University) and Janjun Wu (Shanghai Maritime University)
Nigeria – Amos Kuje, (Nigerian Maritime Administration and Safety Agency) and Nancy Oluoha
UK – Dr Kate Pike (Southampton Solent University); Emma Broadhurst (Southampton Solent University);