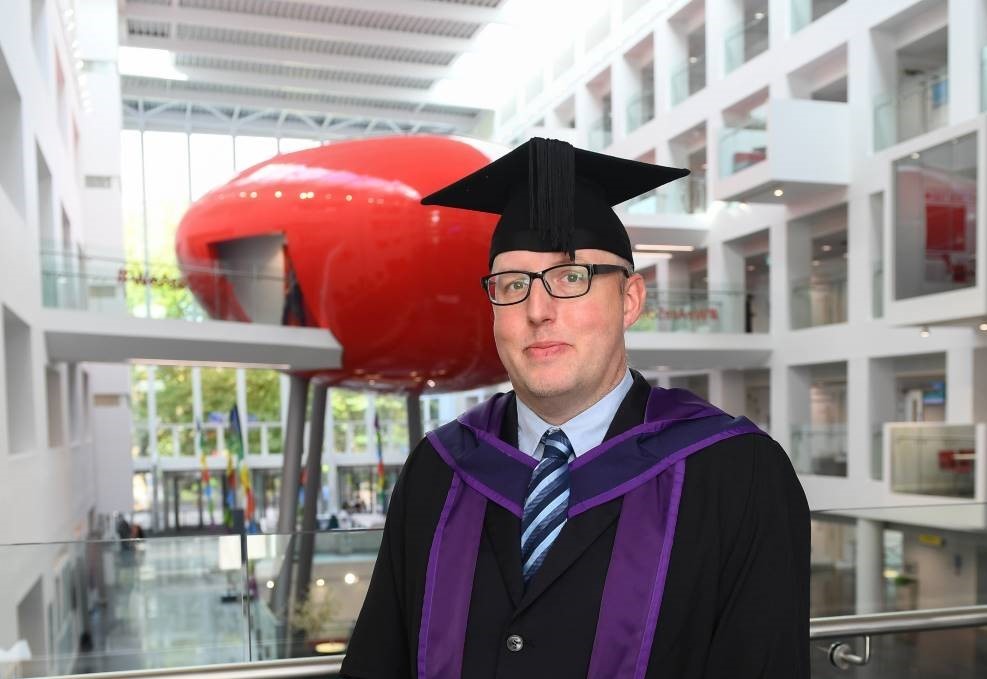 Honorary degree given for outstanding achievements in community sports
A key figure in Southampton's sporting scene, Gus Mckechnie, has been awarded the honorary degree of Master of Business Administration by Solent University, Southampton today (Tuesday 5 October).
5th October 2021
Award-winning Gus Mckechnie has been part of the Southampton sporting scene for over 25 years. In 2005, Gus' community projects resulted in him being awarded a lifetime achievement award by Sport Solent in 2005. 
Gus has helped support projects in a wide range of areas including community education, music and sexual health. He volunteered as a co-ordinator for Southampton Institute in the two years before it gained university status.
It was as a volunteer in sport that his skills started to flourish. Initially with senior American Football, and then rowing. Through competing, organisational support and seeking funding, Gus has had a hand in over 40 division and national championships across a wide range of sports.
Commenting on being awarded the degree, Gus says: "This is a very heart felt honour from an institution that has helped given me the basis for achieving so much. Being involved in volunteering and sport at Solent has given me an extended family, that I wouldn't be without. Taking on opportunities through Solent Sport helped develop a set of skills I'd never dream of having before.
Receiving the MBA also gives me a sense of peace, my original attempt at a MA through Solent ended the year my brother and father passed away. I will receive the MBA very much in honour of my late family but all those who supported me to achieve so much."
Born with mild cerebral palsy, it was at Solent that  Gus received the learning support he needed, and he went on to graduate with an HND and then Bachelor of Arts Degree and in 1997.
Gus has spent a lot of time raising awareness of Hemochromatosis, a genetic condition his brother was diagnosed with. He went on to complete several challenges, including rowing world records on the rowing machine, marathons and 10 years cycling on board the Isle of Wight ferries, where he covered over 100,000 miles.
During his time in the city, as part of team and solo projects, he has helped raise over £2million for good causes. In 2008, he stepped in to help with the Olympic handover event in the city. Gus was also Solent University's Olympic torch bearer in 2012. 
Fast forward to 2021 and Gus works in the city centre in the Maritime industry, he is also one of the Ambassadors for the Southampton City of Culture 2025 bid.