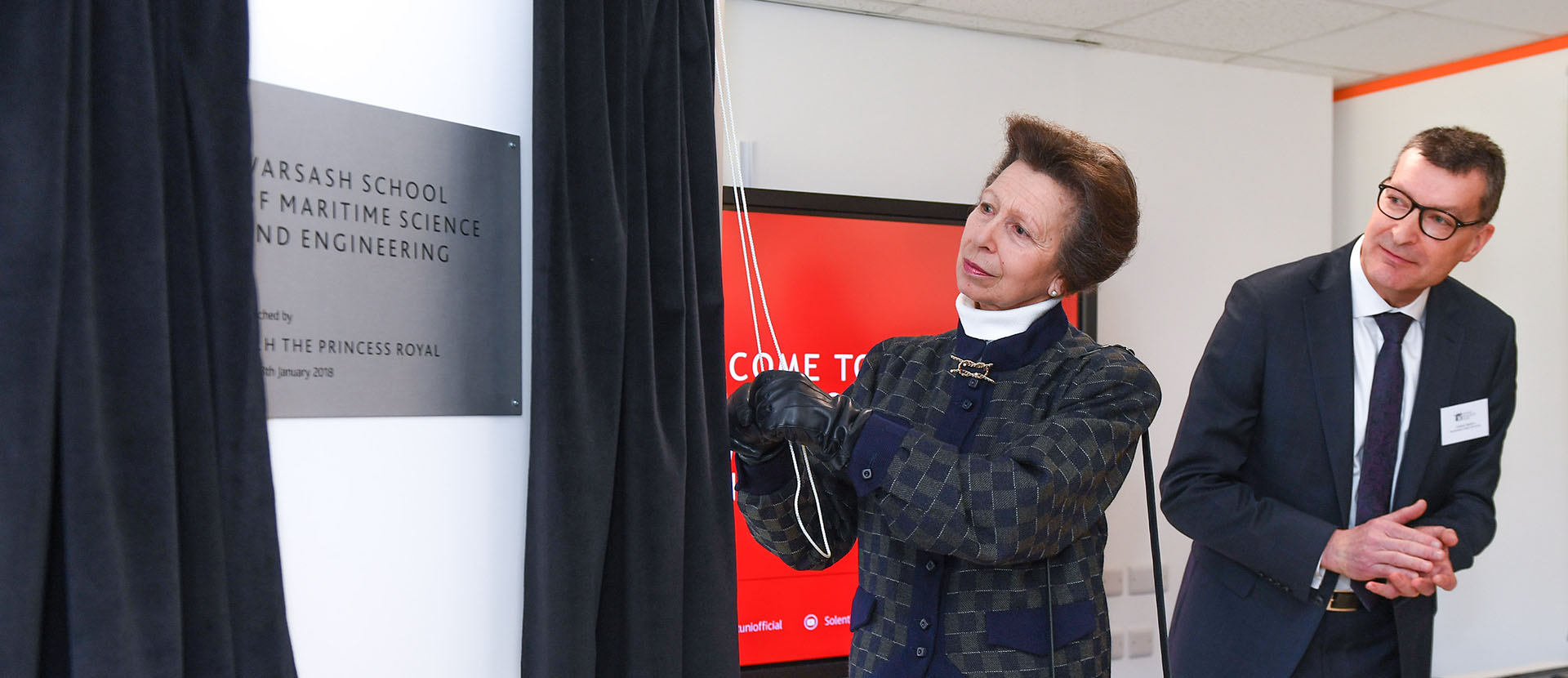 HRH The Princess Royal Launches New Era for Maritime at Solent
New home for officer cadet education and first certification courses launched
18th January 2018
Solent University's new £6 million home for officer cadet education and training and first certification courses has been officially launched by Her Royal Highness The Princess Royal.
The Princess Royal visited Warsash School of Maritime Science and Engineering at the University's St. Mary's Campus on Thursday 18th January.  Her Royal Highness unveiled a plaque inside the building, which is located within the grounds of City College and a short walk from the city centre and Solent's East Park Terrace campus.
The new premises provides cadets with a distinct and modern teaching environment, brand new engineering workshops, a welding area, electrical and control laboratories, an ECDIS simulator suite and Marine-Electro-Technical Officer (METO) workshops.
Her Royal Highness was received by the Lord-Lieutenant of Hampshire, Nigel Atkinson Esq, and was presented to a number of dignitaries including the Vice-Chancellor of Solent, Professor Graham Baldwin, Chancellor of Solent, Admiral Lord West, Director of Warsash School of Maritime Science and Engineering, Dr Syamantak Bhattacharya, and staff and cadets from the School.
Professor Baldwin added: "The development at St. Mary's Campus is the first phase of our investment into maritime education and training at Solent. It has modernised our facilities and allows us to build on the heritage and expertise associated with Warsash Maritime Academy. We are proud that Warsash has become world-renowned for providing cadet programmes and professional short courses for more than 70 years."
During her visit Her Royal Highness met with cadets and staff, Charlotte Astbury, who is completing her Officer of the Watch Unlimited Certificate, said: "It was a pleasure to meet Her Royal Highness; she was very well informed. We showed her an exercise in ship simulation collision avoidance. I hope to work on a research vessel or tanker once I've completed my certificate."
The Princess Royal then went on to visit the University's ship handling centre at Timsbury Lake, which is world-renowned for its training and one of only five in the world.   
Her Royal Highness spent time with staff and students at the centre, and had a tour of the lake aboard the 'Challenger' vessel, which is a scale model of a ro-ro ferry.
The lake includes a four-mile scale length canal, buoyed channels, critical bends, turning basins, and harbour areas with 19 jetties. Complex and potentially hazardous manoeuvres can be learnt and practiced in a scaled environment. The focus of training for masters, officers, pilots and berthing/mooring masters is around slow speed control of ships and large yachts.
No stranger to Solent, The Princess Royal has previously opened the University's Michael Andrews building in November 1998.  In January 2015 Her Royal Highness visited Solent Whisper - a sailing catamaran with cutting-edge hydrofoil systems developed by a Solent senior lecturer - at their stand at the London International Boat show.