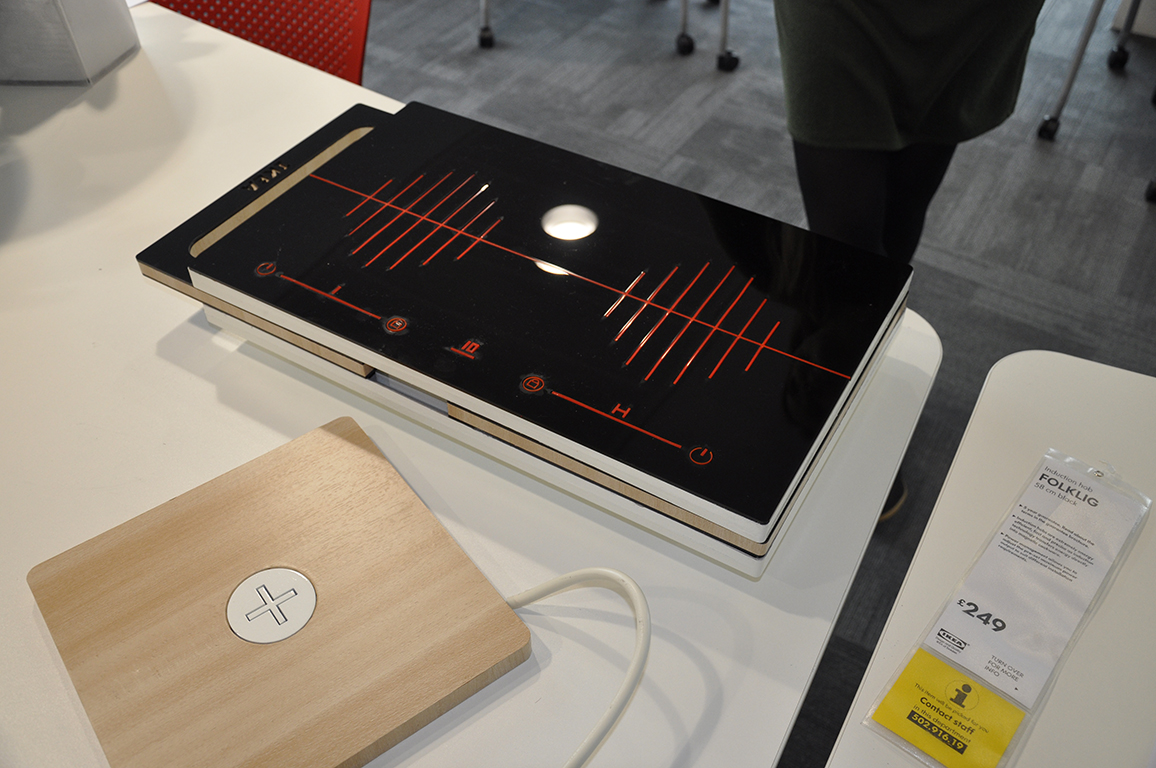 IKEA return for annual Industry Week
Students awarded for 'focus on eating' designs
19th June 2017
Last month, BA (Hons) Product Design students worked with IKEA as part of Industry Week to showcase work and potentially win an award from the furniture and home furnishings company.
The theme was 'focus on eating' and students were expected to fully explore both the practice and social aspects of cooking, food preparation, eating and socialising with family and friends
Three awards were up for grabs, including the Innovation Award, Commercial Viability Award and Creative Interiors Awards.
We spoke with Rachel Hammer, 22, who was awarded the Innovation Award for her impressive mobile cooking hob design…
Congratulations on winning this project, how was it to work with IKEA?
I was excited at the thought of working with such a big and established company and I was grateful that they took the time out to come and be involved in our presentations. The staff that came were extremely supportive and constructive. Over all it was an enjoyable experience. 
Tell us about your design?
My design took on the challenge of making cooking on a hob more sociable. The BARBAR SPIS is a portable hob so that cooking can take place wherever. Its key features include induction hobs, no cables, wireless charging, and push release handles.
With my design it is now possible to cook where the action is happening, keep food warm on the table, and it gives specific people independence to cook ( I focused on the elderly and children).
Where did get you get your inspiration from for your project?
The shape of my design is based on practicality and ergonomics. The materials were inspired by IKEA's environmentally friendly vision - such as the use of bamboo.
Have you worked on briefs such as the IKEA one before, was it challenging?
Starting the project was challenging because it was so open, we could design anything that had a place in the kitchen. I chose to do a design around cooking because I wanted to design something that would improve everyday life.
How do these projects benefit your learning?
I benefited from thinking about what product would fit into a business, and what customers would buy. I had to think - does this look like an IKEA product?
How are you finding life at Solent?
This year has been especially challenging as it's the last chance to learn everything we need for our final project starting in September. But I love how small my course is because we get to know everyone, I quite often find myself coming in to get some hours of work done but end up having a long chat. It makes the experience much more enjoyable and extra help is always there from course mates. 
Mark Jones, Course Leader of BA (Hons) Product Design at Southampton Solent University, said: "We have been working with IKEA for a number of years now. As one of our official industry partners they have been very supportive in sponsoring the annual design award. This particular project allows students to undertake a typical design brief, which is set by IKEA, conduct relevant research in store and then present their concept during our Industry Week – all key skills to help students with gaining graduate employment.
"All of the winners demonstrated a high level of professionalism and I am confident they will build on this experience next year when they undertake their final year projects."
Harry Simmons, 21, took home the Commercial Viability Award for his design, RIMFORSA, which was created to simplify food preparations in the kitchen by saving time, space and money: "The inspiration for my design came from my grandmother. Seeing her flustered and stressed in the kitchen (especially with the younger grandchildren) made me want to help her and others in similar situations.
"I really loved being involved with such a statement design company like IKEA. I've worked on many briefs in the past but not direct with an outside company. It really got me thinking about my future and the kinds of places I'd like to end up as a designer."
Morgan Brauer won the Creative Interiors Award.
Find out more about our design courses here.