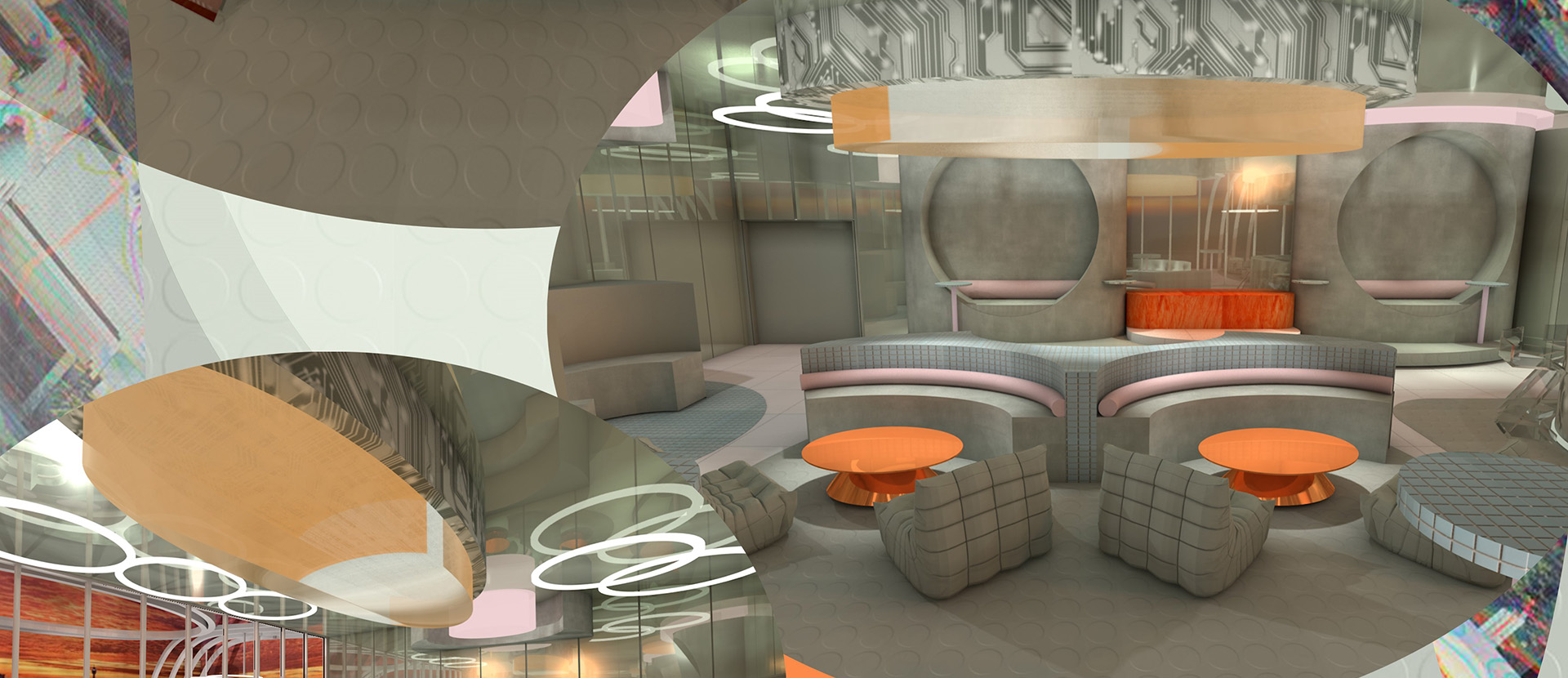 Interior Design Decoration students win National Design Award
BA (Hons) Interior Design Decoration students are celebrating after winning in two categories in the National Design Academy (NDA), National Design Awards.
18th February 2020
Architecture and construction
Architecture and design
The competition received hundreds of entries, and was centred on the launch of Dulux Colour of the Year 2020 'Tranquil Dawn', with judges providing two challenging briefs to choose from, one commercial and one residential.
Winners from Solent were final year students Amelia Hunter (Residential category) and Phoebe Wright (Commercial category) – Molly Clayton's designs were also highly commended by judges. We caught up with Amelia, Molly and Phoebe to find out more:
Congratulations, tell us a bit about your designs:
Phoebe: My design was based around a concept of 'the future human' with Dulux's new 2020 colour of the year 'Tranquil Dawn'. Therefore I wanted the space to reflect that, so I created a bar/lounge with a futuristic and escapism feel to it, with curved fixtures and seating to keep the space organic.
Amelia:  I wanted the space to have an analogue charm to it that many homes had in decades gone by, there was no television or computer/laptops imbedded in the design process, instead a record player, book shelves and an architects chest for art supplies. The outside terrace space also mimics this analogue feel, with a wooden summer house equipped with board games to allow the inside space to flow seamlessly into the outside. 
Molly: I wanted to take this opportunity to design something we hadn't done before, so I decided to design a spa. When given the brief it was specified that we had to use Dulux's colour of the year; Tranquil Dawn, on 50% of the surfaces. This colour to me, stood out as a colour that would work well in a relaxed, spa environment. The idea of the colour being 'tranquil' in feel worked well with the spa idea, so this is what I developed. 
What feedback did you receive from the judges?
Phoebe: Marianne Shillingford the Creative Director of Dulux and one of the judges said "What can we say…other than AMAZING! Your vision of a truly modern space to enjoy a fully immersive experience of relaxed playful escapism captures the mood of the moment perfectly. Your rendering is exceptional and use of fluid form, materials, light and colours a true delight. A worthy winner indeed!"
Amelia: Marianne said "Amelia is a worthy winner and her style is distinctive and exceptional.  The confident use of colour and its expression across every element with confidence and sensitivity cemented the decision to award her the prize for residential design."
Molly: Marianne's feedback was "This amazing design delights all the senses and invites you in to make yourself comfortable. Inspiring use of materials, fluid shapes and distinct individual style combine with skilful render work to make this a truly stand out competition entry.  We were unanimous in our appreciation of the design and have no doubt your career ahead will be a really successful one."
The two winners each received £250 in Amazon vouchers plus a day at Dulux HQ with the Dulux Academy to immerse themselves in the world of colour. The day will also include a very special trend forecasting workshop with Marianne and the Colour Team. The winners will also have the chance to create and name their very own paint colour!