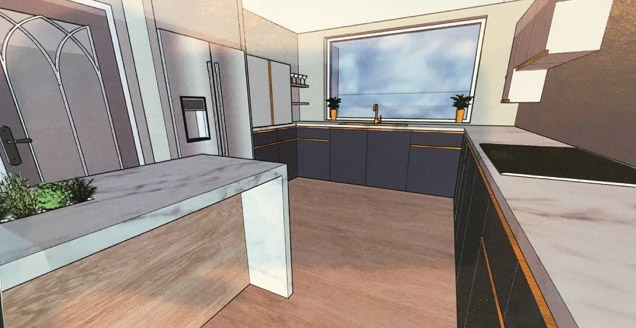 Interior design decoration student wins kitchen design competition
BA (Hons) Interior Design Decoration student Amy Shepherd is celebrating after winning a kitchen design competition set by luxury kitchen, bedroom and furniture company, John Lewis of Hungerford.
29th June 2020
The brief was set to first-year students by designer Graham Jones of luxury kitchen, bedroom and furniture company - John Lewis of Hungerford and required students to design a modern kitchen. The company kindly provided £500 in Apple vouchers and two weeks work experience for the best design.
We caught up with Amy to find out more about her design and where she gained inspiration; and how she feels her studies at Solent are helping her prepare for her future career.
Hi Amy, congratulations on your win. Tell us about the competition:
For the competition I was required to develop and present ideas for kitchen designs to meet the client (Graham Jones') brief. The outcomes demonstrated my skills and knowledge of rendering, perspective drawing and use of colour whilst reflecting the client's needs. I also had to explore how style, products, colour, materials and finishes were communicated in the presentation of my final design.
I wanted to design a unique kitchen that met the design brief while presenting my work in a professional manner to my client. My designs were presented through CAD and hand-rendered visualisations. The portfolio consisted of my sketchbook of images and drawings with product recommendations and contextual references, design development and additional research, a sectional scale model of my kitchen, a presentation mood board, hand rendered visualisations and layout plans from SketchUp.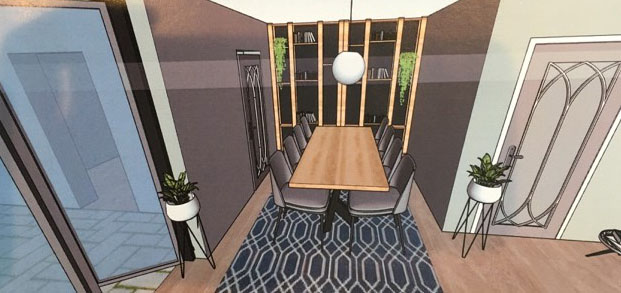 What was the inspiration behind your designs?
I started by developing a client brief where we were able to ask Graham questions about who lives in the space, how the room is used, personal styles, room specifications and technical preferences. Graham enjoys cooking with fresh ingredients, likes the outdoors, sailing etc and I wanted to make the space unique to him and his family.
I chose a blue colour theme for the space inspired by his love for sailing. His wife loves to read so in the dining area I created a ceiling to floor bookshelf feature wall to suit his wife's interests, but also to offer a sense of quality craftsmanship that is built to last. I feel that it is the attention to detail that really completes the design, so I added an integrated herb garden into the centre island as I felt this complimented Grahams love for cooking with fresh ingredients. I was inspired by the brief and was motivated to create a space that suited the family.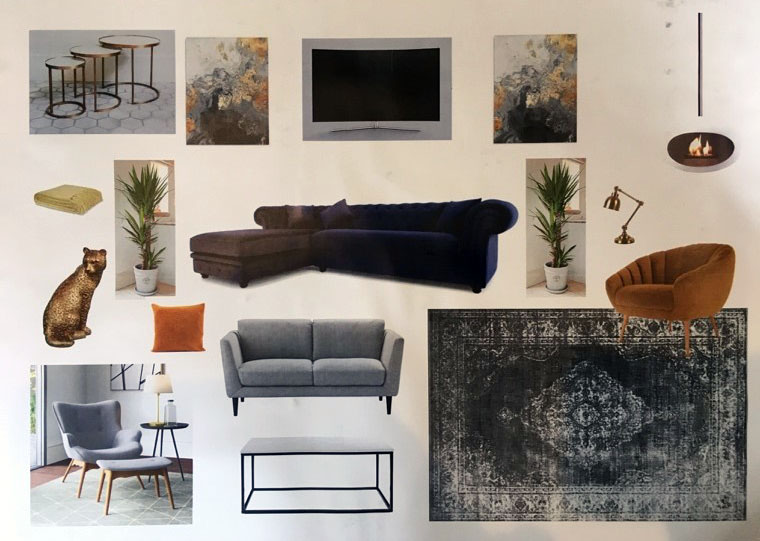 How did it feel to win?
I was shocked when I heard I had won, purely because of how good everyone's designs were. There was lots of competition. I am due to be having a meeting with them in due course to discuss the two-week placement which will be an amazing opportunity.
How do you feel your studies at Solent are helping you prepare for your future career?
One of the main reasons I came to Solent was the wide range of opportunities, experience and links with possible future employers offered. I definitely feel that opportunities like this are helping to prepare for my future career as it gives us great insight into what we could be doing in the future.


Feeling inspired? Take a look at our BA (Hons) Interior Design Decoration course