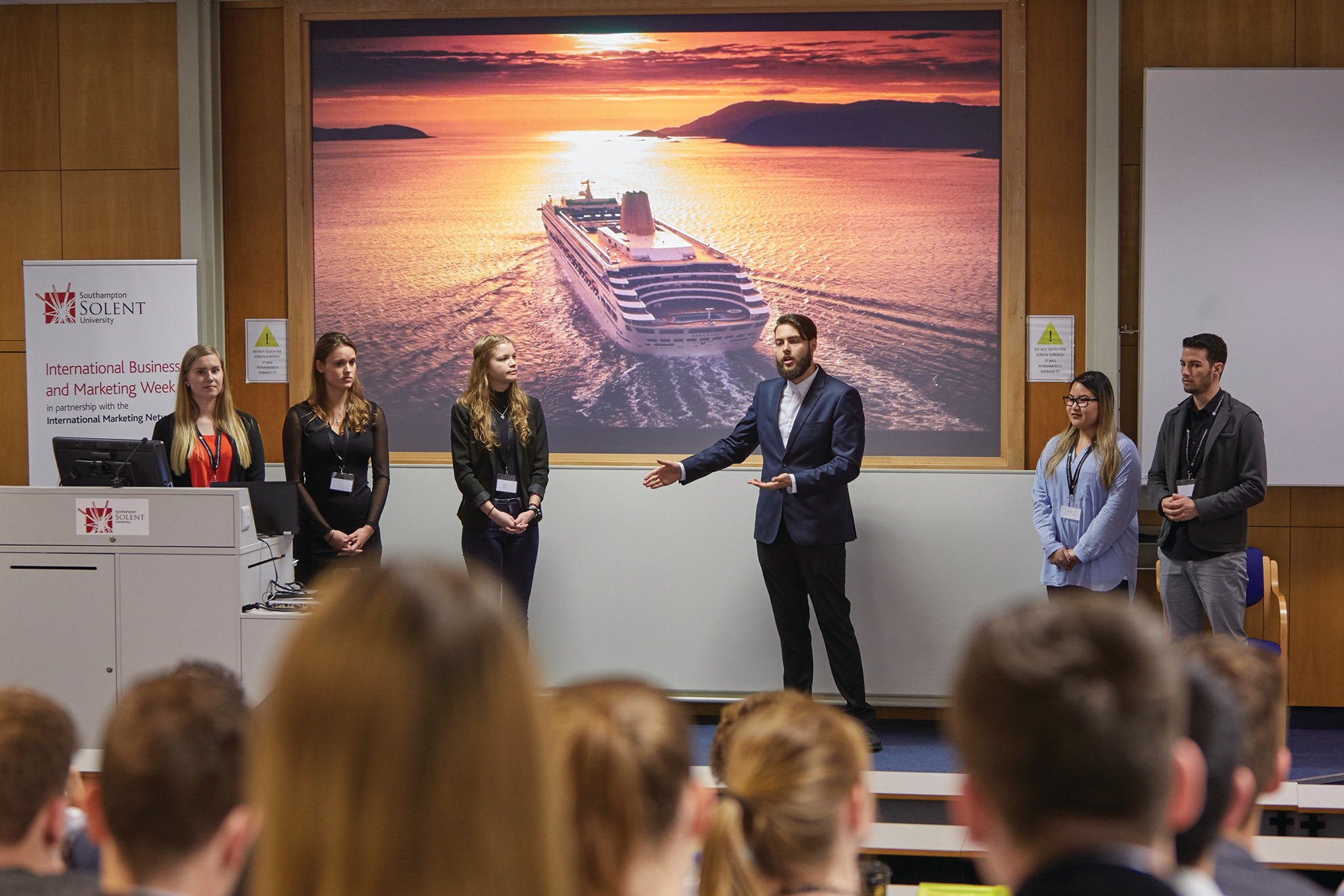 Solent's School of Business, Law and Communications is a bridge between the professional world and upcoming talent. The school's Gillian Saieva talks about some of the programmes helping maximise students' career opportunities.
23rd February 2017
Business and finance
English and journalism
Marketing, communications and public relations
Travel and tourism
Annual review
From journalism to accountancy, the school actively manages a network of diverse business partners and connections. Close ties to organisations such as Hampshire Chamber of Commerce, Business South and Local Area Partnerships (LEPs) allows Solent to facilitate professional networking opportunities like our recent third Annual Business Conference, bringing together organisations from the Thames Valley right down to the central South Coast of England.
With a focus on 'UK PLC: Open for Business', the conference explored international trade support and emerging opportunities available to businesses in the wake of the Brexit referendum and brought together keynote speakers from Royal Bank of Scotland (RBS), the Department of International Trade's South East International Trade Team, leading management consultants Lee Hecht Harrison and more.
Our active networking has allowed students to benefit from connections as far afield as Australia and the US. Business management students recently worked with the Bundaberg Brewery in Queensland, Australia, researching how the company's products might fit in the UK market, while a group of Solent criminology students visited Washington in November 2016, hosted by the Department of Homeland Security and hearing from speakers in the US Marshal Service, the Secret Service and the FBI.
In an increasingly globalised world, these international elements to the Solent experience really help our students stand out. Our language department recently hosted visiting lecturers from Ukraine and Russia as part of a knowledge exchange programme; November's university-wide international enrichment week gave the school another opportunity to bring guest speakers from global organisations on-campus to supplement the curriculum.
Guests like Jen Groover, UN delegate and serial entrepreneur, who spoke on emotional intelligence, are shaping Solent's students into savvy, well-rounded and creative leaders of the future. This kind of experience pays off; Solent's PR courses have come top for overall student satisfaction in the National Student Survey for four years running, and other courses also score highly.
It pays off for our students, too. Two students recently excelled at the recent 2016 Professional Publishers Association (PPA) Magazine Academy Awards, with Iga Shlegal shortlisted for the BBC Worldwide Best New Magazine Brand and Alice Freeman winning the Felix Dennis Memorial Prize for Best New Magazine concept for her final-year project Wunderkammer, exploring the weird world of the macabre.
The school also continues to innovate on the academic side. In line with the government's apprenticeship agenda, in early 2017 we're rolling out employer-led chartered management degree apprenticeships with integrated Chartered Management Institute (CMI) recognition, while assessed strategic management simulations with Marwell Zoo (2015) and Paultons Park (2016) give students valuable experience under real-world pressures. The latest simulation was commended by academic external examiners as "exceptionally well-conceived" and "exemplary practice".
On the entrepreneurial side, the school has an ongoing collaboration with the Saints Foundation, a charitable organisation within local Premier League team (and Solent partner) Southampton FC. 'The Pitch' gives students the opportunity to put their entrepreneurial expertise to the test and raise vital funds for Saints Foundation, offering teams of students the opportunity to present their business idea to a panel of judges to secure one of ten pots of £1,000 seed funding.
At our first Pitch event, students came forward with a range of business ideas, from drive-in outdoor cinemas to bespoke book-keeping services, and were given three months to turn their ideas into a money-raising reality. It's this kind of creativity and innovation which really sets Solent apart, both for our students and for business at a local and international level. And we'll continue to adapt, to innovate – ensuring we deliver graduate talent that is precisely suited to the fast-changing needs of business.