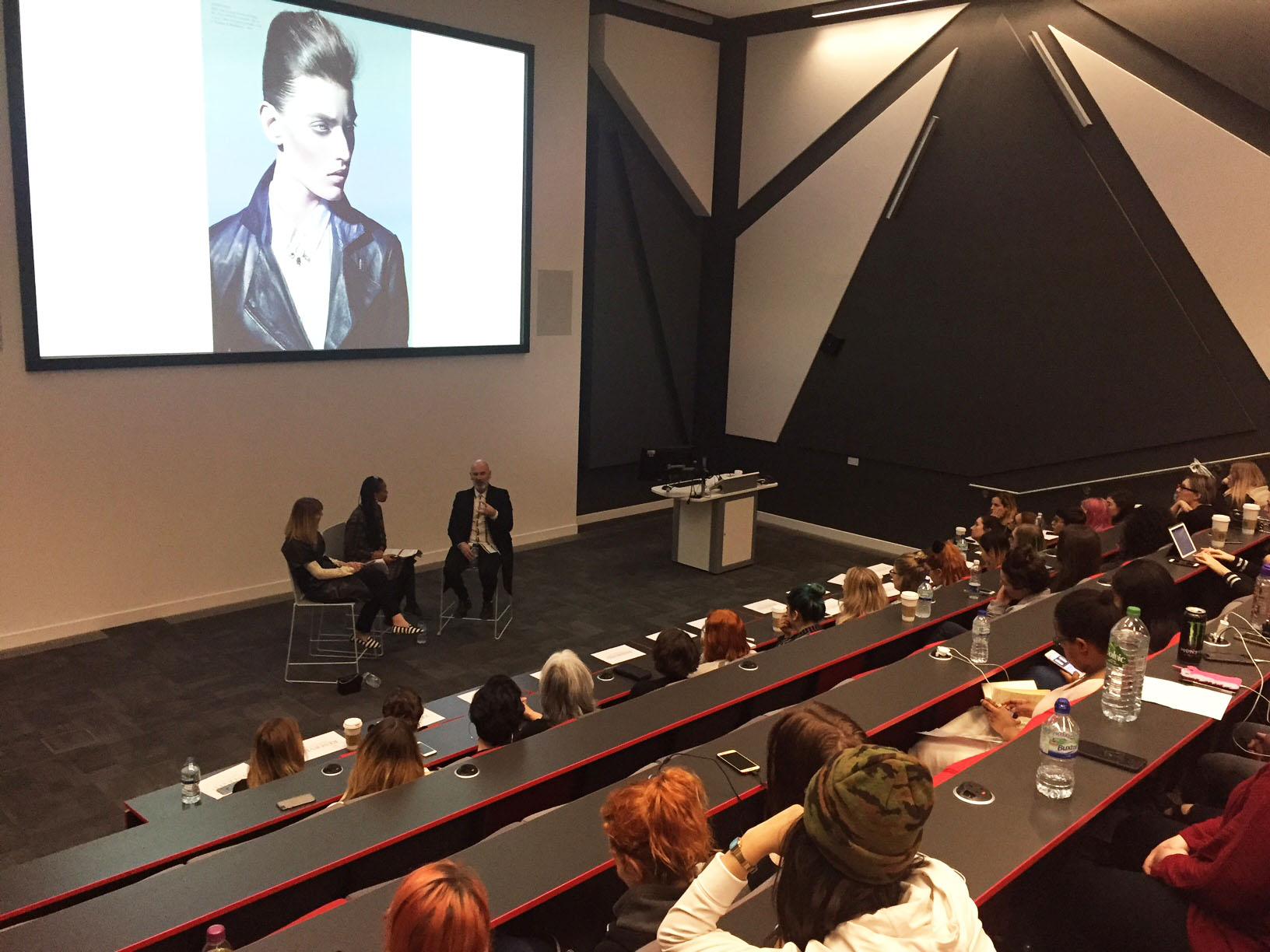 M∙A∙C Cosmetics Director and Solent University Hon Doc shares top tips with students
Exclusive talk from Terry Barber
21st March 2017
Fashion
Fashion Communications and media
Fashion management
Fashion styling and image making
This week, Solent University fashion students were learning from the best, when Terry Barber, Director of Makeup Artistry of M∙A∙C Cosmetics, joined for an exclusive talk.
Last year, Terry was awarded the Honorary Degree of Doctor of Fashion from the University. His second visit was an opportunity for students from Solent's School of Art, Design and Fashion to hear beauty news and insights from working for M∙A∙C, the world's leading professional make-up authority.
A pioneer of the minimalist look, Terry helps provide the vision that keeps M∙A∙C at the forefront of design and popular culture, through artistry and interpretation. 
Along with working with singer-songwriter, Grace Jones, Terry noted that receiving his Honorary Degree of Fashion from Solent in 2017 has been a personal highlight within his career.
"It is an honour to come back to the University. This has been a great opportunity for me to talk a bit more about what I do within the industry, the world I live - in in terms of beauty and make-up artistry - share some knowledge and give something back to the students," said Terry.
"I look around at the facilities here and I can't believe it – things have come a long way since I was an art student! It is an amazing environment to learn and work within."
Terry also shared his top tip to success with students: "Don't rely on gimmicks or try and achieve things too quickly. It doesn't happen overnight, so stick with it. Have an aesthetic and stick with it. Everything goes around in circles within this industry – if it's out of fashion one minute, it will be back in fashion the next. Have a point of view and try not to veer from it."
A showman, Terry loves the energy and creativity of backstage. Terry travels the world, teaching master classes, leading demonstrations at events and keying fashion shows.
Leading the talk was Sharon Lloyd, Course Leader, Make-up and Hair Design at Southampton Solent University: "This is the second time Terry has visited our students at the University since he became one of our honorary doctorates in 2016.
"Working with M∙A∙C cosmetics is a great opportunity for our students, who are motivated by innovative products to create boundary pushing make-up designs. As Director of Makeup Artistry, Terry is one of the brand's most colourful and fashionable ambassadors. Needless to say, our students and staff were delighted to welcome someone so inspirational within the industry back to the University."
Charlotte Logue, final-year, make-up and hair design student attended the talk with Terry and shared her thoughts: "Terry gave some great opinions on the impact of social media on make-up design and really emphasised the importance of returning the artistry of make-up design. In particular, stripping back make-up from the harsh looks that seem to clone young women on social media sites like Instagram.
"Amongst many other top tips and useful products to use, Terrys point on the emphasis on the younger generation regarding embracing the nature of rebellion stuck with me today, as the movements of Terry's youth, such as punk and goth, have been lost in the modern age. Now everything is based on likes and not so much innovation."