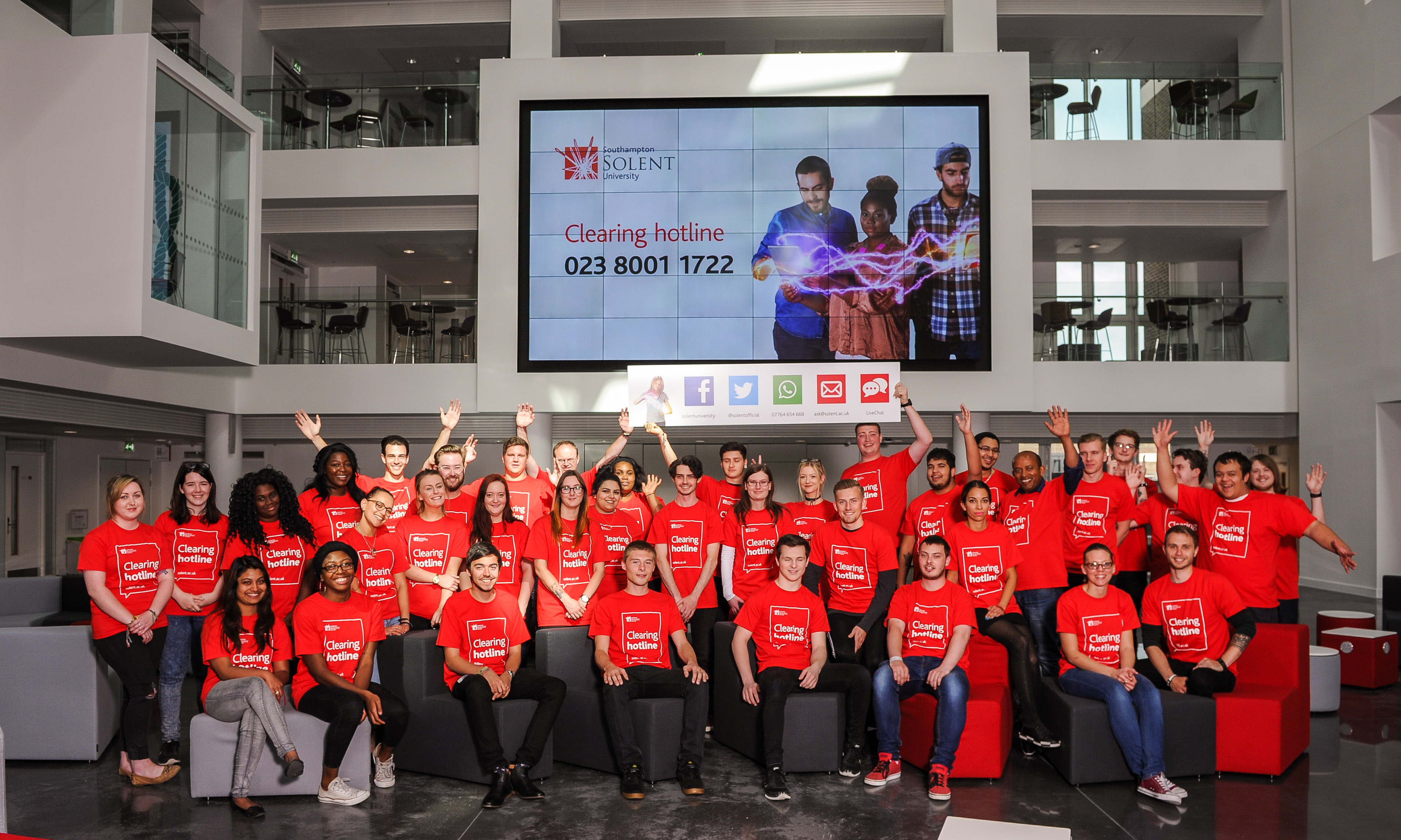 Making a Clear-ing decision on which university
A 'clear' way into university
10th August 2016
Recognising the importance of making the right decision when going through Clearing, Southampton Solent University's trained advisors will be on hand to offer advice, support and campus visits when students receive their A-level results next week (Thursday 18 August).
Trained advisors will be at the end of a phone, on Twitter, Facebook, email, live chat and Whatsapp, to advise and support college students receiving their A-levels (as well as anyone still looking to get the best from their BTEC results).
Rebecca Hollington, Solent's Recruitment Events and Prospects Manager, who has headed up the University's Clearing hub for the last few years, has the following advice: "Results day can be nerve-wracking but there is no need to panic or make a snap decision! If you don't know what to do with your results contact university Clearing teams who can help and advise you on the right course at the right university."
Prospective students will be given the opportunity to taste life at Solent with a Clearing open day on Saturday 20 August. Visitors will be able to look around the campus, plan accommodation, check out the facilities and take a look at the city.
For students worried about the cost of a university education, Rebecca says: "Don't be put off going because of financial reasons. Remember, there are no up-front fees to be paid. Money loaned through Student Finance England does not have to be paid back until a graduate is earning at least £21,000 and most universities offer a range of bursaries and scholarships that don't need to be paid back."
Some of the staff and students manning the Clearing hotline came through the Clearing process themselves.
Bisi Oyerinde, 19, from Bristol has just finished her first year on the BA (Hons) Events Management degree. She decided to train up as a clearing operator after her own experience in Clearing. "I wasn't planning on going to university last year, but changed my mind at the last minute. It was only about two weeks before Solent started; I called the Clearing hotline and, even though I didn't expect them to say yes, I thought it was worth a call. They helped me through the whole process – what to do, who to call etc. – and they said yes!
"The person on the phone was really nice and friendly. I decided to become a Clearing operator as I've been in that place where you are panicking and thinking you are never going to go to university. When I speak to someone on the phone I can say 'don't worry, I've been through it as well, it's an easy process'."
Bisi's top tip on results day is: "It's never too late to apply, and if you have any worries just call and ask – it's better to ask your questions. I love Solent as it's very practical, especially my course; it's about getting real-life experience."
For those who haven't yet decided whether university is for them, advisors will also be on hand to discuss the career opportunities that specific courses offer.
If you are looking to make sparks fly, Solent University's trained staff are ready to talk to you about the options available. The Clearing hotline is open from 7.30am to 7.30pm Thursday 18 and Friday 19 August; 9am to 5pm on Sat 20 and Sunday 21; then 9am to 5pm, Monday to Friday throughout the summer. It is also open 9am-5pm on bank holiday Monday (29 August).
You can call us on 023 8001 1722; email us at ask@solent.ac.uk, live chat to us at www.solent.ac.uk/clearing, contact us on Facebook, Twitter or on WhatsApp: 07764 654668.