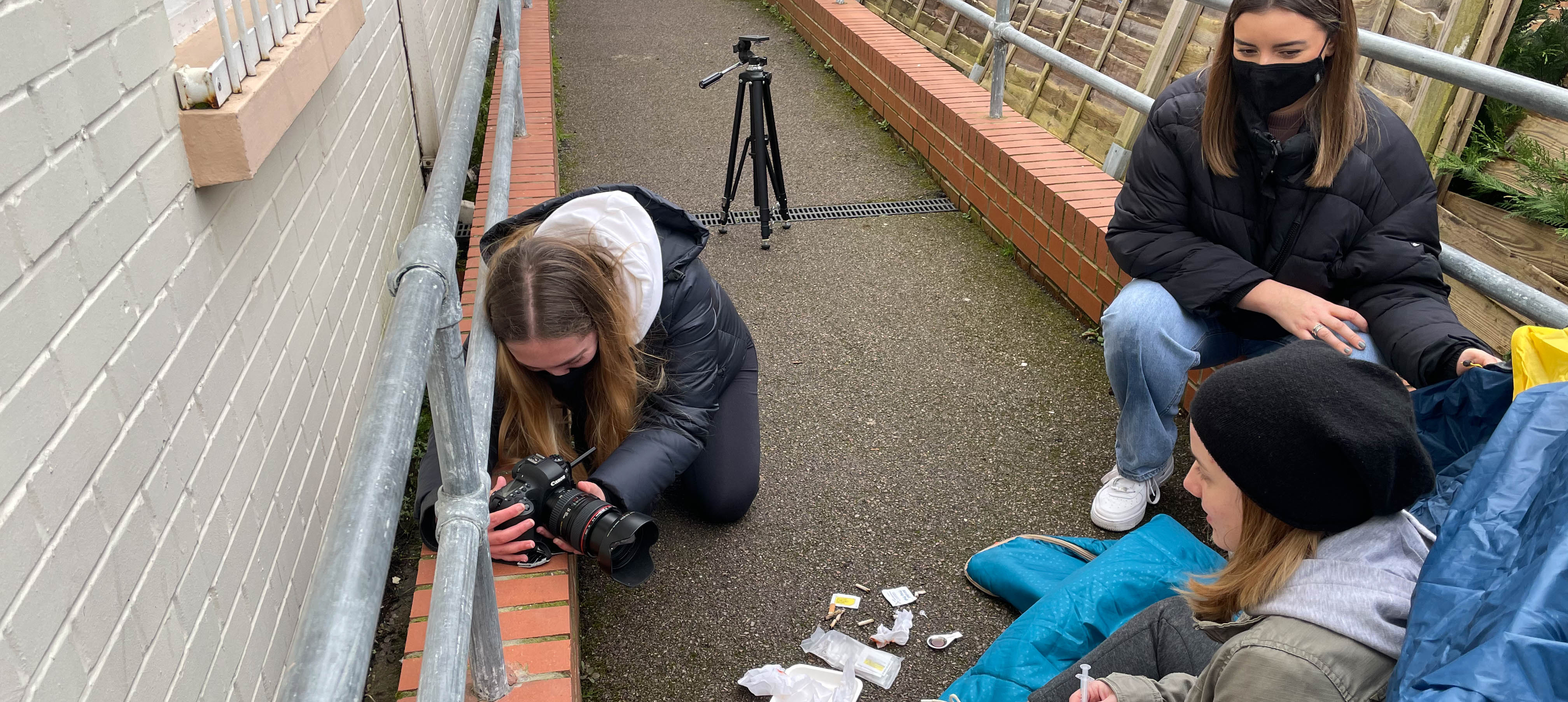 Media students join forces with Street Support
Final year students from BA (Hons) Media Production recently had the fantastic opportunity to create social media content for a real-life client as part of their 'Producing for Social Media' module.
29th March 2021
TV, film, media production and technology
Two student groups worked with the client Street Support Action Southampton, a partnership working to tackle homelessness in Southampton. We caught up with a team member from each group, Chloe Webb and Carolina Galbraith Soares Reis Duarte to find out more about their projects.
Hi Chloe and Carolina, tell us a bit about the content you have created for Street Support
Carolina: We have created a short film, which aims to spread awareness of homelessness and encourage charitable action, using the hashtag #GiveAHandToChange. We used the apple to represent the journey of rough sleepers, while trying to be inclusive of all and avoid judgement of any kind. Overall, our mission is to convey a healthy and positive mindset about helping those in need and start a more empathic conversation around this subject. This was a joint effort between my group, which is myself, Alicia Graf, Marianna Di Pasquale Fidalgo, Mia Lukeman-Knight and Maria Antunez and then Paul Woodman from CityLife Church and Claire Stagg from Two Saints.
Chloe: Our video was inspired by lived experiences of people who have been homeless. We worked with Paul Woodman (CityLife Church) and Claire Stagg (Two Saints), to discuss the problems people who are homeless face, such as adverse weather conditions, getting food and drink, access to support such as healthcare and substance abuse. We came up with the idea of having a split screen, one side showing those problems when people are on the streets, and the other when they have accessed support and are in accommodation. As we covered the sensitive subject of substance abuse, we worked closely with someone who had experienced this and ensured we were ethical and sensitive to this.
Due to the current restrictions, three of us in the group were in Southampton and two were still in their hometowns. We divided the roles to ensure everyone had a part. Katya and Chelsie who are studying from home did the editing and social media posts, and Louisa, Emma-Louise and myself filmed, directed and produced. This was my first time producing a short film during COVID restrictions, so we had to do a lot differently, but the challenge was valuable. We found an actress using Solent Casting Lounge on Facebook and we were lucky she was a great fit for the role as we could not hold much of an audition process due to the restrictions.
What did you enjoy most about the project?
Carolina: We really enjoyed the freedom to be as creative as we were, by doing an animation and taking a completely different approach than what we normally associate with subjects such as this. Paul and Claire were very supportive of our ideas and had great input, they were wonderful clients and that made the whole experience even better. But most of all we learned a lot about homelessness, and it made us all appreciate the things we have much more and helped us grow personally as well as professionally. We go away from this project more aware of our community and I think that alone, makes the whole project worth it.
Further, we received some excellent feedback from Professor Julie Hall, Senior Deputy Vice-Chancellor at Solent who said; "Solent University sits in the heart of the city of Southampton and we believe in working in partnership with organisations across the city to transform lives and make this a great place to work and live and visit. Solent University also leads the way in ensuring student assessment is where possible, a real piece of work that makes a difference. This film does both these things beautifully and I am so proud of the students involved who have used their film making skills to raise the profile of this important charity."
Chloe: We really enjoyed being able to produce something impactful. Since living in Southampton, we have seen the issues of homelessness and organisations such as Street Support and their partners who donate, provide and support are making such a difference in people's lives. Street Support say, "Southampton is a City where no-one needs to sleep rough or beg" which inspired the campaign to be based around the community and local businesses to #HelpGetPeopleIn. Not only do we feel our campaign will help make a difference, but we also learnt a lot to take into our professional lives such as the ethical considerations of sensitive subjects and working with a live client.
Course leader for BA (Hons) Media Production, Roy Hanney, said "the wonderful thing about a live project like this, is that it gives the students an opportunity to bring all of the skills, knowledge and understanding together and apply it to a campaign that has real social value.
Students use their media skills, marketing know-how and work as a team to deliver a project for a real client, it's very much a capstone module where everything they have done on the course for the previous three years comes together in one creative brief."