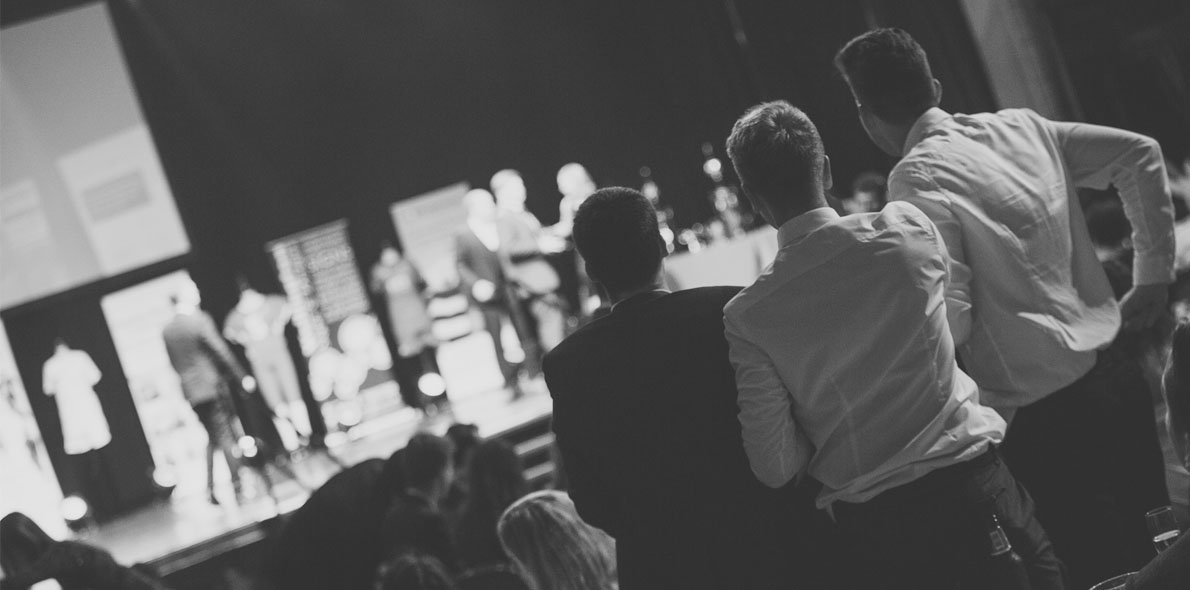 Meet our Solent Sports Awards 2016 sponsors
Meet the sponsors that help make the Solent Sports Awards happen
5th May 2016
The Solent Sports Awards, an evening dedicated to celebrating the success of all our Team Solent athletes, took place on the 10 May at the O2 Guildhall Southampton. In this post we catch up with some of the businesses and brands who sponsored the event, from home-grown Solent entrepreneurs to successful local businesses with a raft of Solent graduates on the books.
Rainha Fightwear
Mature student Joanne White and Southampton Solent University Senior Graphic Designer Jon Wellstead (speaking below) launched their business, Rainha Fightwear, by taking advantage of the University's enterprise crowdfunding platform. The company produces female fight wear and lifestyle apparel for combat sports and fitness.
How has the business grown since the end of your crowdfunding campaign last December?
We exceeded our minimum crowdfunding target, raising over £3,100. This allowed us to buy in our first lot of stock, including t-shirts, vests, flip flops, beanies and patches as well as send out pretty much all of our rewards. We've also launched our website and online store, increased our social media followers, sponsored four active competitors and have more stock and product samples on the way.
You already have very successful brand ambassadors. Can you tell us more about them and the relationships you have with them?
We currently sponsor four amazing athletes, supplying them with lots of goodies as we get them in. We chat with them regularly and recently had a chance to go and watch three of them compete at the Junior Nationals.
They are all excited to join us at the start of our journey and grow with us, and they've all had a positive impact on us. We think they're the perfect ambassadors to represent our brand. They have all excelled at many competitions. More can be found out about them here.
What advice would you give to Solent students who want to launch their business at the end of their university career?

Do it. Don't put it off. Take advantage of the help and knowledge available at the University, as it will really help get you on your way. There's also plenty of great networking events so even more brains to pick and experience to be shared. Ultimately, if you don't try, you'll never know.
Both of you studied at Solent: BA (Hons) Graphic Image Making and BA (Hons) Fashion Graphics. How have the skills you acquired as students at Solent helped you with the launch of your business?

Joanne has learnt lots about market research, SWAT analysis, brand development along with more hands on things such as screen printing and digital art-working. This combination has given her the perfect base of knowledge to start a fashion brand.
I developed digital and print skills so was able to create the website, the designs for social media and, with Josie, come up with all of the product designs you see so far.
How did it feel to be part of the 2016 Sports Awards as sponsor of the Female Contribution of the Year Award?
It's awesome. As a brand that is aimed at supporting women and increasing female participation, it's the perfect award for us to show some love. We're proud to be in a position to give back to Solent and the students, and we hope that we make the University proud moving forward.
SUCCEEDin

SUCCEEDin is an online coaching platform designed to support teachers and coaches in the delivery of physical education and sport. Developed by an ex-member of the Sport Solent partnerships team, the software allows users to plan, share and evaluate their lessons to ensure that every session delivered is progressive and relevant.
You were a former Solent Sport employee. How has the coaching experience you acquired during your time at Solent helped you in building your business?
SUCCEEDin was born out of my role within the sports partnership team. During my time supporting schools and their staff in understanding the principles of physical education, I saw a niche in the sector. I wanted to provide teachers with more than just a word document and felt that a visual tool with a variety of functions would support teachers in a more efficient manner.
A special thank you has to be said to Julia Tucker-Blackford, my former line manager, who supported the vision and has helped the business to gain significant motion not only in schools in Southampton but also within the University.
SUCCEEDin is currently working in partnership with Southampton Solent University. Tell us more about this collaborative work.

We have been working with the University in a variety of areas as part of our ongoing research and development. Our platform has supported the partnership festival programme, allowing Southampton Solent University students to build lessons for festivals in local schools.
Most recently we have been working with Sport Solent course leader Kevin Harris and his coaching innovation programme to support "Kidz Coach Kidz", a group focusing on Year 6 pupils transitioning from primary to secondary school.
What advice would you give to Solent students who want to launch a business?

Surround yourself with likeminded people who share the same vision and specific skill-sets as you. If you are new to business, then find someone who can support you - listen to people with experience.
It's great to have a business idea but getting it to market and providing evidence of 'proof of concept' is vital to any organisation's success. At SUCCEEDin we spent 18 months developing our product whilst doing market research.
My final bit of advice is that it's better to have a small chunk of something big, than a big chunk of something small.
How did it feel to be part of the 2016 Sports Awards and sponsor the Community Development Award?

We are delighted to be a part of the awards and supporting the University this year. We felt that with all of the work that has been going on between ourselves and Solent that it was only right to support the University as much as possible.
We chose the Community Development Award as we felt it suited our ethos the most. We truly believe that SUCCEEDin will enrich and empower teachers and coaches and it was with this in mind that we chose to sponsor someone who has had a positive impact in the local community.
Matchtech Group PLC
Voted 25th in 'The Sunday Times 100 Best Companies to Work For 2012' poll, Matchtech Group is a leading recruitment specialist in the engineering, IT, telecoms and professional services markets. Since they were established in 1984, Matchtech has hired (and helped other business to hire) a range of Solent graduates.
Tell us about your work with Solent students and graduates over the years?

It's important to us to be a go-to local employer for graduates and so we have always actively scouted for talent at Solent careers fairs & events. As a result we have a number of Solent graduates working for us – including our HR director and a number of our recruitment managers!
Is there anything that Solent graduates seem to have in common?

We find Solent graduates enter the business with a clear idea in their mind of what they want from their career, and they know exactly how they're going to get it. We strive to find this level of motivation in all our recruits.
Team Solent Ladies FC finished 3rd in the Southern Regional League and will play in the Chairman's Cup Final on the 22nd May. As official team sponsor you must be proud of the girls.

We are so proud of the girls! They've put in a lot of time and effort in to their achievements – and all alongside their studies, which is very impressive. Completely deserved and we wish them the best of luck going in to the Chairman's Cup Final – we have every faith in you!
The firm has recently acquired telecoms and technology sector recruiter Networkers International. What opportunities will that open to Solent graduates who want to apply for a position within Matchtech?

The acquisition of Networkers has created a number of new opportunities for our employees. One of the most exciting opportunities is that we can now offer the chance to relocate to one of our international offices! We now have presence in a number of countries – including the likes of Dallas, Toronto, Cape Town and Dubai to name a few. This is a great opportunity that some of our employees (including a Solent graduate) have already taken advantage of.
How did it feel to be part of the 2016 Sports Awards as sponsor of the Team of the Year Award?
Team work is something we think is hugely important in the work environment, so it's great to get behind something we truly believe in.
The Student Housing Company
The Student Housing Company was voted as the "Best Private Halls Provider" in the 2014 and 2015 National Student Housing Survey. The firm employs several students from Southampton Solent University and has recently opened two new sites in Southampton: Austen House and Crescent Place.
Kyle, you are currently working for the Student Housing Company. What role do you have in the firm and what do you enjoy about it?
I am Sales Assistant. Working for TSHC has allowed me to gain great commercial experience, both in sales and marketing. My daily duties include taking students around the show flat on a viewing and hopefully selling a room to them which fits their needs. I also do administrative work, make phone calls to chase up deposits and fees. In addition, I produce flyers, bicycle seat covers and goody bags for various events taking place throughout the year.
Kyle, what are the elements that you are studying/learning as part of your course that you apply in your job?

The presentations I do as part of my course (BA (Hons) Football Studies) help with the viewings that I have to deliver as a sales assistant. We have a touch screen television and when showing prospect students where they will be living it is just like a presentation format.
The company has recently opened two new residences near the Solent University campus. How will they benefit Solent students?

The two brand new buildings are in ideal locations for students with Austen House right in the city centre, and Crescent Place on the doorstep of Solent University. Both buildings will have fantastic views of the sea from the higher floors and a variety of common areas for students for studying, pursuing their interests, or just socialising with friends.
We have tried to accommodate them with the best studying conditions by providing various study rooms and a common room at Crescent Place in addition to a library area, photography room, and an art room at Austen House.
How did it feel to be part of the 2016 Sports Awards as sponsor of the Outstanding Sporting Achievement of the Year (Team) Award?

Due to the large proportion of Solent Students who have booked to stay with us, we feel particularly invested in the Solent student community. We wanted to sponsor this award as we know playing sports is an important part of student life and well-being.