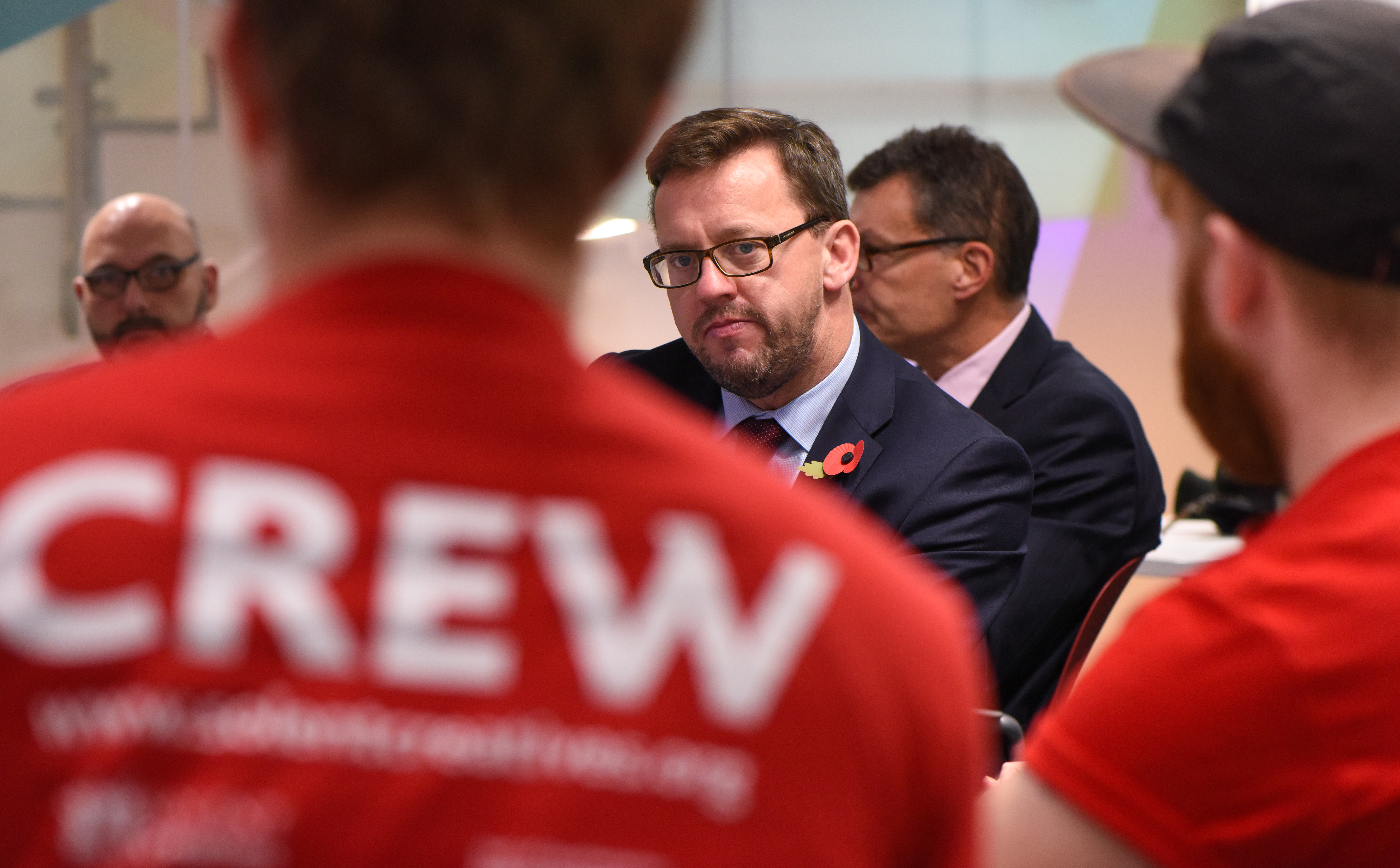 Minister for Civil Society praises Solent University's creativity
University's creativity praised
9th November 2016
The Minister for Civil Society, Rob Wilson, has praised Southampton Solent University for its creativity during a visit to the city last week (Thursday 3 November).
Solent's Vice Chancellor, Professor Graham Baldwin, introduced the Minister to staff and students from Solent Creatives, the University's unique student creative agency. The Minister also met illustration lecturer Louise Weir, who showcased her recent work created with funding support from the Arts Council England.
The Minister was in Southampton meeting charities, organisations and people who have benefited from National Lottery and Arts Council funding, to launch the #500000ThankYous campaign. 
Solent students George Lee, BA (Hons) Film, and James Docking, BA (Hons) Film Production, explained to Mr Wilson how Solent Creatives allows them to build a portfolio of work based on live client briefs, enhancing their employability by the time they leave university. Each year between 800 and 1,000 students sign up to work at the agency and produce anything from websites to videos, and photography to design work.
Businesses who have also benefited from the service were on hand to explain how the service has supported them.
"It was wonderful to hear how students at Southampton Solent University are supporting not only local businesses, but charities and national corporations as well, and all the while enhancing their skills, confidence and employability," says Mr Wilson.
"I was also able to meet illustration lecturer Louise Weir, and see her most recent work which has been supported with funding from the Arts Council England.
"The University is proud of its creativity, and so it should be. The work produced by the students and staff is excellent."
Louise's work, 'expectations of the past', is an investigative journey of memory, identity and loss informed by Dickens' novel Great Expectations. Exploring the text helped Louise examine her own person history and emotional landscape, creating a dialogue between the text, isolated memories and specific events at the time of making. It will be on exhibition in Solent's Showcase Gallery early in 2017.
Professor Baldwin adds: "We were delighted to welcome the Minister to Solent University, to show him the excellent facilities we have, and to offer him an opportunity to hear from staff and students about some of the creative work we undertake here at Solent."
More information about Solent Creatives is available on their website, and you can read more about Louise's work on her website.