More art boxes for young people
Solent's successful initiative, Art To Go has been expanded to more people across the city.
29th June 2020
Solent University's successful initiative, Art To Go - where art pizza boxes were provided to local young people to express how they are feeling during the Covid-19 crisis - has been expanded to more people across the city.
Following the University's funding of the first 150 boxes, Southampton City Council's Violence Reduction Unit sponsored a further 200 boxes and Arts Council Through Artwork funded another 150 boxes.
The 500 pizza boxes are packed full of art materials, creative ideas and activities from Solent Gallery, Southampton City Art Gallery, City Eye, Mayflower Theatre and John Hansard Gallery.
"The boxes have been really beneficial with reducing boredom at home," said Alice Mooney, from advice centre No Limits, who helped to distribute the boxes. "Everything else is online and relies on technology and not everyone can access that, so this box was a practical activity and it came with everything that was need to complete the activities, all in one."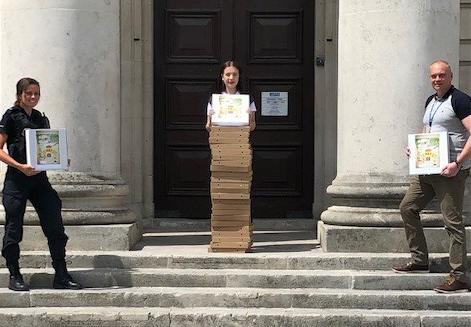 Art Pizza Boxes being handed over by Megan Smith to the VRU Team
Councillor, Satvir Kaur, Cabinet Member for Culture and Homes added: "It is important our young people are not forgotten during this pandemic. This initiative is a great example of art and culture being used to bring local organisations together to help support health and wellbeing.
"A big thank you to everyone involved. These art boxes were distributed across the city through community groups, foster carers, Children's Services and our police colleagues. Let's continue to work together to find creative solutions to benefit and enrich our local communities."
The completed works by young people will be displayed as part of a special 'Life in Lockdown' exhibition in October 2020, creating a lasting record of how the city's young people responded to lockdown – giving voice to their hopes, fears and concerns.
"Our team, and Solent Fine Art student, Megan Smith, worked really hard to put the boxes together," explained Solent Gallery curator, Kate Maple. "This pandemic has shown us how important the arts are in helping people to process, express and heal and these pieces ensure that the struggles felt by us all during this crisis are acknowledged and remembered."