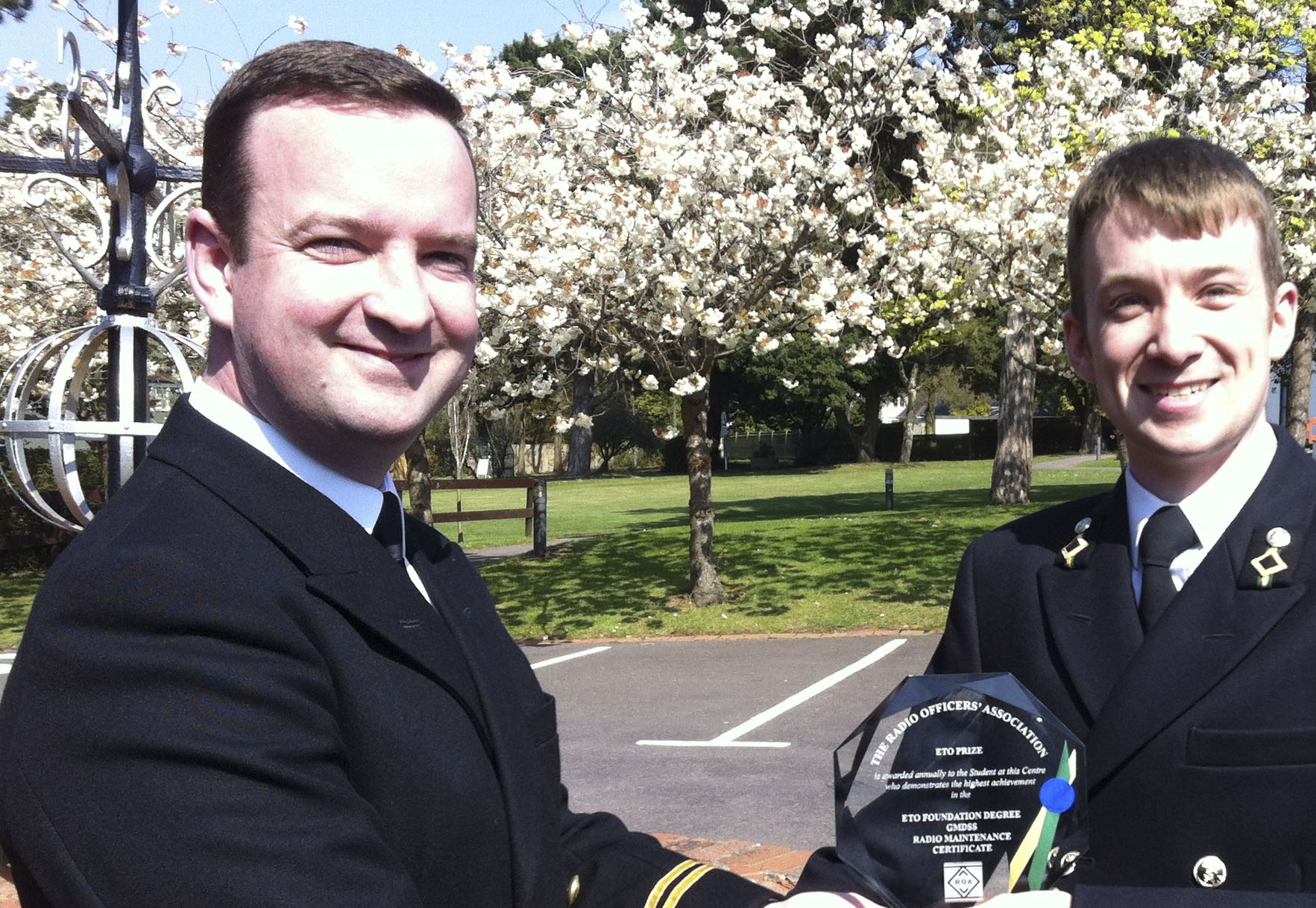 Officer cadet wins Radio Officers' Association ETO prize
Phil scoops first place
18th April 2017
Officer cadet Phillip Corner has been awarded the Radio Officers' Association (ROA) ETO prize.
Each year, the prize is given to a Warsash Maritime Academy, part of Southampton Solent University, Marine Engineering Electro-Technical (METO) officer cadet who gains the highest marks in the GMDSS Radio Maintenance Certificate exam, an integral part of the marine electrical and electronic engineering foundation degree.
In the Academy's September 2014 METO cohort, Phil is sponsored by the Royal Fleet Auxiliary.
"I'm delighted to have received the 2017 Radio Officers' Association Award for Radio Communications Engineering at Warsash Maritime Academy," he says.
"The experience has made for an exciting culmination of a very rewarding three year ETO training programme. Moments like this help to reiterate the rewards and benefits that come hand in hand with the challenges of a career in the STEM fields.
"Having studied electronics at A-level before spending six years as an IT infrastructure analyst, my subsequent training with the Royal Fleet Auxiliary, including the foundation degree programme at Southampton Solent, has helped me continue to develop both my technical and leadership skills. The support I have received from the University during this time has been second to none.
"As a member of The Institution of Engineering and Technology, I am particularly passionate about fostering within our youth an interest in all aspects of engineering. It is wonderful to experience first-hand how the staff at Warsash, supported by partners such as the ROA, continually strive to promote engineering, especially within the maritime context. I hope that the ETO cadetship will continue to be successful in producing professional young officers with the ability and drive to sustain the proud heritage of marine electronic engineering that began with our radio officer forbears."
John Bazley, Operations Manager at Warsash Maritime Academy, adds: "The University and Warsash Maritime Academy offer Phil our heartiest congratulations, Phil can be justly proud of his achievement in the GMDSS Radio Maintenance Certificate course and we hope his prize and certificate will have some part to play in a successful career ahead of him."
David Gee, cadet development officer at the RFA, presented Phil with his award.