Oscar-winning film editor awarded honorary degree
Oscar-winning film editor on Solent
11th July 2016
TV, film, media production and technology
Oscar-winning film editor and BAFTA Fellow, Anne V Coates, was awarded the honorary degree of Doctor of Arts from Southampton Solent University on Monday 11 July.
Surrey-born Coates has enjoyed a successful career spanning over 40 years and is recognised as one of the world's most respected film editors. At 90 years of age she is still very much in demand, most recently completing the movie version of 50 Shades of Grey.
On receiving her award she said: "It is a great honour to be recognised in this way. I never thought I would get to wear a gown and hat like this, but here I am."
To the graduating students she said: "I wish you luck in your future careers and I hope you have as much fun as I've had. As David Lean said to me at the beginning of my career, 'Follow your star, whatever you do, believe in it'."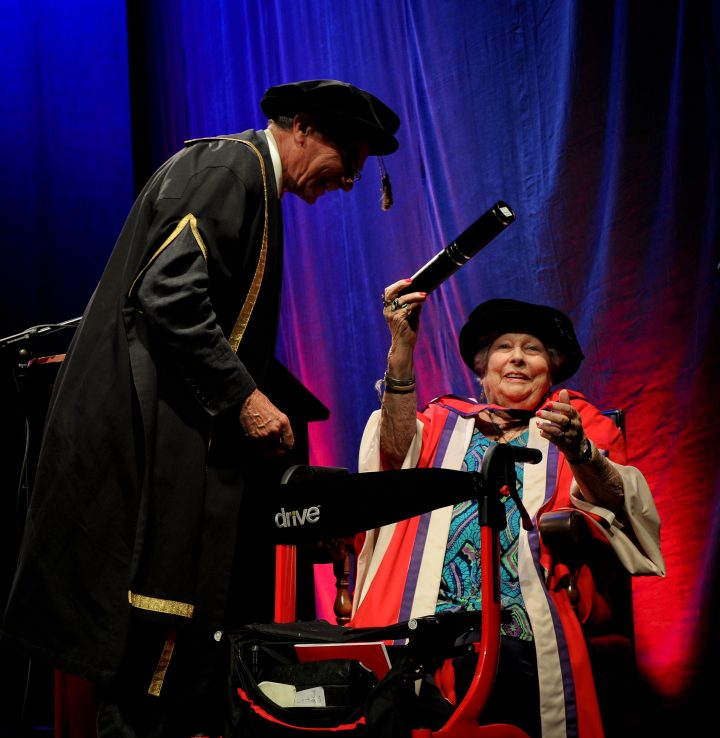 She is possibly best known as the Oscar Award-winning editor of David Lean's Lawrence of Arabia (1962). Her four other Oscar nominations were for Becket (1963), The Elephant Man (1980), In the Line of Fire (1993) and Out of Sight (1998). Other credits included Chaplin (1992), Erin Brockovich (2000) and Extraordinary Measures (2010).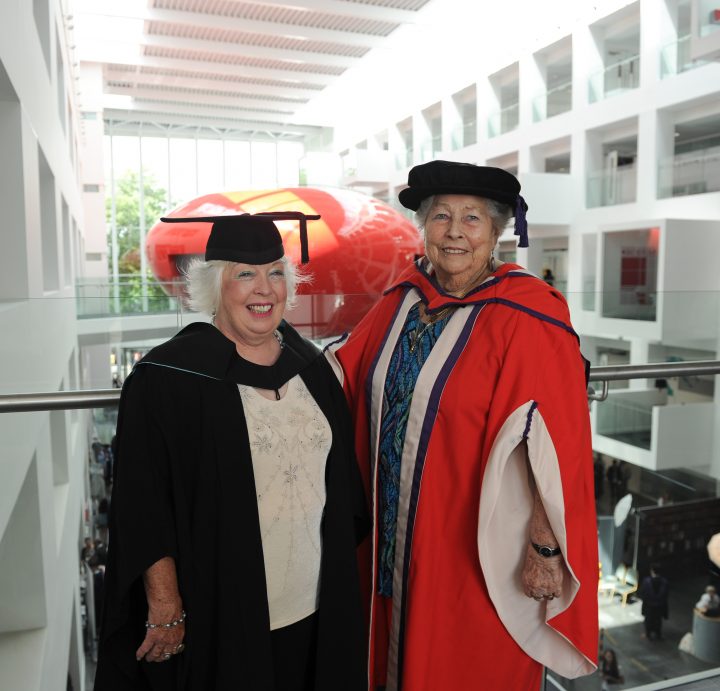 Coates was awarded an OBE in the 2003 Queen's New Year's Eve Honours List for her services to film editing in the USA.
Although she lives in LA, she is a keen advocate of Solent University's film and media courses and asks to visit upon her trips to the UK. She has given guest talks and critiqued final-year student work.
Coates was interviewed by Southampton Solent in July 2014 for a film archive of great editors being collated by Solent Post, the University's research and enterprise centre. She was made a Visiting Fellow of the School of Media Arts and Technology in 2013.
In an industry where female film directors are still are rarity, Coates is viewed as one of the best film editors of all time. In recognition of her contribution to film she was awarded BAFTA's highest honour, the Academy Fellowship in 2007.
She is only the second editor to receive the Los Angeles Film Critics Association's award for career achievement.
When asked to describe film editing, she says, "It's like taking magic out of the air."