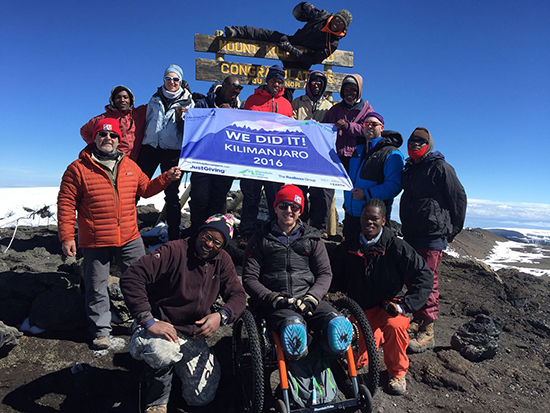 Paralympian Aaron reaches the summit with Solent's support
Aaron the first to complete climb in a wheelchair
24th May 2016
We recently posted about how Paralympics 2012 star Aaron Phipps was climbing Mount Kilimanjaro, having trained for the gruelling ascent with Southampton Solent University students and lecturers.
On Saturday 21 May, he successfully reached the summit of Kilimanjaro, Africa's largest mountain - becoming one of the first to complete the climb in a wheelchair.
Aaron, who is also a member of the Solent Sharks wheelchair rugby team, said of his experience: "I did the Silverstone Half Marathon this year, then the London Marathon, then Kilimanjaro. Compared to the others, climbing Kilimanjaro was like doing 16 marathons; it's taken me to places I didn't know existed. But… we made it; we all have choices."
We heard more from the team that helped Aaron with his training.
James Wright, Technician Instructor (Sports Science), worked with Aaron for four weeks using a hypoxic generator to ensure he would be able to acclimatise to the high altitude.
This machine simulates altitudes of up to 21,000 feet and allows intermittent hypoxic training (IHT), which involves inhaling low-oxygen (hypoxic) air for 3-5 minutes, followed intermittently with normal breathing for 2-5 minutes.
James said: "The high altitude is one of the hardest aspects of Aaron's challenge so anything we could do to improve his chances of success were investigated. Research has found that IHT is good at preparing the body for visits to high altitude, so we incorporated this into Aaron's training plan."
Students Gary Witty and Thomas Smith were also involved in Aaron's training.
Gary, in his third-year studying BSc (Hons) Applied Sport Science, has worked with Aaron for several seasons as part of the Solent Sharks wheelchair rugby team. As well as high-intensity training such as agility work, sprints and ball work, Gary tested Aaron's heart rate and how effective he was at consuming oxygen.
Gary said: "Aaron is such an inspirational character and I love working with him. The experience and opportunity of working with a former Paralympian has been invaluable and will no doubt give me an edge when looking for jobs."
For ten weeks before Aaron's climb, Thomas Smith, studying MSc Athletic Development and Peak Performance, provided strength and conditioning support, with the aim of preparing Aaron physically so he could complete the task without injury.
Thomas said: "Aaron is one of the most determined and motivated athletes I've ever worked with, and put his all into the gym every session."
Congratulations, Aaron! See his videos below.