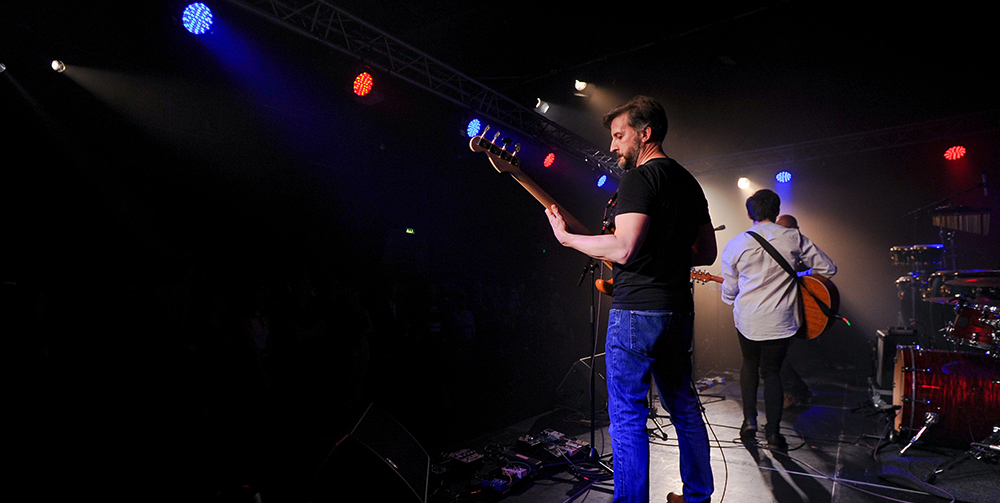 Pete's night at the BBC Proms
Professor's Proms performance
13th September 2016
Ever wondered what academics did over the long summer months? As well as research and course prep, our staff continue to work within the industries that they specialise in. We're sharing a series of pieces highlighting the professional activities they get up to when not doing their 'day job' at Solent.
On Saturday 10 September, the Last Night played out the 122nd season of the BBC Proms, which featured more than 90 concerts over eight weeks.
Professor Pete Wilson has balanced his academic career with playing bass guitar in a variety of musical settings for the past twenty years. This summer, the Course Leader for BA (Hons) Popular Music Performance was invited to play with the Aurora Orchestra at a Proms concert in August.
We caught up with Pete to hear more about his Proms performance, Aurora Orchestra's innovative musical approach and where he'll be playing next.
How did you get this opportunity to perform at the Proms?
I've played for Aurora Orchestra several times before, including a Frank Zappa Prom exactly three years ago.  Whenever they need a bass guitar adding to the orchestral line-up they give me a shout.
Tell us a bit about the piece that you performed and the Aurora Orchestra
I hadn't played before (or even heard) Wolfgang Rihm's: Gejagte Form (2002) version before, and it's always interesting to perform new material: getting a new score through on a pdf always feels like Christmas!
Aurora Orchestra is a relatively new ensemble that covers material and performing styles that other orchestras don't risk.  For instance, in the same concert they performed Mozart 41st Symphony from memory. No mean feat.
They're not afraid of mixing the very new with the very old in the same concert – and seem to be equally committed to all periods of music, which is very refreshing.
Do you have any other public performances coming up?
I'm off to Budapest in February with Steve Reich and London Sinfonietta again.  This time I'm playing a long piece called 2x5, along with Radio Rewrite that we took to Singapore last year.
More information about Pete can be found in his academic profile and you can watch his performance at the Proms on BBC iPlayer.