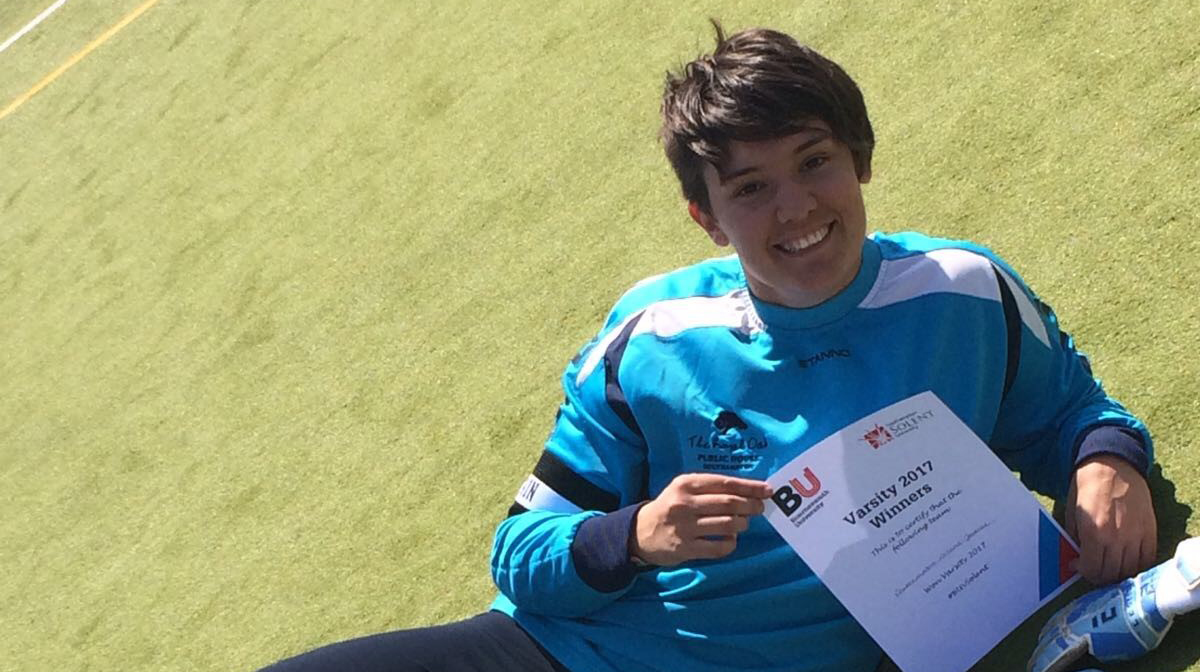 Playing sport and sailing the seas: a Warsash student's year of success
Ladies football competitor and student Elizabeth Stanley, from the Isle of Man, has had a successful sporting year.
An integral part of Team Solent ladies football for three years, she singlehandedly developed and organised the season for the ladies futsal team, working with Solent Sport to engage new participants and rallying round to ensure all fixtures were fulfilled. Her coaches agree that the futsal team's success in the league and cup is due to her hard work and dedication.
Studying FdSc Marine Operations at Warsash Maritime Academy, part of Southampton Solent University, Elizabeth is in her fourth of five phases, which is the equivalent to being in the second year of a standard degree. We asked her some questions on her experience within sport at Solent so far.
What made you decide to study at Warsash Maritime Academy? How are you finding it?
I was given the choice between two nautical colleges and Warsash has an incredible reputation as one of the leading maritime academies, so the decision was pretty easy for me. I also like that it was close to a city, and that Solent had a really good sport setup. Sport is a very important part of my life and through social media, I managed to contact and sign for Solent ladies football team before I'd even moved to Southampton.
In terms of my course, it's pretty intense, with two phases at sea and three at college. However, the staff at Warsash have been fantastic in supporting us throughout. I particularly enjoy being able to use the state of the art simulators too!
What made you decide to join the futsal and football teams?
For as long as I can remember I've played football. As soon as my course was confirmed I contacted the team, got involved and have been fortunate enough to have made friends for life.
The futsal team was something I started up - it was a sport I took up and loved. While away at sea in early 2016 I contacted Solent Sport and they agreed to enter a team into BUCS. It wasn't the easiest juggling my studies and running, coaching and playing for the team, but I wouldn't change it for the world and I'm super proud of how the girls played this year.
What advice would you give to those starting studies in September?
Get involved! It's a hive of activity, but if you sit back, you'll never get to experience that.
Joining a sports club is one of the best things you could do. You make friends for life while also receiving high level training and playing weekly competitive fixtures. I can't forget about Varsity, which was a standout day for me this year!
What are your plans for after university?
I hope to successfully obtain my certificate of competency and continue a career as a seafarer.