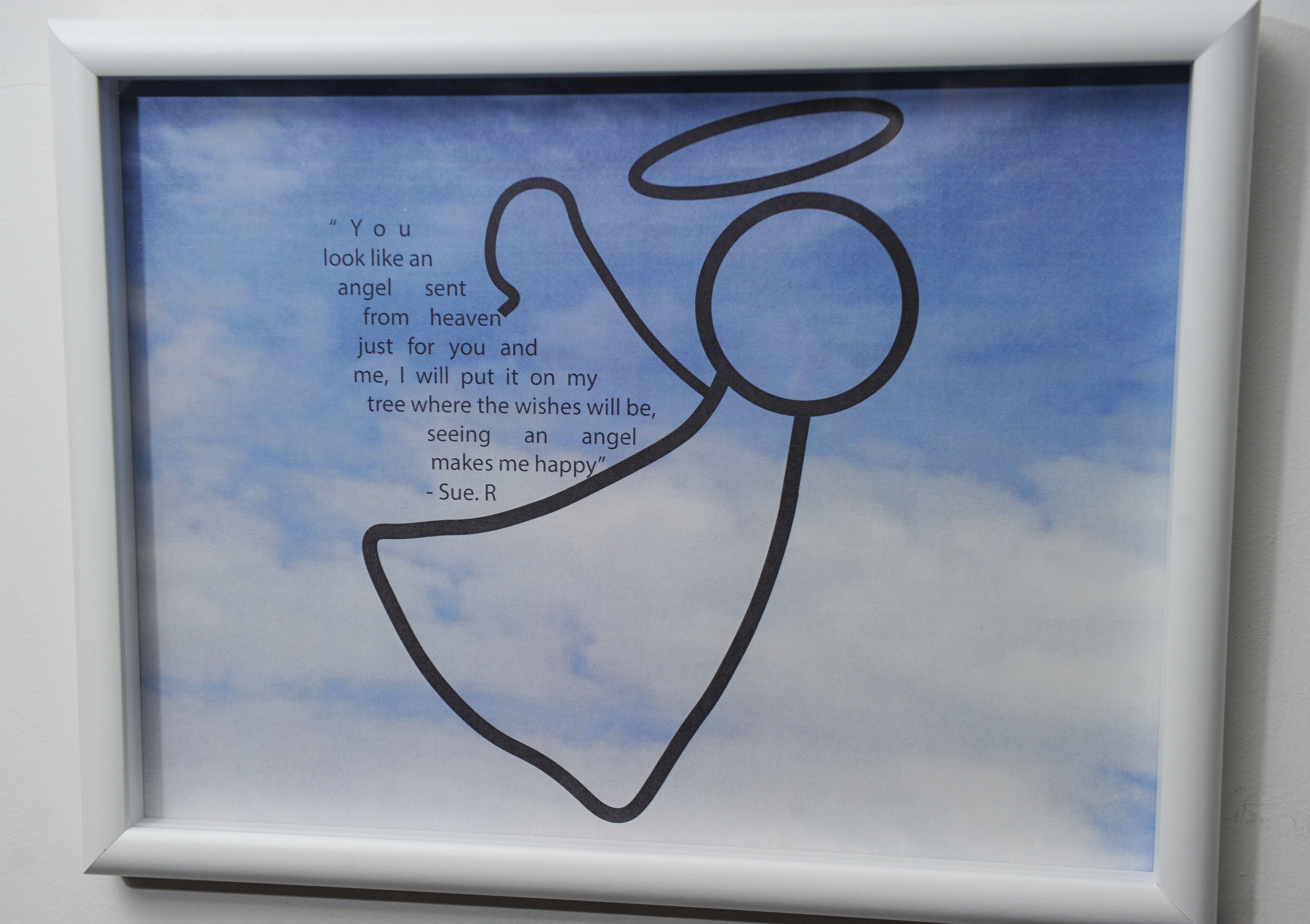 Poems by Solent Mind transformed by students
Graphic Design students create mindful typograms
7th June 2017
Art and design
Applied art
Design
Working with mental health charity, Solent Mind, a selection of our BA (Hons) Graphic Design students have been recreating poems into visual typograms.
The finished poems, which are now framed, were recently showcased in Southampton's Art House Café.  20 framed poems are now on display and available for purchase in METTRICKS coffee shops across Southampton until August. 
The partnership with Solent Mind came through a collaboration with poetry therapist, Pearl Elizabeth Dell May, which has developed through similar projects over the last three years. Pearl volunteers within the Solent Mind group, which is affiliated with the national charity.
Pearl commented: "Poetry presents a window into the heart of human experience. Writing poetry can be a peaceful distraction and gives a feeling of achievement. All of the participants we work with at Solent Mind felt their poetry was appreciated and valued through the work the students produced, and it was a great opportunity for the students to also experience different ways of working."
Alex Day, first-year BA (Hons) Graphic Design student tells us why he got involved with the project and how it has helped to test his creative skillset…
What made you get involved in the poetry project with MIND?
The chance to show off my design skills to other people and start getting my name out there to the public.
Can you tell us about the poem you chose?
For this project I didn't choose my poem, I was given it. However, if I was to choose I would have chosen this one because it was the most interesting. It challenged my design skills to come up with something which stood out, and most importantly related to the poem.
Tell us about your design, what was your inspiration?
My thinking for this piece was to easily show the wonky aspect of the vase by shaping the text to fit the shape. This enabled me to construct the vase shape with considerable ease.
How was it to meet the poet at the coffee day at Art House Café?
It was a very happy moment because the poet gave me some good, positive feedback about my work, which made me feel that the design benefitted the visual element of the poem, making it more visually appealing.
How will the project with Solent Mind help with your learning and portfolio development?
This particular project has helped considerably with my learning and portfolio development. I have not only been able to create a design by visually communicating primary information, but I have had to stick to deadlines, produce a professional piece for presentation and be able to explain and talk about my work.
What made you decide to enroll on this course?
The variety of subjects that are taught as well as the large studio space and wanting to be a graphic designer as a full time job.
How are you finding the course so far?
I'm finding the course really challenging so far, especially when trying to understand the technical briefs. It is also really enjoyable because of the interesting projects we have been given from our first semester.
Susie Smith, Senior Lecturer on the BA (Hons) Graphic Design course commented: "As tutors we are usually involved in simulating design projects with our students. Pearl is a volunteer who gives so much to our community and this collaboration allows us to work on projects which can serve the local area, as well as educate our students beyond their graphic design skills.
"We have been blown away by the level of work produced, some of which has been designed by students who are in their first year and were only given one week to create their artwork."
The finished artwork has now been included in 'In the Mind', a newspaper which is funded through the Southampton British Art Show 8 Fringe Festival. Copies of the newspaper can be requested from Susie Smith (Susie.smith@solent.ac.uk) within the Southampton Solent University, School of Art, Design & Fashion. From February 2017, the exhibition of works will also be on display in Metrics Coffee shops across Southampton.
All of the poets from Pearl's Solent Mind poetry workshops have received a copy of the student's art worked poems. The framed poems are now on display in all three METTRICKS coffee company shops across Southampton until August 2017. The prints can be purchased for £20 (unframed).
Find out more information about the Graphic Design courses available at Solent University here.