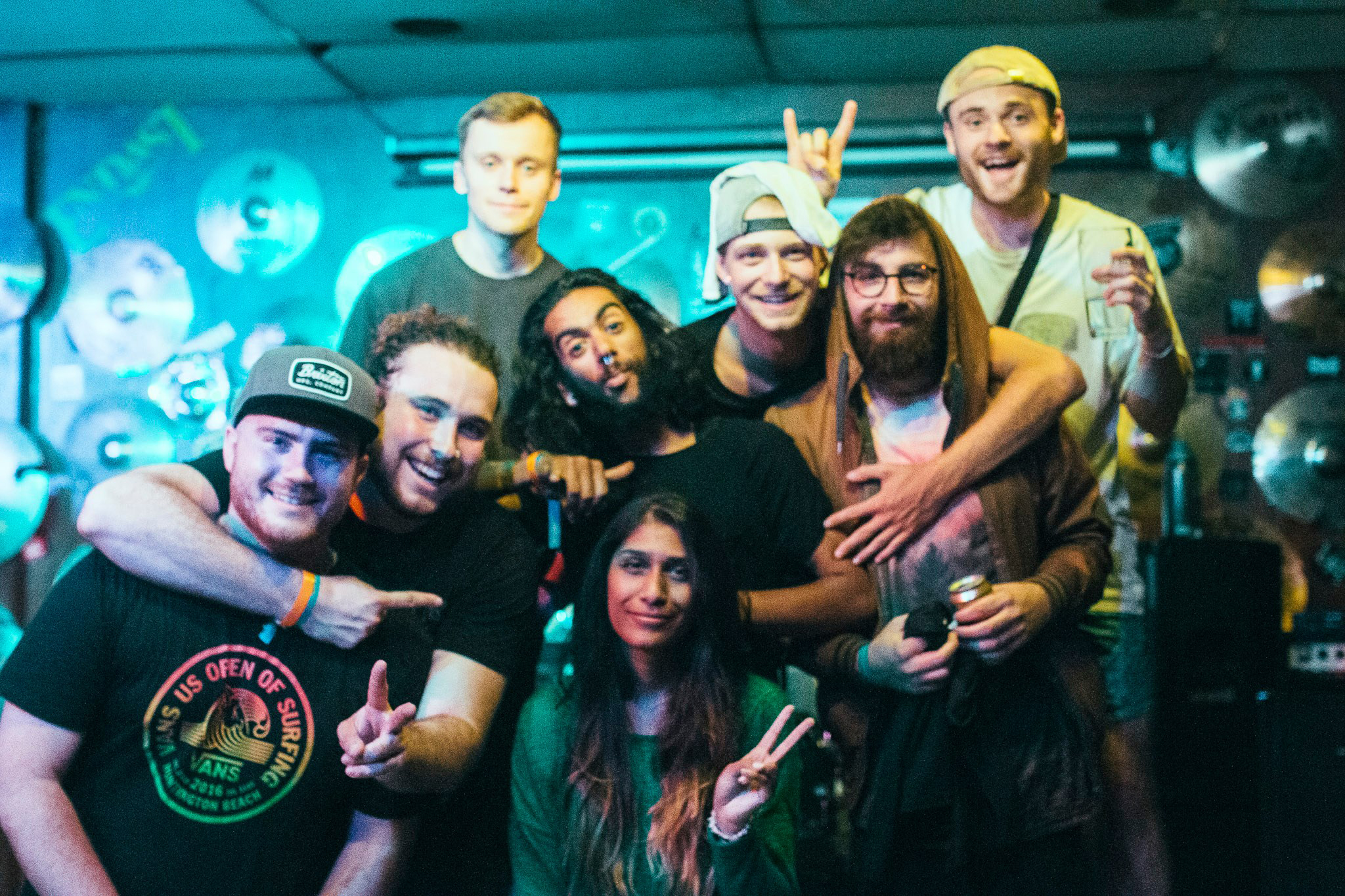 Popular music journalism students make their mark
Find out what exciting things our BA (Hons) Popular Music Journalism students got up to this summer.
19th September 2016
From Glastonbury to Ibiza; the Libertines to The Rolling Stones, here's what our BA (Hons) Popular Music Journalism students got up to this summer.
The summer break may be long for university students, but that doesn't mean they stop working on their dreams. This is particularly true of students studying popular music journalism who have, throughout the summer months, used the range of skills they've learned on their course to open exciting doors on their future careers.
Here are just a few examples of our amazing students' summer stories.
Ruby Munslow
Ruby thought her summer couldn't get any better when she started the break working as assistant tour manager for Pete Doherty, until she landed a placement working for Ibiza Spotlight magazine.
"After interviewing The Libertines in Bournemouth, I was lucky enough to be asked to be assistant tour manager for his solo tour for what was probably the best ten days of my life. Safe to say travelling the country on a tour bus with the likes of Jack Jones, Pete Doherty and Carl Barat was interesting to say the least. We soon became like family with the travelling band and his fans.
"Shortly after touring I was lucky enough to be picked for an internship in Ibiza, writing for long established publication Ibiza Spotlight. I left for the white island a day after the tour and I'm still here as I write this! This experience is something completely different from touring. My job out here is to go along to club nights such as Circoloco and Cocoon at Amnesia and review in detail, as well as write features, interviews and news pieces.
"It's hard to put into words what I've learnt but it's like starting university all over again. I've met some of the most incredible people in the world and working for a serious publication has tested my limits and improved my writing more than I could ever imagine. Writing about something I love is easier and seeing reactions online is even better, although it's hard writing about a 14 hour rave you've been to.
"Ibiza is now my second home and I'm sure I'll be back out next year. I've learnt an incredible amount this season and feel ready to conquer third year ... I hope!"
Isha Shah
Isha enjoyed an amazing summer opportunity working as official photographer on the Canadian tour of hardcore bands Coming Out Swinging and Montroze. She did this inbetween producing the August edition of her hugely successful punk and hardcore fanzine New Roots, which also features fellow music journalism students on editing, writing and photography duties.
"First tours are always a massive shock, but going on your first tour to Canada is something else. I spent three weeks with a camera, documenting our every move, travelling from the west to the east with a Calgary locals Coming Out Swinging and the UK's Montroze. The whole experience was absolutely amazing and I was so blessed to jump off cliffs, stay up till the sunrise and see some beautiful sights with seven talented musicians. I couldn't have asked for a better first step into a career I want to pursue.
"Over the summer I also edited the latest issue of New Roots. It's a dream for me that what started out to be a side project with a group of passionate mates, has now evolved into a monthly magazine. The latest issue of New Roots emulates everything the magazine set out to be. The photo-based magazine is about getting YOUR word out there, and actually educating music fans, rather than telling them what they want to know, while still covering all of your favourite DIY artists. This month's cover stars Youth Man are noisy and in your face, talking about the oppression that minorities face. Perfect for New Roots."
Hannah Leeland
Hannah spent the summer months interning at internationally renowned PR company LD Communications, where she actually rubbed shoulders and walked the red carpet with The Rolling Stones.
"At LD Communications I was an account executive in PR so I got to work with many influential PRs and journalists, as well as company CEO Bernard Doherty, who was recently named as one of the most influential brand builders in London.
"Our clients included The Rolling Stones, Pink Floyd, Barbra Streisand and many more. My role included working on a wide range of music festivals, such as Isle Of Wight, Reading and Leeds, and OnBlackheath. I was also the main PR assistant on all things Hard Rock Café, spanning across Manchester, London and Scottish branches.
"My highlights from LD would have to be escorting The Rolling Stones down the red carpet in my first week of work at their launch of Exhibitionism at The Saatchi Gallery, and also watching Primal Scream from side-stage closing the night at OnBlackheath festival."
Charys Newton
Charys interned over the summer with Vice's music offshoot Noisey, as well as gig listings site Gigwise.
"I spent three weeks interning at the Vice office with Noisey in July and it was a super cool and fun experience. I spent most of my time writing news stories and video premieres, transcribing interviews and researching pieces, but I was also encouraged to pitch and develop original content. The writers were incredibly warm and helpful and I learned so much in the short time I was there. I also did a couple of stints interning at Gigwise, which was also really enjoyable."
Tom Staniszewski
Tom spent three weeks working for monthly music and film magazine Uncut.
"During my placement at the offices of Uncut there was always something for me to do. From proofing work, subbing articles, transcribing interviews and redesigning magazine pages. I really enjoyed my time there and feel like I learnt a lot which will help me with future job prospects. I also received feedback from one of the editors on pitches and a piece of writing which, again, I found very useful."
 Paige Loyden
Paige worked for legendary electronic music producer Jagz Kooner on his Acid Lounge tent at Glastonbury.
"After Jagz came to do a talk at Solent, I contacted him and asked if he needed any help with any PR. He invited me to Glastonbury to run his social media and be artist liaison for his stage, Jagz Acid Lounge.
"Prior to Glastonbury, Jagz and I built up a following for the Lounge on social media platforms to encourage punters to the stage. During the festival I liaised with and looked after each artist - from ensuring they had the correct sound equipment to running to and from the bar for their drinks. I also posted pictures, tweets and statuses throughout the event.
"Working as artist liaison at Glastonbury has inspired me to pursue this as a career. I thoroughly enjoyed the experience and most of all made some great friends who I will continue to keep in contact with."
And there's more ...
Paige wasn't the only student to work at world-renowned festivals this summer. Thanks to the course's links to some of the best music festivals, including Bestival, Camp Bestival, Rookwood and Blissfields,  Charys Newton volunteered with SC Productions in artist liaison at Camp Bestival and did on-site press at Boardmasters. Charys was also a part of a team alongside Isha Shah and Ros Boder who produced the Blissfields House Party daily newspaper for the award-winning Blissfields festival.
Amy Jones continued to build a name as a blogger for The Huffington Post which gets her writing out to a massive International audience. She also writes for Public Pressure and runs her own very successful blog Hooked on the Music. Sam Taylor set up the Whinyl site which already achieved well over 10k hits. He's currently editing loads of stuff from the festivals they covered over the summer. Benji Rees started writing for leading grime website GRM Daily and went to their awards event which Benji describes as "history in the making"; and Lewis Edwards has started writing for renowned metal blog No Clean Singing.