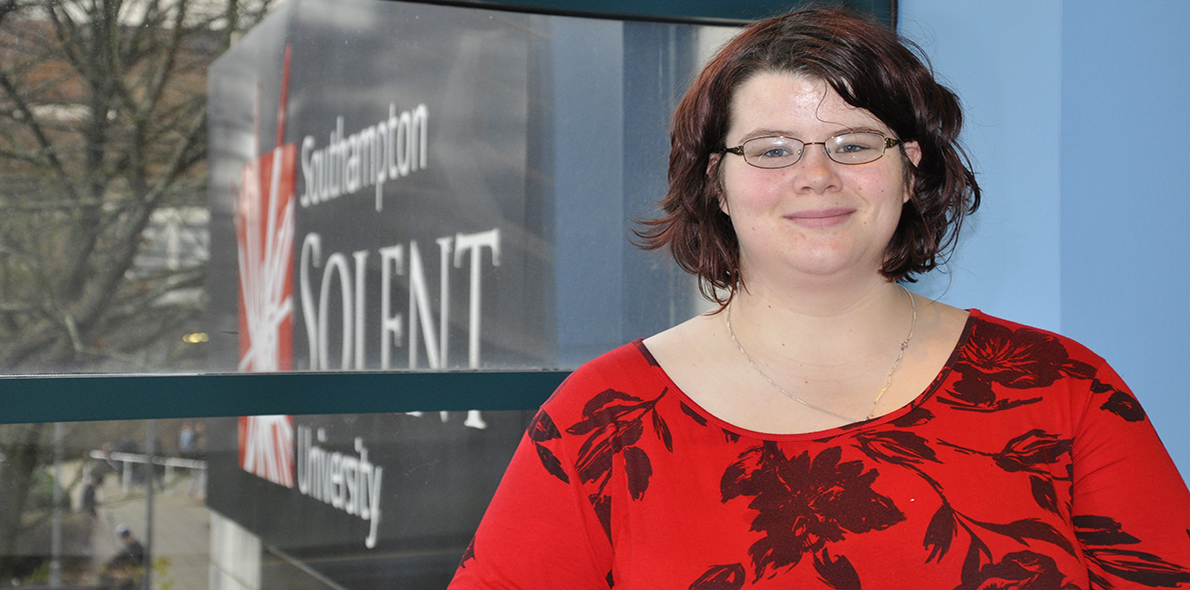 Prince's Trust honours Solent young achiever
Social work student Tiffany Ridd has been crowned Samsung Young Achiever
8th January 2016
Social work student Tiffany Ridd has recently been crowned Samsung Young Achiever at The Prince's Trust and Samsung Celebrate Success Awards.
The awards recognise the achievements of disadvantaged young people who have succeeded against the odds, improved their chances in life and had a positive impact on their local community.
Acting as the main carer from the age of eight for her mother and finding herself homeless at 16, Tiffany had to grow up fast. Despite this, she pursued her dream of a career in childcare and found a job in a nursery. Deeply affected by incidents from her childhood, she had a complete breakdown and tried to take her own life.
Tiffany was referred to the Prince's Trust Fairbridge programme, which gives disadvantaged young people the skills and confidence they need to change their lives for the better. Initially nervous about attending the programme, she soon began to feel safe and secure; realising that it could help her. With their support she applied to university to study for a career in social work; wanting to use her past experiences to help others.
We caught up with Tiffany to find out more about the award, her career choice, and how she's getting on at Solent.
How does it feel to win the Prince's Trust Award?
It feels good, I'm proud with how far I've come, but I'm still in shock really!
How has the Prince's Trust helped you?
It saved my life, to put it simply. When I first met them back in 2012, I was in such a dark place that I didn't feel I could do anything; they encouraged me to start thinking and believing in myself again.
Why did you choose a social work degree?
Because I wanted to use my experiences in life to help other people. I've been through a lot and I think that will make me a good social worker.
Why did you choose Solent?
When I came to the open day I was still quite nervous and unsure of myself, but when I met the social work team they filled me with such excitement about the course that I didn't want to go anywhere else. They made me feel excited about doing it and gave me the belief that I could do it, despite my past problems.
What support do you get from Solent?

Encouragement… every step of the way. They have an open door policy within the social work team, so if I have a problem I can just speak to them, and if they need to sign post me on they will. They are just very supportive.
What do you love about Solent?
The student support is top notch, from the social work team to the student hub; student support for people with dyslexia is brilliant as well.
It's just a friendly place to be. I don't feel pressured, if that's the right way to word it. Even though studying for a degree is a high pressured thing, they try and help you as much as they can.
What advice would you give to other young people?

Don't give up. Believe that even if you are in a really dark place at the time, there is light at the end of the tunnel. You've just got to keep going.
Anything else you would like to add?

Just that the Prince's Trust is amazing in what it does; long may it reign!
Tiffany's lecturers are proud of her achievements, both with the Princes Trust and at the University. As well as volunteering and keeping on top of her studies, she is one of the course's social work student reps and is described by social work lecturer Marietjie Joubert as 'a true ambassador for our programme and for Southampton Solent University.' 
How could Tiffany's life experiences help her career as a social worker?
Her own life experiences will provide her with a deep level of empathy and understanding for the circumstances and experiences of others. Social work is about focussing on people's strengths and Tiffany's experiences provide her with excellent skills in enabling others to find their own strengths.
Tiffany is a great example of encouraging people to follow their dreams, would you agree?

Definitely. Tiffany's life story is truly inspirational. It sets a good example for all of us that no matter how impossible it may seem, if you believe in yourself you can follow, and achieve, your dreams. It is also very much credit to organisations like The Princes Trust who, on a daily basis, provide invaluable support to vulnerable young people.
What support is available for students, like Tiffany, who have had a hard start in life, or  are struggling while studying?

One of the strengths of the social work programme is the support available for students. In social work it is very important to have emotional resilience, so a great deal of time is spent on fostering the development of this. Social work students learn to develop their emotional intelligence, their resilience and, importantly, they learn to keep fighting for what matters: Tiffany's story epitomises these qualities. There's also support from personal tutors; from placement supervisors and practice educators; and the University's counselling services, where we signpost students who need additional support.
Anything else you would like to add?

The social work programme at Solent has strong links with the Princes Trust and every year we have a number of students on placement with them. They offer our students excellent opportunities to work with young people and develop their social work skills in practice. Tiffany's achievement has strengthened our relationship with the organisation, which we envisage will go from strength-to-strength.
For more information about The Prince's Trust – what it does, the people it supports and how you can help – visit their website.