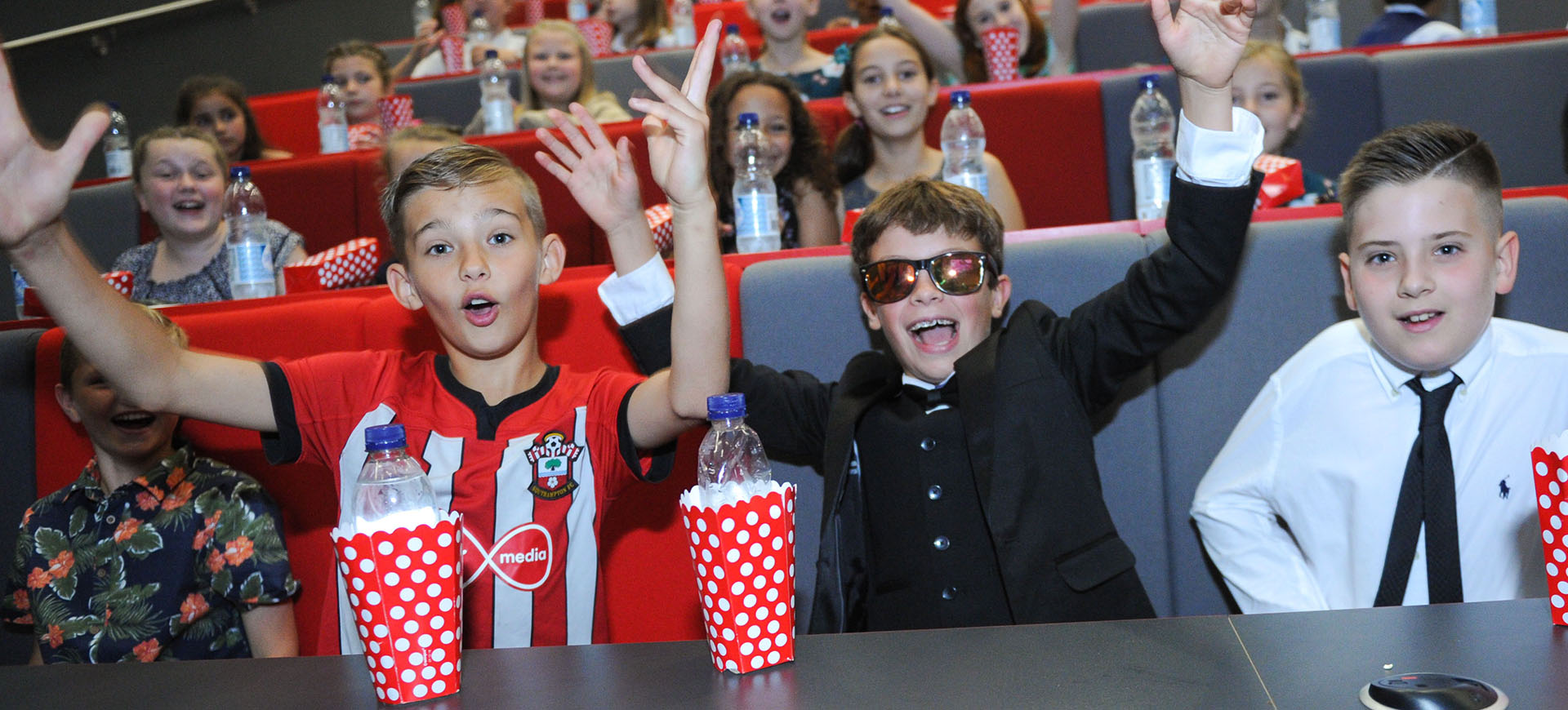 Red carpet for Shirley Junior School pupils
Mini movie makers
5th July 2019
Ninety pupils from Shirley Junior School were recently welcomed to Solent University for a red carpet event to premiere their film, Water Relief, on the big screen in the University's Spark building.
As part of Solent's Step into Success programme, the University's Widening Participation team worked closely with Year 5 children from Shirley Junior School over a three-month period to produce a 30-minute film on their geography topic – River and Seas.
The pupils were joined by their parents and carers, along with staff and students from the University for the film premiere.
Speaking at the event, Solent University Vice-Chancellor, Professor Graham Baldwin said: "The University's Widening Participation team has an important role to play at engaging young people and giving them an introduction to the world of higher education.
"This is the third year we have premiered a film with a local school and it is great to see the project continue to go from strength to strength, thanks to the enthusiasm of the children involved and our staff and students who help to teach, and encourage the pupils as they learn a new skill and produce some outstanding work."
"This is a creative and interactive workshop for pupils which introduces them to the concept of university, dispels myths and misconceptions, and raises aspirations."
This year, the pupils from Shirley Junior School investigated the work of the Charity WaterAid, and come up with the idea of a Water Relief telephone. The fun and engaging film incorporated some of the more traditional elements of televised charity evenings such as celebrity appeals, comedy sketches, sporting challenges and a heartfelt charity single.
Speaking about the project, Ria Fearn, Year 5 Leader from Shirley Junior School said: "The children thoroughly involved being introduced to a whole new creative medium. They have gained a basic understanding of the complexities that are involved with planning and implementing live performances. Whether they were script writing, backstage or acting in front of the camera, all of the children had to apply what they learnt in their topic to this project. The film students from Solent Creative both welcoming and encouraging to the children and we can't thank them enough for this opportunity.
Cooper, aged 10, from Shirley Junior School said: "We were given the opportunity to be filmed with all of the fancy equipment to raise money and raise awareness for water aid. We performed acts such as comedy, music, water aid fair and live interviews. We linked most of these to water aid to help raise as much money as possible. One by one, we were allocated parts to learn and to perform alongside the university ambassadors."
Kyala, also aged 10, added: "Water aid is so important because people in less fortunate countries don't have clean water neither hygienic toilets. Water Aid helps them by providing them with this stuff. They needed our help so we got together and thought of ways to help Water Aid. We helped them in a variety of ways such as the water aid fair and raising money in our summer fair by selling narratives and reports about Bangladesh."
Solent's Step into Success programme gives learners in years 5-11 the chance to access a variety of activities, events and competitions, designed to instil a passion for learning and raise aspirations for the future.
Following the premiere, pupils from Shirley Junior School spent the day on campus, taking part in a number of activities including a campus treasure hunt and a  'create your own university' workshop, where they designed their own campus and logo, as well as  creating information on the courses, facilities and accommodation on offer.