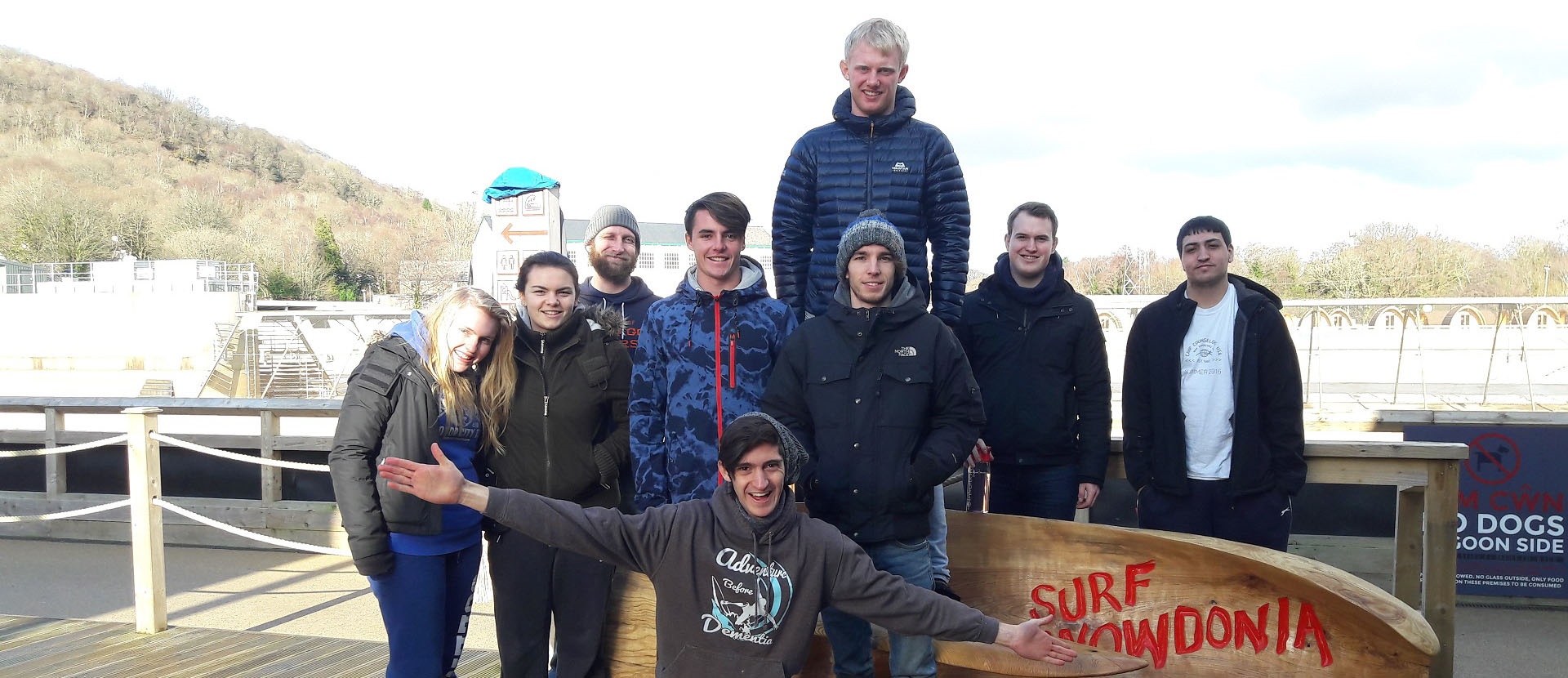 Sensation seeking in Snowdonia
Students explore the depths of Snowdonia's caverns.
28th April 2017
Third-year BA (Hons) Adventure & Extreme Sports Management students travelled to North Wales earlier this year to explore the depths of Snowdonia's caverns. 
The first stop of the trip was the Zip World Caverns ropes course. Rather than travelling through the treetops, students delved deep underground to navigate a series of zip lines, rope bridges and tunnels through a complex caving system, suspended more than 30 metres above the earth's crevices. 
Real world learning
The trip also allowed students to examine the commercialisation of the adventure industry and understand the vast number of career opportunities available. They also had the chance to chat with experts to discuss what consumers want when it comes to extreme sports, and tap into what happens behind-the-scenes, such as operational management and marketing.
Industry changes and potential careers
The commercial adventure industry, or 'adventure in a bun', as coined by outdoor researcher Chris Loynes, has seen an enormous growth in artificial adventure centres – such as snowdomes and indoor sky diving facilities. These centres allow consumers to experience adrenaline-fuelled activities in a controlled environment and offer potential career opportunities for students post-graduation.
Welsh surfing
After their caving adventure, students headed down the road to visit the world's first inland surf lagoon, Surf Snowdonia.
Although students didn't 'dip their toe' on this occasion, they were given a tour and talk by the centre's business manager to learn the basics of operating the 300 metre-long, artificial surf lagoon.
The site served as a prime example to teach students about regeneration and diversity in the adventure industry. Surf Snowdonia's founders created the centre from a disused aluminium factory, and have diversified the centre's offerings to also include 'surf Pilates' and onsite 'glamping'.
Student James Davies said, "The field trip provided a fascinating insight into 'industrial adventure' using natural resources."
Fellow student Dominic Colville added, "It was a real example of 'McDonaldisation', a topic we have studied on the course about the commercialisation of the adventure & outdoor industry."
There has never been a better time to embark in a career in this dynamic field. For more information on the BA (Hons) Adventure and Outdoor Management programme please visit our course page or contact course leader Lynsey Melhuish at lynsey.melhuish@solent.ac.uk.