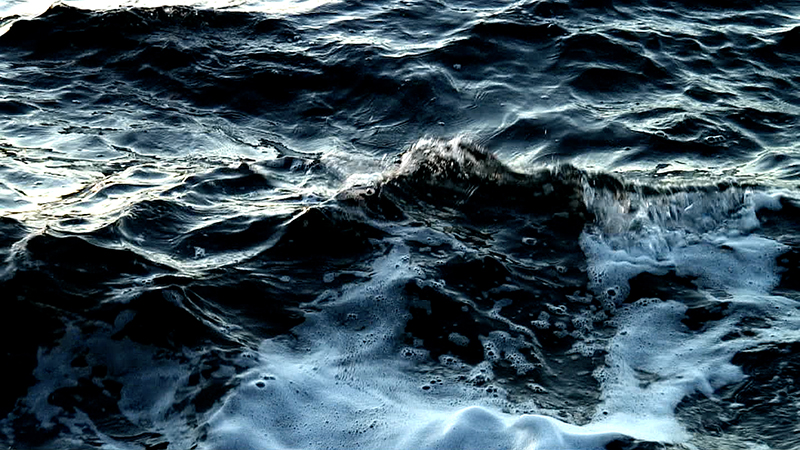 Solent artists showcased at thought-provoking exhibition
Exploring land versus water
6th June 2017
The 'Somewhere Becoming Sea' exhibition, now open at Humber Street Gallery in Hull, includes work from artists from across the world, including Solent's very own Nina Sverdvik and Guy Moreton.
Curated by Film and Video Umbrella (FVU) for Hull UK City of Culture 2017, the exhibition includes photography, moving image and audio pieces inspired by the relationship between land and water. Recognising Hull's prominence as a gateway to the North Sea, themes explored include harnessing, moderating and better appreciating the vital presence of the sea in our future ecology and economy.
Nina Sverdvik, Senior Lecturer Photography, and Guy Moreton, Associate Professor, have been working with FVU and Hull UK City of Culture 2017 for the exhibition. Nina's piece presents a recollection of a sea crossing between Norway and Hull in the early 1970s. Guy has produced a large scale photograph depicting the iconic landmark Spurn Head on the Humber Estuary.
Nina Sverdvik's film 'My Father's Car' has been supported by The Royal Norwegian Embassy and commissioned by FVU. Nina says: "It was created in 2008 with support from FVU – and re-edited in 2017 taking into account the time that has lapsed since then. It was wonderful to see how being City of Culture has benefitted Hull. There was a real buzz in the city stemming from all the cultural events taking place."
Associate Professor Guy Moreton had previously worked with FVU in 2007 on the touring exhibition 'Waterlog', which included a symposium and publication launch at Tate Britain. The curatorial themes in 'Somewhere Becoming Sea' were similar, and Guy and Nina were invited to propose a project that would encompass the city-wide theme of 'Roots and Routes'.
Guy's large-scale photograph 'Spurn Point' refers to the musical composition of the same name written by the acclaimed composer Ralph Vaughan Williams in 1926 for cello and piano, which helped to bring the 'image' of the notorious Holderness coast into popular culture.
Guy says: "Research allows us to uncover the extraordinary history, ecology and culture of landscape and place, of which the photograph is the end result and manifestation. Our teaching on the BA (Hons) Photography programme is research-informed, and our students really benefit from this approach, not just in the classroom, but actually through fieldwork in the landscape, weather permitting of course!"
Steven Bode, Director of FVU and curator of the exhibition, adds: "Somewhere Becoming Sea examines the fluctuating boundaries between land and sea, at a time when a warming global climate threatens sea-level rises and equally far-reaching economic forces are already encroaching on traditional patterns of maritime industry and trade."
Martin Green, Director Hull 2017, says: "Somewhere Becoming Sea reflects our theme for this season, Roots and Routes, with artists inspired by Hull's position on the water, which has played a pivotal role in the life of the city. Each artist is reflecting on the fundamental role that water has in our lives. From the personal to the political to the environmental, it is a force that we seek to control, but which ultimately cannot be wholly tamed."
The exhibition is open at the Humber Street Gallery, 63 Humber Street, Hull until Saturday 17 June.
Further details about the exhibition can be found on Humber Street Gallery's website or Film and Video Umbrella's website.