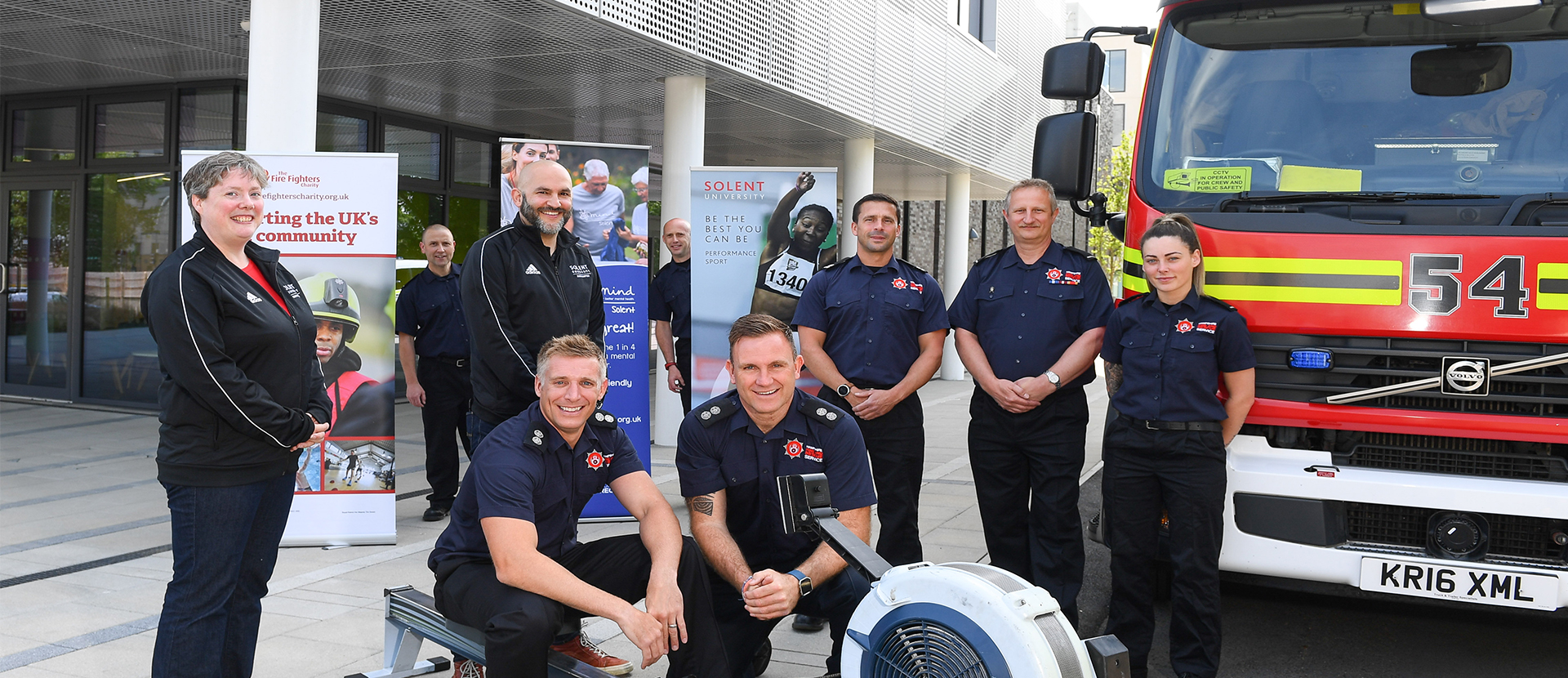 Solent begin training local firefighters for ambitious rowing challenge
Firefighters Stu and Adam aim to raise £100,000 for mental health
23rd May 2019
We were joined by Hampshire Fire and Rescue Service this week (Thursday 23 May) as two firefighters from Southampton prepare to row across the Atlantic and raise money for mental health.
Based at St Mary's Fire Station, firefighters Adam Bundle and Stu Vince joined us at our new sports complex to launch the challenge which will see them take on 3,000 miles in just 37 days, setting off from the Canary Islands before reaching Antigua, to raise funds for local charity SolentMind and The Fire Fighters Charity.
The University's experienced team of sports, exercise and nutrition academics will provide dedicated training support over the coming months as the pair try to raise £100,000. The challenge, which will take place in December 2020, will see Stu and Adam row across the Atlantic Ocean as part of the Talisker Atlantic Challenge.
Making use of Solent University's new state of the art sports complex, the High Performance Academy will measure the pair's biomechanics, body composition and nutrition.
Dr Ali Hill, Course Leader, Applied Human Nutrition at Solent University will be part of the team supporting Stu and Adam's training over the coming months: "To ensure that Adam and Stuart are in the best physical condition for their Atlantic Rowing Challenge, we will complete a selection of laboratory-based testing protocols. This testing will help us to identify any strengths and weaknesses of each athlete, ensuring that the training provided is individualised.
"Diet will be a big part of the support we provide at Solent – and what Adam and Stuart are doing is really interesting from a nutrition point of view. Every calorie needs to be accounted for so they're not taking more than they need, as this will add unnecessary weight to the boat. It isn't the case of doing your weekly shop and not minding how much room it takes up in the trolley – as well as being lightweight it will also need to be compact. And easy to cook – with two hours on and two hours off there won't be time (or the facilities) to rustle up a three course meal!"
Both Adam and Stu have faced their own battles with mental health, including having to cope with the regular pressures at work of making life and death decisions at various types of incidents.
Stu, 43, had to withdraw from the 2010 race across the Atlantic after donating a kidney to a close friend. Following this he suffered severe mental health problems and wants to give back to those that helped him: "The mental health problems which I faced affected not only myself but also my partner Rachel and family. My drive is to prove to my children that with determination and hard work you can overcome any adversity.
"It would be an absolute honour to raise money for both The Fire Fighters Charity and SolentMind as they have helped in both my physical and mental fight to return to operational duty."
Adam, 39, spent five years in the Royal Navy before joining Hampshire Fire and Rescue Service and has witnessed the effects of mental health that come from working in the emergency services first-hand. Adam and Stu are both training to become Mental Health First Aiders and join a number of staff who have already been trained to support others with their mental health within HFRS. He admits crossing the Atlantic will be unlike anything he has faced before: "I thrive on arduous challenges; I've run the New York Marathon in breathing apparatus and won a charity boxing bout against the police. However, nothing I have previously done could prepare me for this physically and mentally testing voyage."
The team at Solent will now put the duo through a rigorous testing programme to ensure they are fully prepared for the arduous challenge awaiting them.
In supporting SolentMind, the firefighters will be helping the leading mental health charity across Hampshire. They offer a range of high quality services that aim to improve mental wellbeing and campaign to raise awareness and understanding of mental health.
Adam and Stu are also fundraising on behalf of The Fire Fighters Charity who support more than 5,000 fire service personnel each year who have been physically or psychologically impacted by their work.
Tethered to the boat, the Hampshire firefighters will row for two hours then sleep for two hours on a constant cycle for the duration of the challenge which will see them away from home over the Christmas period.
"Another key part of their preparation will be making sure each individual is in the right shape for the event. Losing 12 kilos might sound like an ideal start to New Years' resolutions, but we need to make sure that they're strong enough at the start of the race and that this weight loss won't stop them from completing it," Ali Hill adds.
Find out how you can sponsor Adam and Stu, help them on their epic mission and track their progress by following them on social media and on their JustGiving page here:
Facebook – Atlantic Rowing Challenge 2020 – Arc2020
Twitter – @fireARC2020
Instagram – fire.arc2020