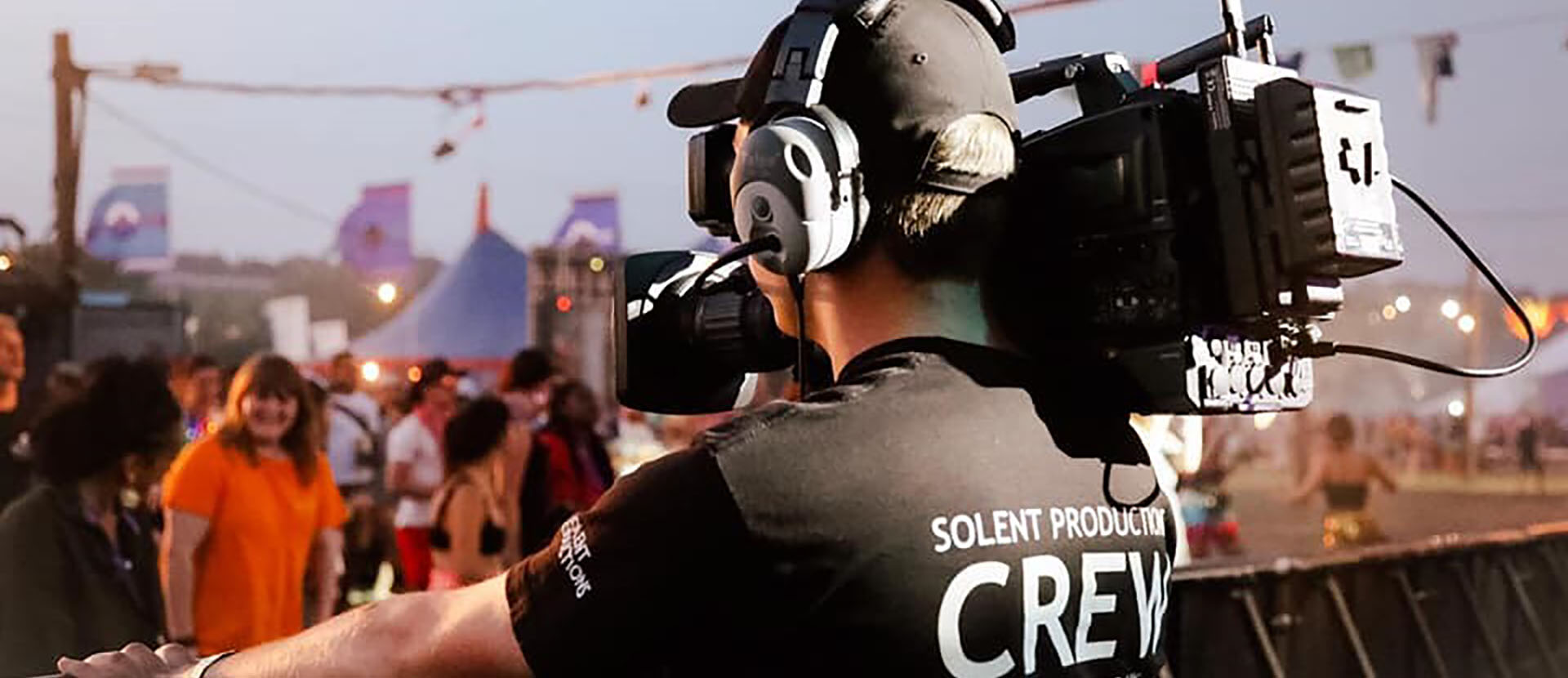 Solent builds on 'work experience of a lifetime'
2019 marks the 15th year Solent University has worked with Glastonbury Festival, enabling students to have what is, undoubtedly, the work experience of a lifetime.
15th July 2019
TV, film, media production and technology
This year, the University worked closer with the festival than ever before, with students from a range of TV, film and media courses working with real clients including BBC1, BBC Worldwide, Reuters, Sky, Billy Bragg and Extinction Rebellion to name only a few.
Tony Steyger, Associate Professor and Head of Solent Productions said of the experience: "Over the years Solent has developed a huge amount of trust with the BBC and the festival. This means students can add bigger and better credits to their bulging CVs by the time they graduate."
Students worked in a range of roles such as directing, producing, shooting, editing, sound recording, outside broadcasting, photography and social media content – and even produced a short documentary with Michael Eavis (Glastonbury Festival founder), launching the latest bizarre installation at the festival, Glastonbury on Sea – a huge and lengthy wooden and metal pier with seaside amusements.
The team also worked on a fast-turnaround shoot for a secret gig at The Park featuring Vampire Weekend, which Ben Challis, Lawyer for Glastonbury Festival Ltd commented on: "The fact you could get four cameras up to Vampire Weekend at the secret show at the Park yesterday morning was nothing short of a superb effort - it impressed us, it impressed the band's agent, and the band's manager was delighted."
Other work experience opportunities included three days of outside broadcasting on five cameras at the Gully Blues stage with live artists from all over the world: producing a short documentary on the world premiere of Ibiza: Silent Movie, directed by Julian Temple: and shots for BBC1's Songs of Praise from the Healing Fields and Prayer Tent.
Dan Hanko, a first year student from BSc (Hons) Audio Engineering said of the experience: "I would like to thank you for your help and support along the whole week. Special thanks for those who made it possible for me to be the part of this fantastic thing. It was a bit different for me as a fresher, as a stranger or a 'new face' in the team, so thanks for accepting me."
Jake Atkins, BA (Hons) TV and Video Production alumnus (2011) said of his experience at Glastonbury: "Still one of the best experiences of my working career was going to Glastonbury Festival with Solent Uni - the perfect start to my career in the TV and video industry!"
Feeling inspired? See our range of TV, Film, Media Production and Technology courses