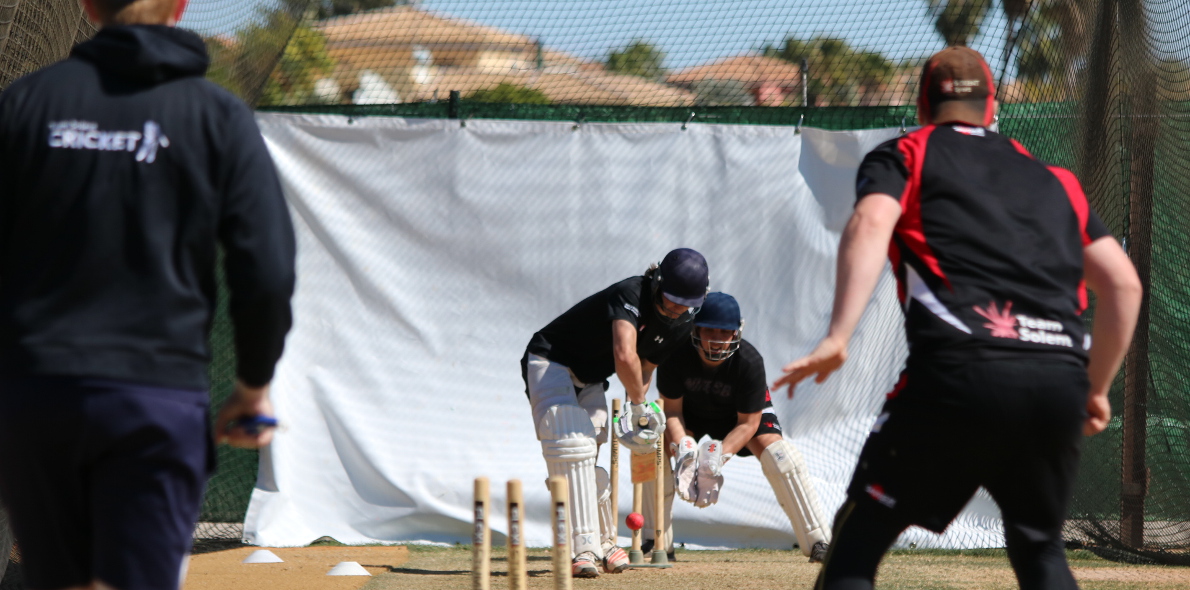 Solent Cricket visit Spain in pre-season preparation
In preparation for the next cricket season, Team Solent Cricket Coach Richard Browning took his first team squad to Spain for a warm weather training camp.
13th April 2016
By Solent BA (Hons) Sport Journalism students Dan Brown, Peter Baldry, Matthew Clewes and Ben Hooke
Team Solent Cricket Coach Richard Browning is looking forward to the coming season and is hoping his team can push for a play-off spot.
Solent, who finished seventh last season, prepare for another tough season in the top division of the BUCS league.
Being in the 'Premier A' League puts Solent among the best around including the MCC University teams – these include the likes of Cambridge, Leeds/Bradford and Durham Universities, all of whom play first-class cricket in pre-season.
Browning spoke of the potential that his squad possess and can see them pushing higher up the league: "We've beaten four of the MCCUs in the last couple of seasons, it's just about putting those performances into a season now and we'll be pushing for the semi-finals and finals."
With the stiff competition of the so-called 'bigger unis', they have been able to keep themselves up in the last few seasons but a five wicket win against Cambridge and close defeat to Oxford last season shows the potential that Solent has to kick on.
In the next few years any progression for a team is to cement themselves in a league and make sure they are always better than the previous campaign.
For their preparation, Browning took his first team squad to Spain for a warm weather training camp for five days.
They were based at The Desert Springs Resort in Almeria, which has become popular for cricket teams in recent years.
It was even the setting for Trevor Bayliss' first training session as the new England coach before last years Ashes victory.
The main reason for the team going on the trip was to make sure they could get in some training early on before anyone else.
Director of Solent Sport, Phil Green joined the team on their trip to have a look at the facilities.
Green is optimistic and happy with the players at the side's disposal and with Browning taking a step up in terms of the management side.
"We have five scholars that have signed, but no one is better than anyone else, they are all a similar ability so we have the potential to do well," Green explained.
Solent play Cambridge on Wednesday 20 April in their opening game at South Wilts Cricket Club.
Gallery
Solent Cricket training at Desert Springs, Almeria, Spain
For more information on what Solent can offer, explore our journalism courses page or our Solent Sport pages.