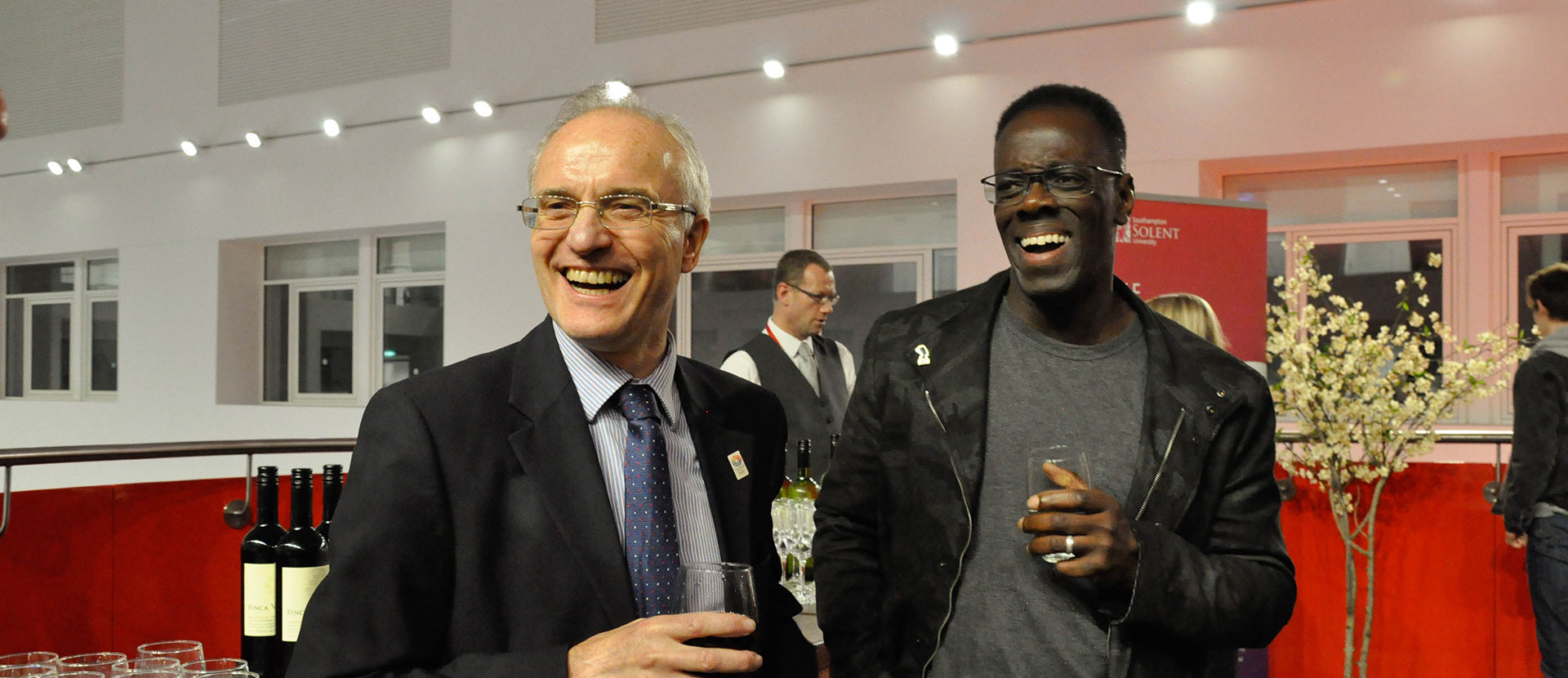 Solent hosts SO: To Speak launch
Southampton Solent University is proud to be official partner of this year's SO: To Speak Festival. The official launch for the festival of words was hosted at the University, with representatives from local organisations and partners of the festival coming together in The Spark for this very special evening.
Southampton's cultural offering is growing all the time. With the development of the new Cultural Quarter, there will be increasing opportunities to engage with art, theatre and literature in the city. To celebrate Southampton's heritage and talent, the SO: To Speak festival is co-ordinating a wide range of events, including performances of Jane Austen and the Waterman (featuring Mervyn Stutter), and commissioned poetry by local writers Damian O'Vitch and Matt LT Smith. Mervyn, Damian and Matt all joined us for the launch event, and brightened the evening with their brilliant performances. Guests also heard speeches from Dementia Friendly Southampton and Southampton Cultural Development Trust.
The event was opened by the festival organiser, Charlie Hislop, who said: "We are very grateful to Solent University for hosting the launch of SO: To Speak. The University has become a strong supporter of arts and creativity in the city. Southampton Festivals makes a point of providing opportunities and work for its creative students and graduates because we know we'll get really capable people, which is a testament to what Solent is achieving, and we look forward to building the relationship in future".
As an official partner of SO: To Speak 2017, the University is proud to support the festival, and its contribution to the city's cultural development. The University is active in community projects such as this, with our own students filming last year's commissioned poet for SO: To Speak, Issa Loyaan Farrah. Students from the BA (Hons) English course also published their own anthology last year. On the Water featured work from local writers and students, and was launched in Waterstones West Quay.
The festival of words began on Thursday 19 October, and will finish on Saturday 28 October, with a selection of free events and competitions open to all.
To find out about more about the festival, and see the full programme of events, take a look at the SO: To Speak website.