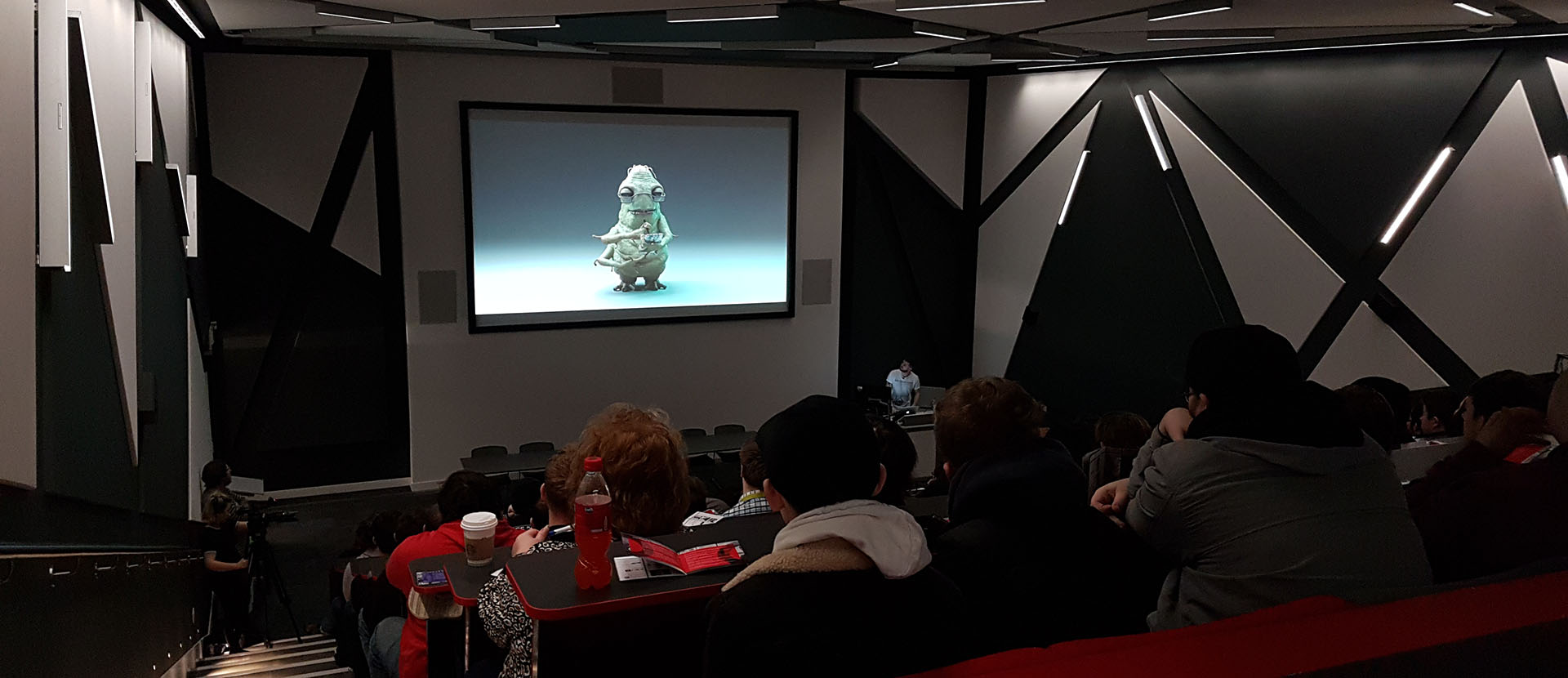 Solent runs its first CGI and visual effects festival
CGFX Festival 2018
2nd February 2018
This week saw Solent's first ever CGFX Festival, open to students and local colleges interested in computer-generated imagery (CGI) and visual effects (VFX).
The day included speakers from Outpost VFX, Centroid Motion Capture, Double Negative, and Blue Zoo, a couple of graduates who have established successful careers, and a Q&A panel with guest speakers, hosted by Framestore's Head of Talent, Amy Smith.
With advice on the best way to get into the industry, what they like to see, life as digital artists, and project demonstrations, students got a taste of the different roles available within visualisation.
Amber Alexander graduated from BA (Hons) Computer Generated Imagery in 2015, and now works for Aecom as a Junior Graduate 3D Visualiser. During her talk, she discussed some of the huge projects she's worked on, and advised students on what gave her the edge over all the other applicants.
She advises students: "Don't spend too long on unimportant things. It's all about time and budget in the industry, so it's important to find the balance. Your portfolio doesn't have to be amazing; being a graduate is all about potential."
Amber also discussed the blog  she kept during her time at Solent, which she credits as one of the things that got her the job she is in. She says: "It showed what I was working on; my employer read everything and liked that I did well in my write ups."
Once the talks had finished, the early evening reception began, with a special showing of Blue Zoo's short film 'Mamoon', as well as student posters and stands to showcase their work.
As part of this, students were able to network with the guest speakers, getting advice, and giving samples of their work and even business cards.
The event was organised by Ken Pitts, Senior Lecturer in CGI, Adriaan Pottas, Course Leader for CGI, Ellen Dunkason, Graduate Intern for Computer Games and Digital Art, and Nelufa Begum, Micro Intern for Event Planning.
Ellen says: "CGFX was designed to give students a great insight into the CGI and VFX industry and how they can build a career within it.
"We hope the student stands will give the companies who attended a good impression on these individuals and maybe even give them opportunities when they graduate."
Attendees at CGFX were encouraged to contribute to the discussion using #CGFX18, and there was a range of positive feedback on the event:
#cgfx18 this was so great, I learnt a lot about how to get into the industry. I'd also like to thank #OutpostVFX and #BlueZoo for taking the time to look at my portfolio and telling me what to focus on to get a job in the industry, and also giving me tips on my future Showreel ��

— Rachel Coles (@RacheySparks) January 31, 2018
Rachel Coles, BA (Hons) Computer Generated Imagery student
#cgfx18.Had an amazing time at CGFX18. Really opened my eyes up to what I could go into in university and for a future job.

— kieranJamesMcRobert (@Kieran_James_Mc) January 31, 2018
Kieran McRobert, Barton Peveril student
#CGFX18 was fantastic. It give me an insight into a lot of various companies within the industry and how they all operate differently as well as motivated me to work harder and really push myself

— Padrian (@_padrian) February 1, 2018
Peter Adrian, BA (Hons) Animation student