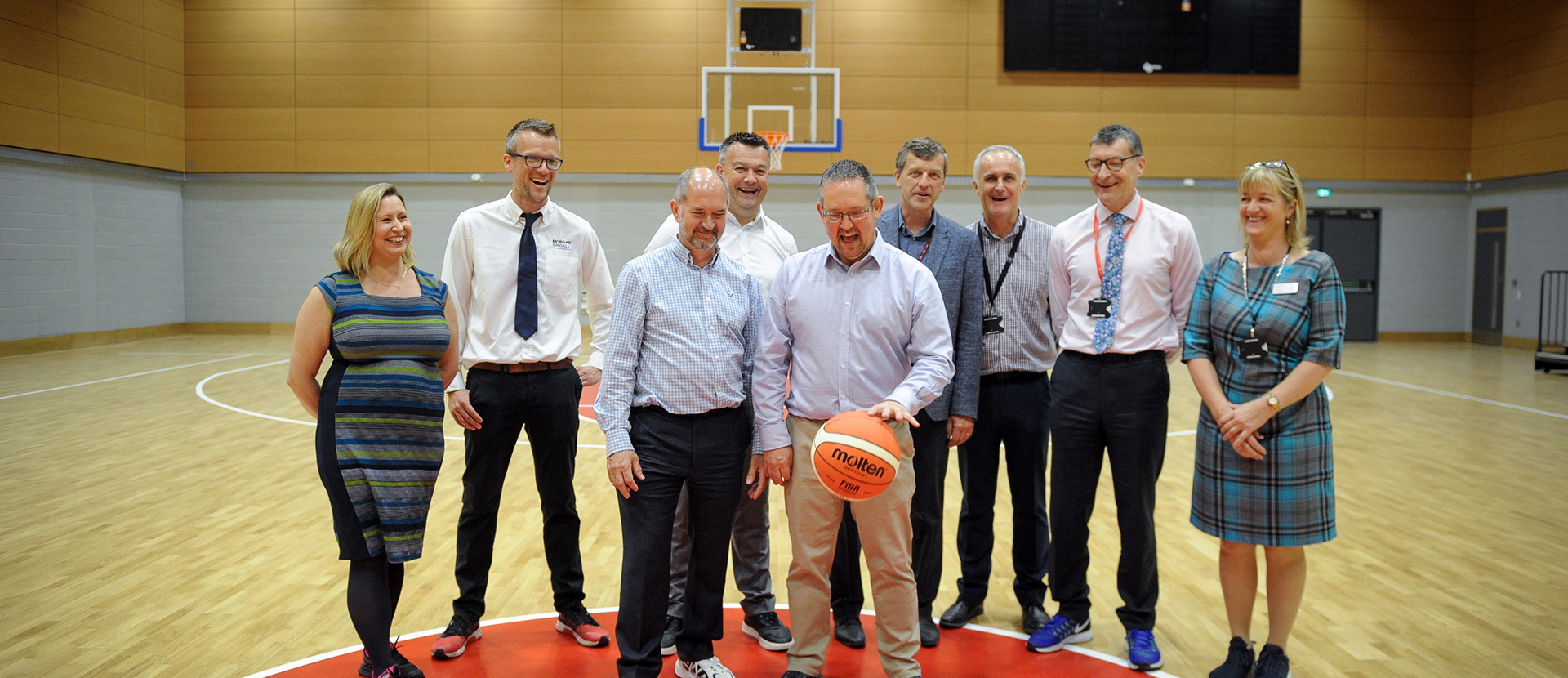 Solent sports complex marks completion at handover event
Building work has now completed on our new £28 million sports complex.
24th April 2019
To mark the latest milestone, key representatives, including contractors Morgan Sindall Construction, joined the University this week to officially hand over the keys to the Solent Sports Complex, and celebrate the end of building work.
Vice-Chancellor, Professor Graham Baldwin says: "As a university, it is important that we continue to invest in specialist facilities to support the continued growth in sport at Solent, an area in which our reputation goes from strength to strength, having recently been named as the most improved university in the BUCS awards.
"The UK's sports industry is worth £23.8 billion and holds nearly one million jobs, and our new complex will provide students with industry standard facilities to support their academic studies and career aspirations.
"This exciting new complex will also enable us to continue to build close relationships with the local community, businesses and organisations and provide 'real-world learning' opportunities for our students.
"Having watched the complex take shape throughout the build process, it is an honour to celebrate completion today, and on behalf of the University, I would like to thank those who have helped us to create this fantastic facility."
The handover event included a friendly basketball 'shoot-out' between the University and contractors Morgan Sindall Construction, with Solent winning 3-1.
Situated in the heart of the city, Solent Sports Complex is based at the University's main East Park Terrace campus and is the latest addition to a wider £100 million estates development plan.
The complex includes two sports halls; two fitness studios and a spin studio - offering a range of classes; a general purpose gym, which will be open to the general public;  a strength and conditioning gym for students and commercial partners; and a teaching gym, to support undergraduate teaching for relevant courses. The complex also includes a sports and exercise therapy clinical space.
Andy Duff, managing director of Morgan Sindall Construction in the South, said: "We're delighted and proud to have been part of this first class project. Solent University's new sports complex has been delivered through a collaborative partnership between Morgan Sindall Construction's project team and the University, which ensured the project was successfully completed on time and on budget.
"Alongside our work on site, we're also incredibly proud of the excellent level of social value delivered by the entire project team with Solent University and Southampton City Council. The team donated 1,842 hours of their spare time to support wider community projects, which was equal to a total contribution of around £18 million. It was also very important to our team that we reinvested in the local economy and we achieved this by ensuring that the majority of our local spend was within a 30 mile radius of Southampton."
Solent's Sports Complex gym will open for general use on 1 May 2019, with teaching facilities available to staff and students from September 2019, at the start of the 2019/20 academic year.