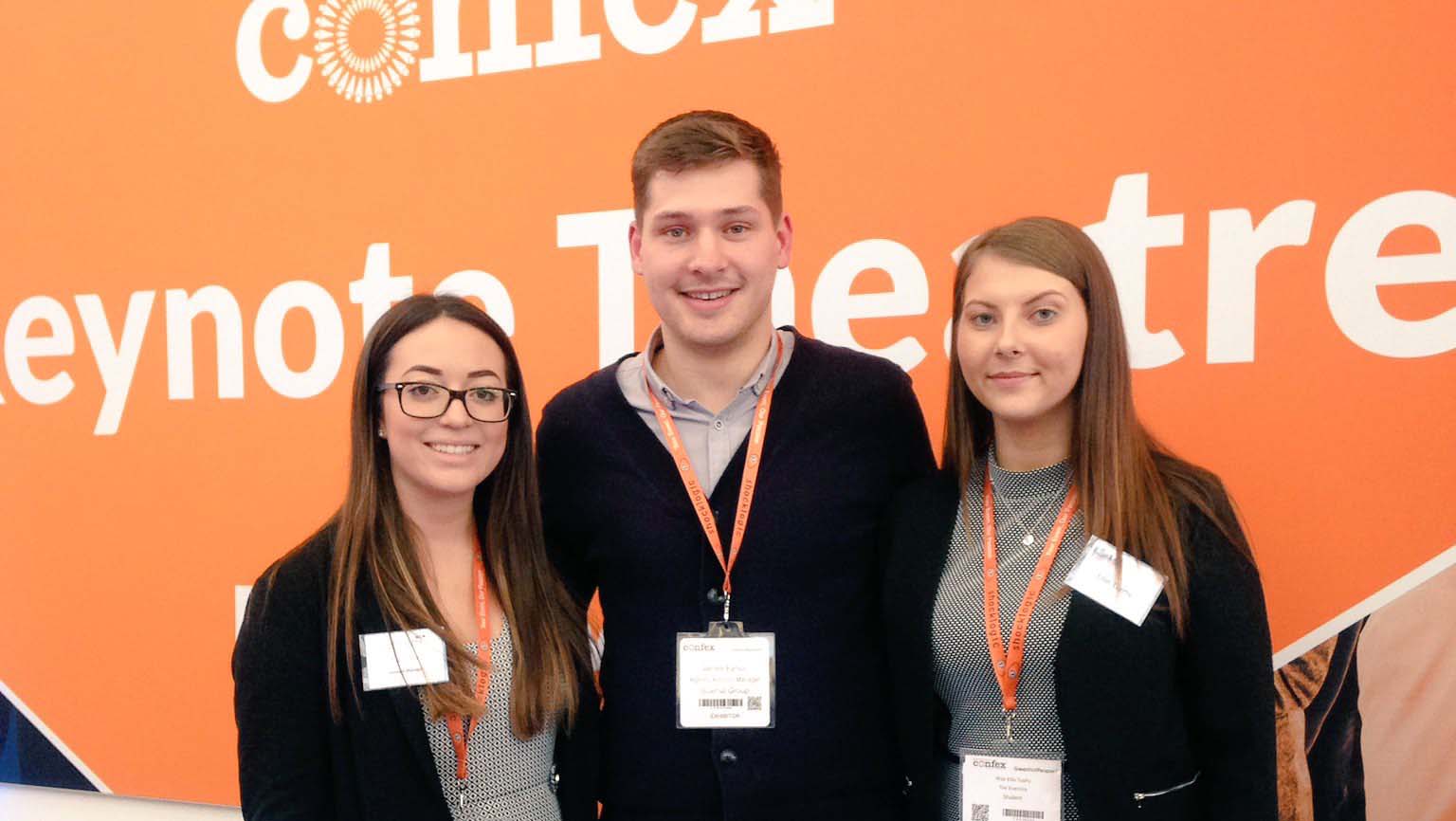 Solent student wins the Eventice
You're hired!
6th April 2017
Solent University has produced another winner of the Eventice, an 'Apprentice style' competition for event management students from all over the country.
Ellie Tuohy, who's on her final year studying BA (Hons) Events Management and is also the current CEO of Solent Works, completed a hectic four day challenge of over 30 different tasks and came out on top. She was presented as a winner of one of three jobs at the final award ceremony held at the CONFEX exhibition.
Ellie has secured a job with the BlueHat group, and follows previous Solent award winner James Enyon from two years ago. Sheridan Easton, Course Leader Events Management, said he was delighted for Ellie as "she is a very modest and capable student who recently won three awards at the Oscars Event Management ceremony held in February."
We caught up with Ellie to learn more about her experience and what's next for her.
How does it feel to have won the Eventice?
To be honest it still hasn't sunk in! I feel shocked and amazed, but so happy that my hard work at university over the past three years has certainly paid off. I am so grateful that I took the opportunity to be part of The Eventice; I originally took part to gain experience, and now I've won!
What was the competition like?
The three days were very tense and full on, however the different tasks enabled the event to be enjoyable and interesting. We got to meet new people and venues each time, which added to the experience.
How did your degree and time at Solent help with the competition?
I don't think I would have been so prepared for the competition without the support I got from my lecturers Neil and Sheridan. They helped me prepare my CV and presentations, as well as giving me a confidence boost. My time and degree at Solent also benefited me; what I learnt within the lectures and seminars I have put into practice.
How did you find your course?
I find my course well organised and structured. The range of different topics and subjects allowed to me to understand the events industry further. I have learnt what could go wrong and the different roles available within the industry. We are always given opportunities for work placements for different events, as well as having guest speakers come in and tell us about their view points about the industry and how it is constantly changing.
Would you recommend your course/Solent to others?
I would definitely recommend the events management course to others wanting to get into the industry. It offers a wide range of different academic topics that will occur in the industry such as health and safety, planning your own live events, and marketing. As well as this, we have our own events company called Solent Works, which is run by event students. I have worked here for nearly three years and now have been CEO for nearly a year. You get to gain hands on experience from what you have learnt from within the lectures and seminars and then put it into practice.
What's next for you?
I will be handing down my role of CEO at Solent Works to a new team member. Meanwhile, after I hand in my last assignment I will be moving out of Southampton and back home to Essex, getting ready to prepare to start my new job at the beginning of June. I will then be back in July for my graduation ceremony and to celebrate my time at Solent University!